News Release > Entergy donates $4.1 million to help vulnerable customers "Beat the Heat" this summer
For Immediate Release
Entergy donates $4.1 million to help vulnerable customers "Beat the Heat" this summer
06/29/2023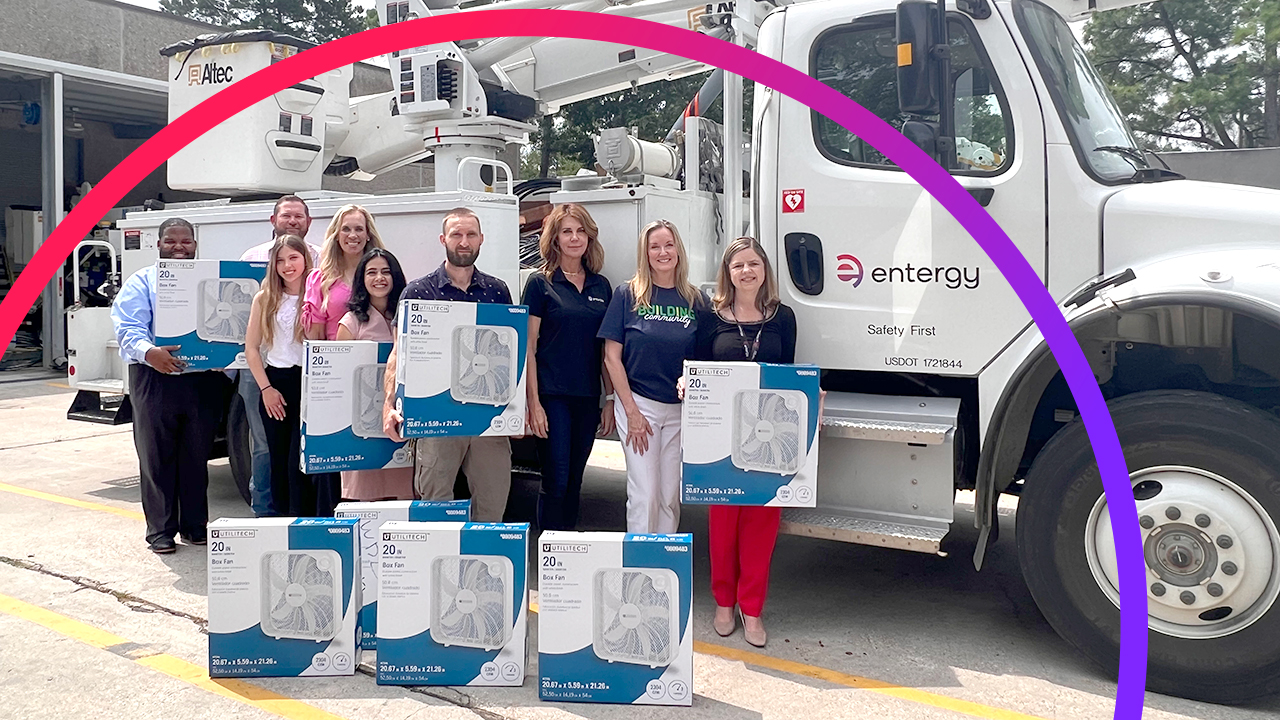 NEW ORLEANS – This May, Entergy launched a series of measures to help its low-income and senior customers "Beat the Heat" and save on their utility bills during the hot summer months. This marks the 22nd year of the program, in which Entergy has partnered with local organizations across Arkansas, Louisiana, Mississippi and Texas to support thousands of vulnerable customers through bill payment assistance and community programs.
"We recognize the economic challenges our customers and communities are currently facing," said Patty Riddlebarger, Entergy's vice president of corporate social responsibility. "We are so proud of our employees who, year after year, continue to rise up to the occasion and exemplify our company mission to help out our most vulnerable customers in need."
So far, the initiatives and resources provided by Entergy totaled more than $4.1 million to help customers stay cool this summer, including:
More than $3 million was donated by Entergy shareholders, employees and customers to The Power to Care program, which provides bill assistance to older adults and customers with disabilities.
Donated $1 million to provide energy efficiency kits for customers.
More than $75,000 in grants were awarded to help provide resources for vulnerable customers, including fans and weatherization events.
Over 3,000 energy efficiency kits were distributed in parts of Entergy's service area that included money-saving LED bulbs, advanced power strips, bathroom faucet aerators and V-seal weatherstripping.
More than 2,500 electric fans were distributed to help customers beat high temperatures and save on electricity bills throughout the summer.
Neighborhood sweeps were conducted in select, underserved areas and over 50 low-income homes were weatherproofed.
Entergy's "Beat the Heat" initiatives are ongoing and will continue to help customers throughout the summer. To learn more, visit entergy.com/answers.
About Entergy
Entergy (NYSE: ETR) is a Fortune 500 company that powers life for 3 million customers through our operating companies in Arkansas, Louisiana, Mississippi and Texas. We're investing in the reliability and resilience of the energy system while helping our region transition to cleaner, more efficient energy solutions. With roots in our communities for more than 100 years, Entergy is a nationally recognized leader in sustainability and corporate citizenship. Since 2018, we have delivered more than $100 million in economic benefits each year to local communities through philanthropy, volunteerism and advocacy. Entergy is headquartered in New Orleans, Louisiana, and has approximately 12,000 employees. Learn more at entergy.com and follow @Entergy on social media. #WePowerLife
---