News Center > Entergy encouraging customers to join company in storm readiness
For Immediate Release
Entergy encouraging customers to join company in storm readiness
05/31/2023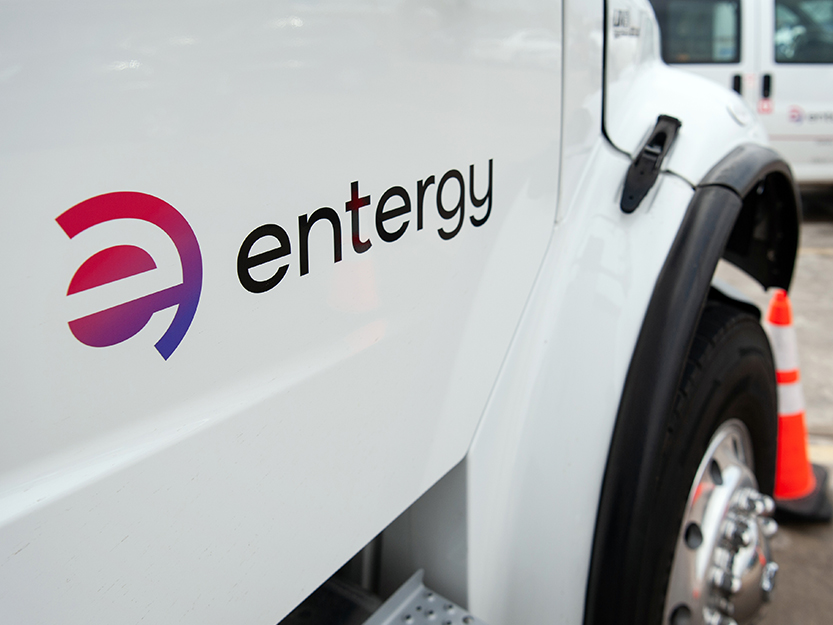 Make a kit, have a plan and be ready to put those plans into motion safely
NEW ORLEANS – Hurricane season officially starts Thursday, June 1, and Entergy New Orleans and Entergy Louisiana are encouraging customers to join the companies in being prepared for whatever Mother Nature may bring.
Regardless of this year's predictions, south Louisiana and its resilient communities understand that it only takes one storm to make it a bad season. That is why Entergy employees train throughout the year to respond to severe weather and recently completed their annual Louisiana storm drill in Baton Rouge in early May.
The company has a proven plan of storm response that includes monitoring the weather and considering potential impacts, mobilizing workers and equipment locally and requesting the assistance of other utility companies when needed and acting by strategically deploying crews and equipment to quickly and, above all, safely restore power. Power restoration is a methodical process and one that Entergy is prepared to perform if needed.
More information about the company's plan and how it responds to severe weather can be found on the Entergy Storm Center at entergystormcenter.com. The company encourages customers to bookmark this website for not only the safety and preparation tips, but also for updates on how restoration efforts are progressing following major storm impacts.
To be ready before a storm threatens the Gulf Coast, customers are encouraged to put together a kit that includes emergency supplies and items like important personal documents and contacts, flashlights and cellphone chargers. Additional suggestions on what to include in a kit can be found at entergynewsroom.com/storm-center/plankit.
Also, it is important to know how to remain safe before, during and after a storm. Customers are encouraged to monitor news reports and be aware of any evacuation directions from local authorities. If a storm does impact the area, please remember to use generators safely and avoid downed powerlines, as well as utility crews and their worksites. Additional safety tips can be found at entergynewsroom.com/storm-center/safety.
There are several ways customers can stay connected with Entergy throughout a storm event, including by signing up for text message alerts, downloading the free Entergy mobile app and monitoring the company's View Outage map, Storm Center and social media channels. Additional information on these tools can be found at entergynewsroom.com/storm-center/stayinformed.
Entergy understands that power is a critical service and is important to our communities. That is why the company is continuously using lessons learned from previous storms to improve its processes and response. The company also performs reliability work like tree trimming and installing smart devices onto the electric system throughout the year to be prepared to get the lights on quickly.
The company is planning to build more resilience into the electric system over the long-term since the intensity and frequency of storms are increasing. Resilience is important because it helps utility crews restore power more quickly and, ultimately, communities and their economies recover more quickly.
Both Entergy New Orleans and Entergy Louisiana have filed resilience plans — called Entergy Future Ready — with their regulators, the New Orleans City Council and the Louisiana Public Service Commission. Visit the company's newsroom to learn more about Entergy New Orleans and Entergy Louisiana's plans.
About Entergy New Orleans and Entergy Louisiana
Entergy New Orleans, LLC provides electricity to more than 209,000 customers and natural gas to more than 110,000 customers in Orleans Parish, Louisiana.
Entergy Louisiana, LLC provides electricity to more than 1.1 million customers in 58 parishes and natural gas service to approximately 95,000 customers in Baton Rouge, Louisiana.
Entergy Louisiana and Entergy New Orleans are subsidiaries of Entergy Corporation, a Fortune 500 electric company. Entergy powers life for 3 million customers through our operating companies in Arkansas, Louisiana, Mississippi and Texas. We're investing in the reliability and resilience of the energy system while helping our region transition to cleaner, more efficient energy solutions. With roots in our communities for more than 100 years, Entergy is a nationally recognized leader in sustainability and corporate citizenship. Since 2018, we have delivered more than $100 million in economic benefits each year to local communities through philanthropy, volunteerism and advocacy. Entergy is headquartered in New Orleans, Louisiana, and has approximately 12,000 employees. For the latest news from Entergy, visit the Newsroom.
---