News Release > Entergy, local officials and community leaders celebrate opening of new service center in Broussard
For Immediate Release
Entergy, local officials and community leaders celebrate opening of new service center in Broussard
08/30/2023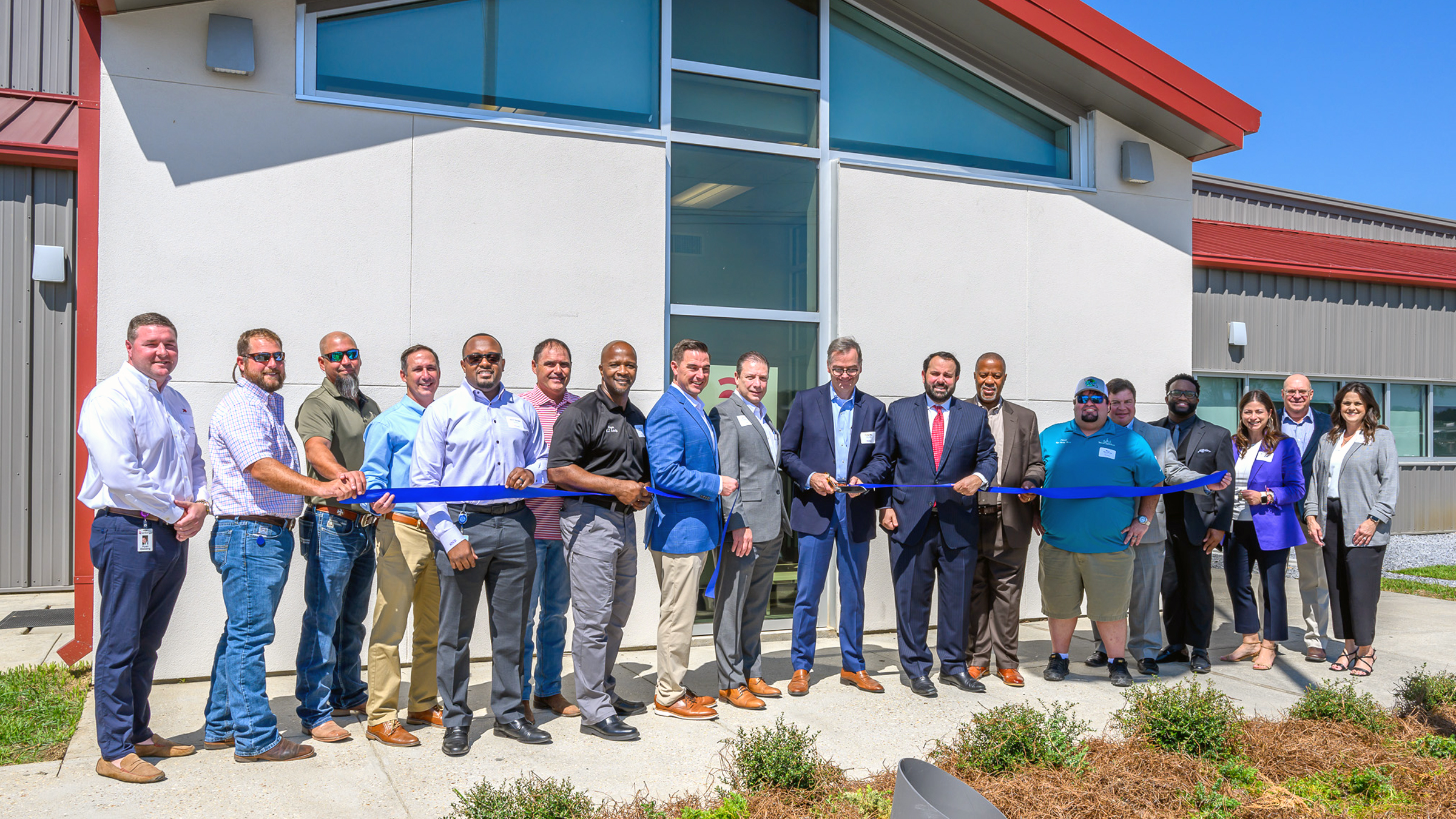 New Broussard service center will house employees and materials, serve as area's storm response hub
BROUSSARD, La. – Entergy Louisiana representatives, local officials and community leaders gathered today in Broussard to celebrate the opening of a new operations hub aimed at providing exceptional electric service to Acadiana customers.
The new state-of-the-art Broussard service center connects various departments, such as power deliver and customer service, to create a more efficient and seamless operation to help meet customers' expectations.
About 80 employees, ranging from engineering and design to distribution line work will be based out of the approximately 63,000-square-foot campus along Highway 90 East. The campus will serve nearby cities and towns including Broussard, Youngsville, Maurice and some residents near St. Martinville and Greater Lafayette.
"We're excited to announce the completion of the Broussard service center as it adds strength and resilience to our operations in Acadiana," said Phillip May, Entergy Louisiana president and CEO. "This was not only an investment in our workforce, but also in an investment in Broussard and the communities we serve in the area."
"On behalf of the City of Broussard, I welcome the new Entergy service center," said Broussard Mayor Ray Bourque. "The company's vision to provide this level of customer service along Broussard's Highway 90 business corridor is aligned with our projected future growth. I thank Entergy for choosing to locate in our great city."
Entergy purchased the property in Broussard, encompassing eight buildings, in 2021. Facilities were renovated to include an open office area, meeting rooms, storeroom and lay down yard, among other features.
The service center building is rated to withstand winds of up to 140 mph and has a reinforced storm room for employees to use during times of severe weather. It was also outfitted with a generator and redundant fiber to ensure business continuity following storm impacts.
This investment supports economic development in the Acadiana region and will make our company and communities more resilient during times of severe weather.
About Entergy Louisiana
Entergy Louisiana, LLC provides electricity to more than 1.1 million customers in 58 parishes and natural gas service to approximately 95,000 customers in Baton Rouge, Louisiana. Entergy Louisiana is a subsidiary of Entergy Corporation, a Fortune 500 electric company. Entergy powers life for 3 million customers through our operating companies in Arkansas, Louisiana, Mississippi and Texas. We're investing in the reliability and resilience of the energy system while helping our region transition to cleaner, more efficient energy solutions. With roots in our communities for more than 100 years, Entergy is a nationally recognized leader in sustainability and corporate citizenship. Since 2018, we have delivered more than $100 million in economic benefits each year to local communities through philanthropy, volunteerism and advocacy. Entergy is headquartered in New Orleans, Louisiana, and has approximately 12,000 employees. For the latest news from Entergy, visit the Newsroom.
---