News Release > Entergy, local officials and community members celebrate the future of power in Grand Isle
For Immediate Release
Entergy, local officials and community members celebrate the future of power in Grand Isle
07/26/2023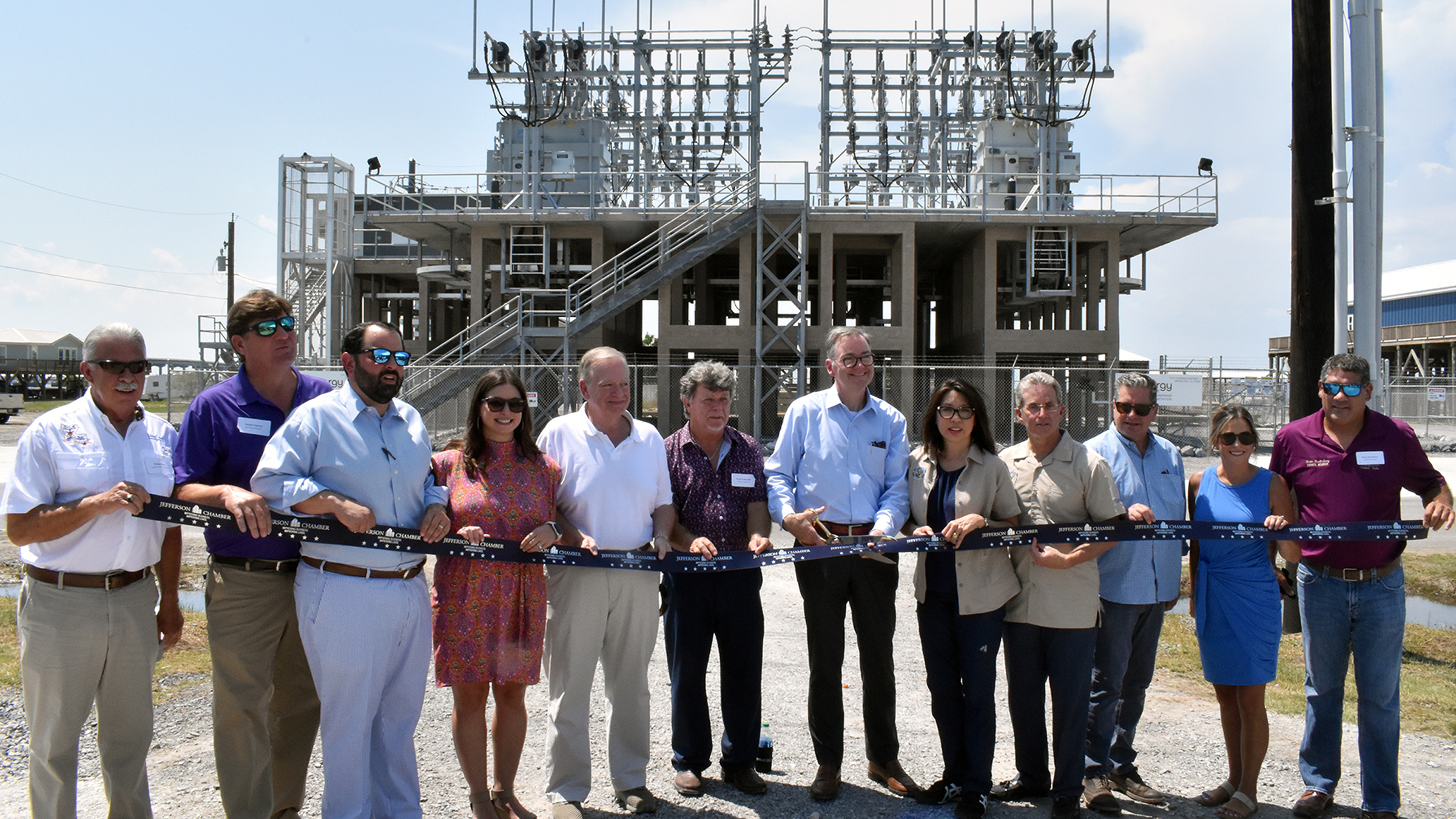 New Caminada substation was elevated 20 feet and built to stronger, modern standards
GRAND ISLE, La. – Entergy Louisiana representatives, local officials and community members gathered Wednesday along Louisiana Highway 1 to celebrate the future of power in Grand Isle.
Area residents and businesses are now being served by a stronger, more resilient electric system after Entergy Louisiana crews and contractors completed and energized the new Caminada substation this summer.
The new Caminada substation is the first of its kind in the Entergy system, with its electric equipment, including transformers, elevated 20 feet off the ground on a concrete platform to mitigate the impacts of flooding and storm surge.
"Placing the new Caminada substation into service is a significant milestone for not only us at Entergy, but also for the community of Grand Isle," said Phillip May, Entergy Louisiana president and CEO. "Following Hurricane Ida, we came into Southeast Louisiana with resiliency in mind, and to me, that's exactly what the completion of this project represents."
He added, "We're proud to serve the residents and businesses of Grand Isle and thank them for supporting the many utility crews who have worked hard to bring new electric infrastructure to the area."
In addition to rebuilding the Caminada substation, Entergy has also strengthened the electric system in the area by:
Undergrounding approximately eight miles of distribution lines along Louisiana Highway 1
Moving portions of the electric system out of hard-to-access locations in the marsh closer to roadways
Using several engineering and design tactics on the overhead distribution system to combat the effects of high winds (examples include tighter framing of equipment at the top of the pole, installing lighter transformers and shortening spans of wire from pole to pole)
"We would like to thank Entergy for the electrical upgrades they have made to the island since Hurricane Ida, including the rebuilding of the Caminada Substation," said Town of Grand Isle Mayor David Carmadelle. "Entergy has proved their commitment to Grand Isle's resiliency."  
The new Caminada substation replaces one that received significant damage following Hurricane Ida, which made landfall nearby at Port Fourchon in August 2021. To provide power to Grand Isle, Entergy procured and installed generators until a temporary substation could be built. A temporary substation was built and energized in October 2021 to provide more reliable power until a permanent substation could be completed.
Beyond rebuilding and improving the power grid, Entergy Louisiana also partnered with Friends of Grand Isle to help business owners get on their feet following Ida.
To learn more about our reliability efforts, visit entergy.com/reliability. And to learn more about how the company is developing resilient solutions for a sustainable future, visit entergy.com/future.
About Entergy Louisiana
Entergy Louisiana, LLC provides electricity to more than 1.1 million customers in 58 parishes and natural gas service to approximately 95,000 customers in Baton Rouge, Louisiana. Entergy Louisiana is a subsidiary of Entergy Corporation, a Fortune 500 electric company. Entergy powers life for 3 million customers through our operating companies in Arkansas, Louisiana, Mississippi and Texas. We're investing in the reliability and resilience of the energy system while helping our region transition to cleaner, more efficient energy solutions. With roots in our communities for more than 100 years, Entergy is a nationally recognized leader in sustainability and corporate citizenship. Since 2018, we have delivered more than $100 million in economic benefits each year to local communities through philanthropy, volunteerism and advocacy. Entergy is headquartered in New Orleans, Louisiana, and has approximately 12,000 employees. For the latest news from Entergy, visit the Newsroom.
---