News Release > Entergy Louisiana completes major reliability project in St. Bernard Parish
For Immediate Release
Entergy Louisiana completes major reliability project in St. Bernard Parish
06/15/2023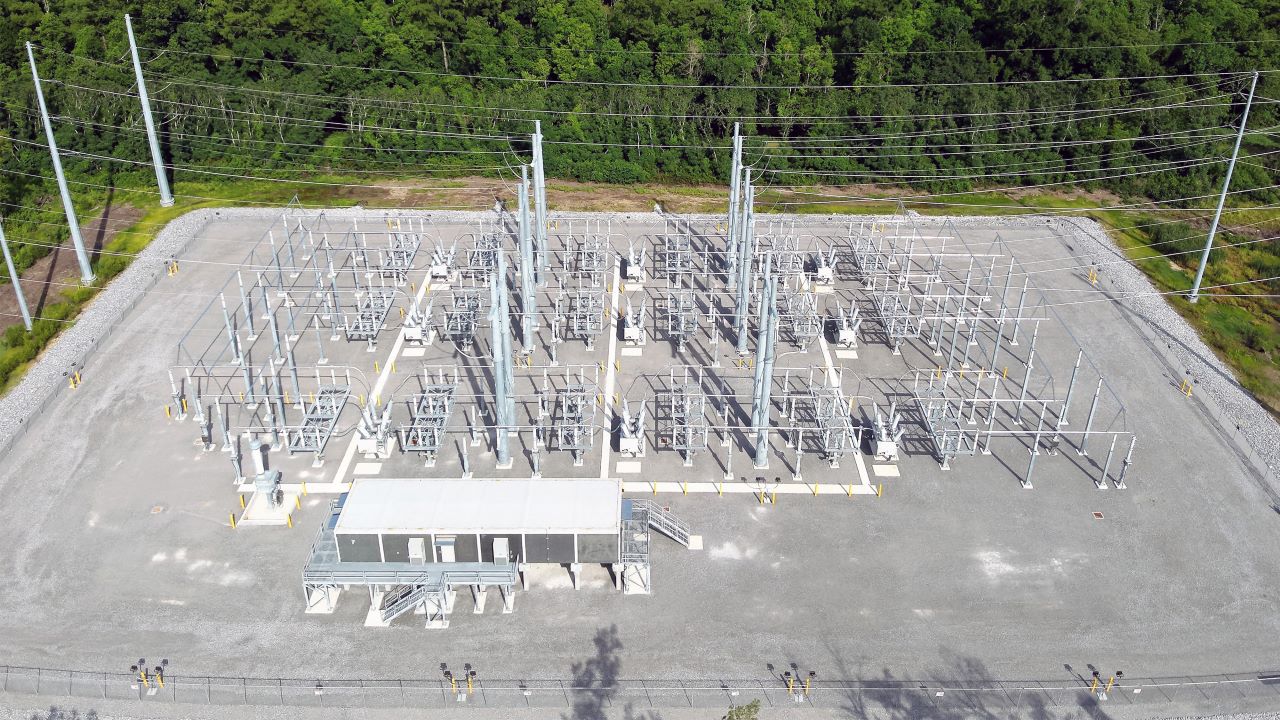 New substation and transmission lines improve reliability, add resilience to electric system
MERAUX, La. – Customers in St. Bernard Parish are now being served by a more reliable and resilient electric system after Entergy Louisiana placed a new substation and transmission lines into service.
Construction for the Munster project began June 2021 and was completed last week. Most of the work was performed near Munster Boulevard and Florida Avenue and northwest along the Forty Arpent Canal to Versailles Park. The new electric infrastructure and upgrades to existing infrastructure makes the power grid in the area more interconnected with higher capacity and allows for additional field switching capabilities — all of which will help the company deliver power to homes and businesses now and into the future.
Major components of the Munster project include:
Construction of a new 230kV substation (Munster substation)
Construction of nearly two miles of transmission lines from Munster substation to existing transmission lines coming out of Michoud substation
Upgrades at three existing substations (Meraux, Oaks and Michoud)
Connection of Munster substation to four other substations (Meraux, Oaks, Michoud and Tricou)
The Munster substation site was built four feet above base flood elevation. The control house, specifically, was elevated 14 feet above base flood elevation, which is above the 500-year base flood elevation for the area. The substation was designed to allow installation of transformers and distribution lines if needed to support future economic growth and a greater demand for power.
"We're committed to providing our customers with excellent service, and the completion of the Munster project in St. Bernard Parish is an example of us making good on that commitment," said Phillip May, Entergy Louisiana president and CEO. "Strengthening the electric system not only makes our infrastructure more resilient, but it helps the communities we serve be more resilient, and that's an outcome that lends to a sustainable future."
"We'd like to thank Entergy and their teams for improving the electric system for the citizens and business owners in St. Bernard Parish," said Guy McInnis, St. Bernard parish president. "With their infrastructure and even a local office in Chalmette, they're very much a part of our parish. We're always excited to see projects like this one being completed because it makes our area stronger and more resilient."
Maintaining and improving the electric system is an ongoing process. Entergy Louisiana's reliability experts routinely inspect and evaluate components such as poles, powerlines and transformers and use data to make strategic decisions around the replacement or enhancement of infrastructure.
To learn more about our reliability efforts, visit entergy.com/reliability. And to learn more about how the company is developing resilient solutions for a sustainable future, visit entergy.com/future.
About Entergy Louisiana
Entergy Louisiana, LLC provides electricity to more than 1.1 million customers in 58 parishes and natural gas service to approximately 95,000 customers in Baton Rouge, Louisiana. Entergy Louisiana is a subsidiary of Entergy Corporation, a Fortune 500 electric company. Entergy powers life for 3 million customers through our operating companies in Arkansas, Louisiana, Mississippi and Texas. We're investing in the reliability and resilience of the energy system while helping our region transition to cleaner, more efficient energy solutions. With roots in our communities for more than 100 years, Entergy is a nationally recognized leader in sustainability and corporate citizenship. Since 2018, we have delivered more than $100 million in economic benefits each year to local communities through philanthropy, volunteerism and advocacy. Entergy is headquartered in New Orleans, Louisiana, and has approximately 12,000 employees. For the latest news from Entergy, visit the Newsroom.
---