News Center > Entergy Louisiana completes significant transmission project in Acadiana
For Immediate Release
Entergy Louisiana completes significant transmission project in Acadiana
03/09/2023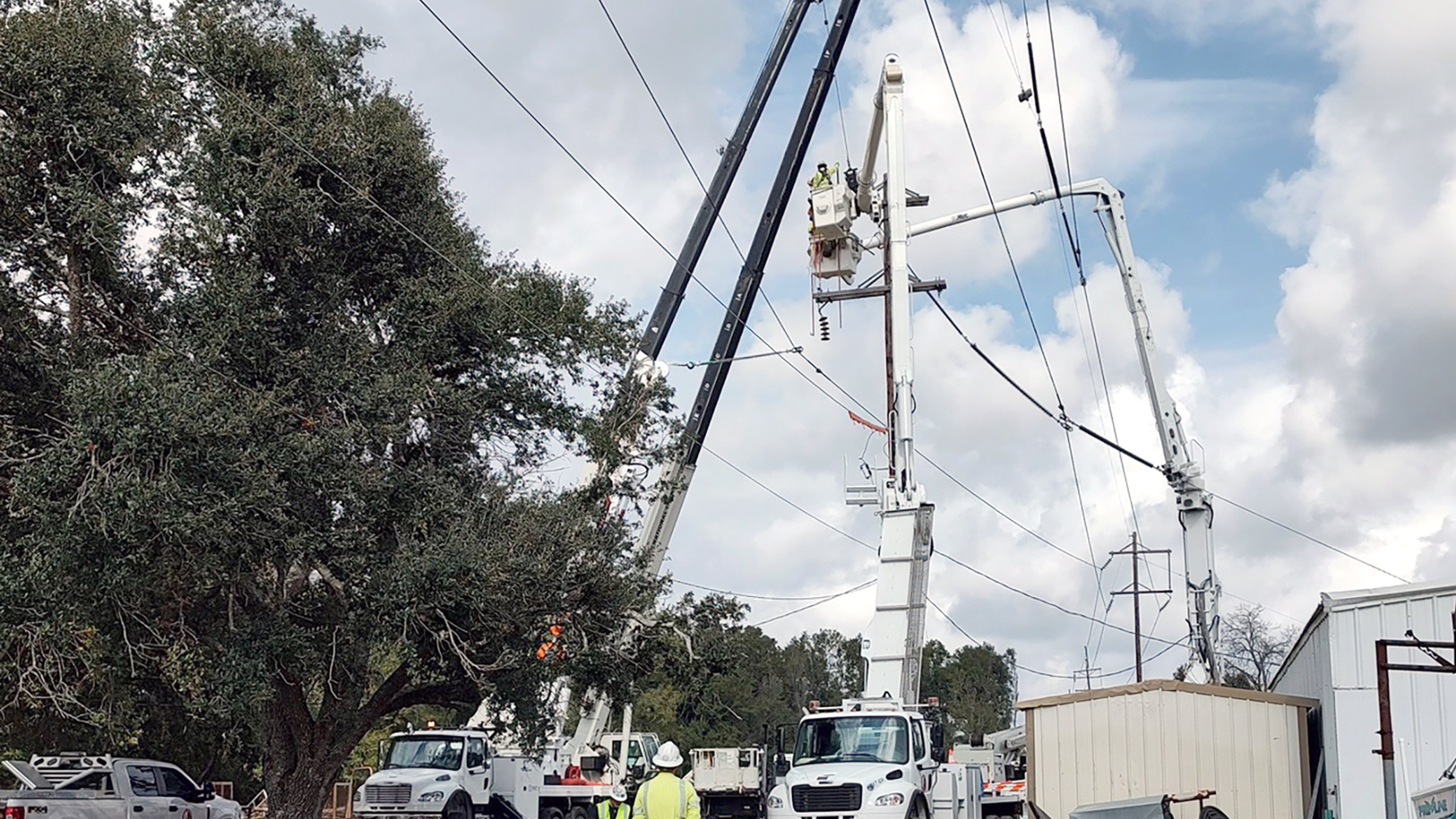 More than five miles of powerlines upgraded through Five Points to Erath project
ABBEVILLE, La. – Residents and businesses of the City of Abbeville and the Town of Erath are now being served by a stronger, more resilient electric system after Entergy Louisiana completed a $15 million upgrade to a section of transmission lines in Acadiana. 
Planning for the Five Points to Erath transmission project began in fall 2019 and construction and electric work, along with energizing the strengthened line segment, were completed in February. More than five miles of transmission lines, from Five Points substation in Abbeville to a field location near Erath, were upgraded to meet Entergy's new resilience standards for the area, which include the installation of new equipment being rated to withstand winds of up to 150 mph.
Major components of the project included:
Upgrades to equipment within Five Points substation in Abbeville.
Replacing approximately 50 existing wood or concrete structures with steel ones and adding new insulators.
Installing new powerlines that increased electric capacity in the area.
Adding additional switching capability to help reroute and restore power in the event of an outage.
The goal of the project was to increase reliability of the electric system in Abbeville and Erath areas and build resilience into a portion of the system that is near the Gulf Coast.
"The Five Points to Erath transmission project is another example of work aimed at building a more reliable and stronger, more resilient electric system for residents and businesses in Louisiana," said Phillip May, Entergy Louisiana president and CEO. "We're dedicated to providing clean, reliable and affordable power to all customers no matter where they are, including those near the Gulf Coast."
About Entergy Louisiana

Entergy Louisiana, LLC provides electric service to more than 1 million customers in 58 parishes and natural gas service to more than 94,000 customers in Baton Rouge, Louisiana. Entergy Louisiana is a subsidiary of Entergy Corporation, an integrated energy company engaged in electric power production, transmission and retail distribution operations. Entergy delivers electricity to 3 million utility customers in Arkansas, Louisiana, Mississippi and Texas. Entergy owns and operates one of the cleanest large-scale U.S. power generating fleets with approximately 24,000 megawatts of electric generating capacity, including 5,000 megawatts of nuclear power. Headquartered in New Orleans, Louisiana, Entergy has annual revenues of $11 billion and approximately 12,000 employees.
---