News Center > Entergy Louisiana supports food pantries throughout National Volunteer Month
For Immediate Release
Entergy Louisiana supports food pantries throughout National Volunteer Month
05/16/2023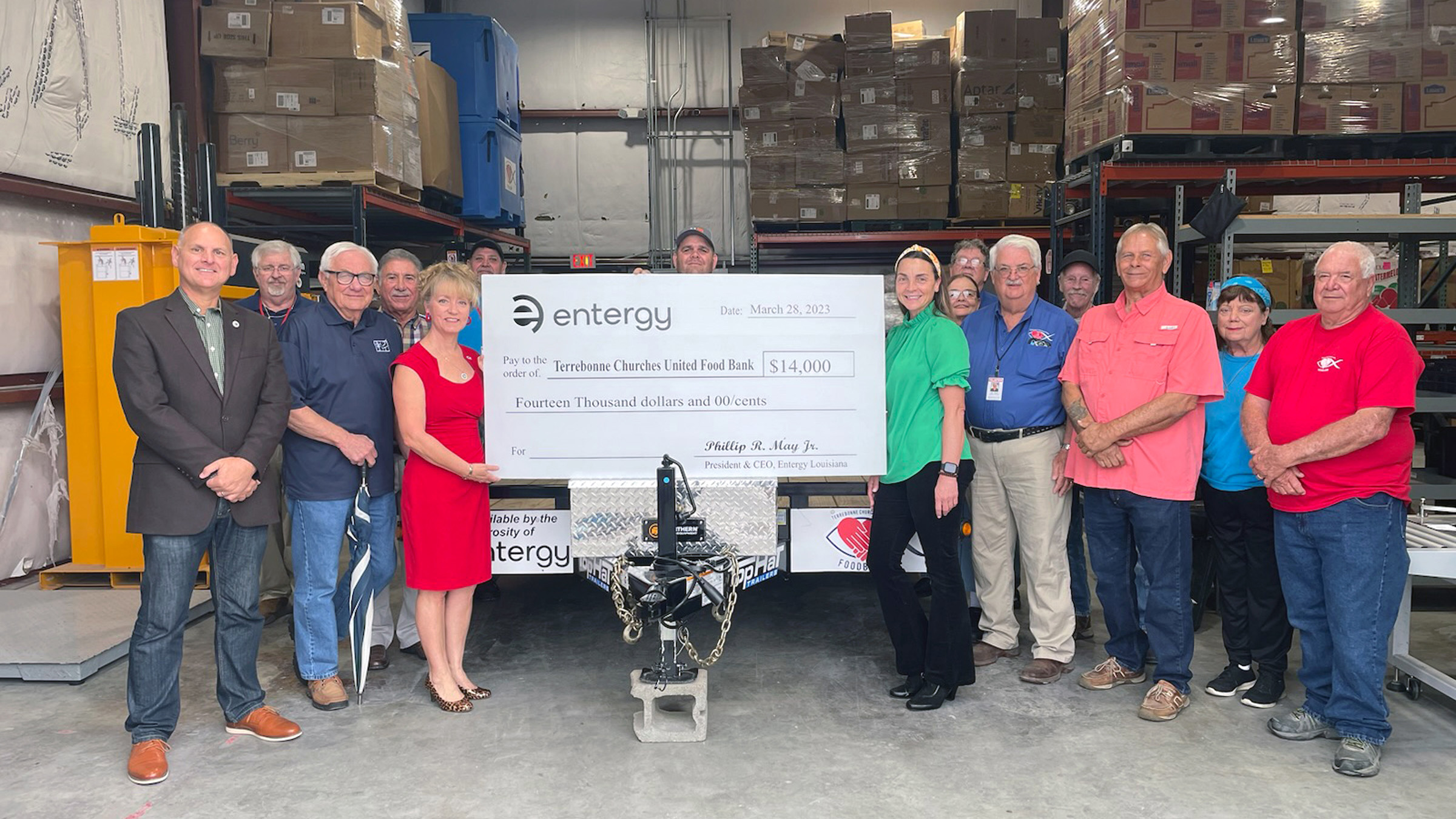 BATON ROUGE, La. – Throughout the month of April, Entergy Louisiana and its employees partnered with local food pantries and put into action what is at the cornerstone of the company's mission — volunteerism.
From Monroe to Lake Charles, Thibodaux and Baton Rouge, hundreds of employees packed boxes of food items and other goods as part of National Volunteer Month. National Volunteer Month honors those who support their communities through volunteerism and encourages volunteerism throughout not only April, but also year-round.
This year, Entergy partnered with the following food pantries in Louisiana:
Abraham's Tent in Lake Charles
Food bank of Northeast Louisiana in Monroe
Good Samaritan Food Bank of Thibodaux
Greater Baton Rouge Food Bank in Covington
Northshore Food Bank
Second Harvest Food Bank of Greater New Orleans and Acadiana
Terrebonne Churches United Food Bank
To help meet the needs of residents and customers in areas still recovering from recent major storms, Entergy provided $14,000 to Terrebonne Churches United Food Bank. The grant contribution assisted the food bank in enhancing the drive through distribution process as well as purchasing a utility trailer to transport food items to members of the community. In 2022 alone, the food bank served more than 30,000 people in the Bayou Region.
Entergy has focused some of its philanthropy efforts on food pantries because the need is great and the work that these non-profits do help some of the most vulnerable in our communities. According to Feeding Louisiana, one-in-four children and seniors in Louisiana face food insecurity.
"Volunteerism is critical to our mission here at Entergy and something our employees are passionate about," said Michelle Bourg, Entergy Louisiana vice president of customer service. "That's why we're proud to join our non-profit partners in Louisiana who work hard to reduce food insecurity in our communities, communities where many of us live and work and want to see thrive."
To learn more about how Entergy supports Louisiana communities, visit entergy.com/community/.
About Entergy Louisiana
Entergy Louisiana, LLC provides electricity to more than 1.1 million customers in 58 parishes and natural gas service to approximately 95,000 customers in Baton Rouge, Louisiana.
Entergy Louisiana is a subsidiary of Entergy Corporation, a Fortune 500 electric company. Entergy powers life for 3 million customers through our operating companies in Arkansas, Louisiana, Mississippi and Texas. We're investing in the reliability and resilience of the energy system while helping our region transition to cleaner, more efficient energy solutions. With roots in our communities for more than 100 years, Entergy is a nationally recognized leader in sustainability and corporate citizenship. Since 2018, we have delivered more than $100 million in economic benefits each year to local communities through philanthropy, volunteerism and advocacy. Entergy is headquartered in New Orleans, Louisiana, and has approximately 12,000 employees. For the latest news from Entergy, visit the Newsroom.
---