News Release > Entergy Mississippi continues storm recovery
For Immediate Release
Entergy Mississippi continues storm recovery
06/18/2023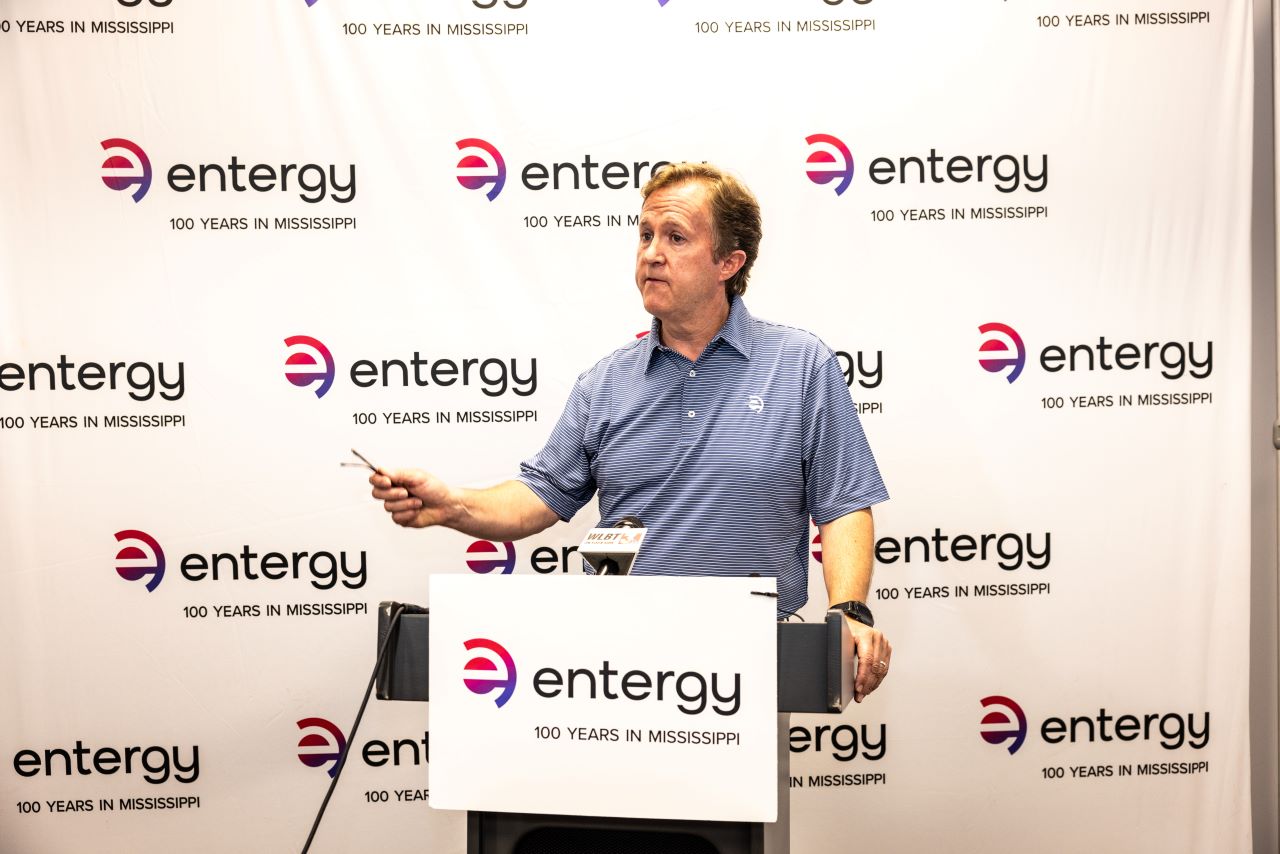 A workforce of 2,000 is restoring power as storms keep striking the service area
JACKSON, Miss. – Entergy Mississippi crews are making progress restoring power to more than 138,000 customers who were left without after multiple major storms continue to move through the state. Storms have struck our service area nearly every day since Saturday, June 10 and more are forecast this week. Restoration efforts have been ongoing and our crews continue to restore power as it is safe to do so, even as a weather system is moving through our service area today.
The outages are a result of a wave of consecutive strong and fast-moving storms that have pelted Entergy Mississippi's power grid for more than a week. These storms have caused outages for customers in the western half of the state from the Tennessee to Louisiana lines. More than 2,000 workers are involved in the restoration efforts. As power is restored in one area, crews will be redirected to areas still without power.
"These thunderstorms are relentless, however our storm teams and those here to assist with our restoration are also relentless," said Haley Fisackerly, president and CEO, Entergy Mississippi. "We are now systematically and safely stepping through our switching, vegetation clearing and construction efforts to restore power to all our customers."  
About 36,000 outages remain and additional outages could occur as more weather systems move through the area.
"I want to thank our customers for their patience," said Haley Fisackerly, Entergy Mississippi president and CEO. "It's frustrating to be without power for this long, especially in Mississippi's hot summer. These storms inflicted extensive damage on our systems. We know you want to get your power restored and we have an army of workers focused on making repairs so your lives can get back to normal."
"As weather continues to move through our area, we are aware of customers that have now been impacted two or three times due to different causes. We are continuing to receive storm assessments from our scouting teams and prioritizing the restoration efforts."  
Additionally, we have committed $20,000 to the American Red Cross to support cooling centers in our service area.
Entergy Mississippi reminds customers that if they live in a neighborhood that has had power restored but don't have power at their home, they likely have electrical damage. If a customer is without power, they should check for damage to the electrical equipment attached to their home or business and contact an electrician to make repairs. For information about a home's electrical equipment, visit entergynewsroom.com/storm-center/weatherhead/.
If electric equipment appears undamaged, text OUT to 36778 or call 1-800-9OUTAGE (800-968-8243). If damage has been repaired by a qualified electrician, call 1-800-ENTERGY (800-368-3749) to generate a service reconnection work order.
Entergy Mississippi began restoring power to customers as safely and quickly as possible after the storms passed. Our crews, along with mutual assistance contractors, will continue working around the clock until all power is restored.
Here's how you can stay up to date on our restoration efforts:
About Entergy Mississippi
Entergy Mississippi, LLC provides electricity to approximately 461,000 customers in 45 counties. Entergy Mississippi is a subsidiary of Entergy Corporation, a Fortune 500 electric company. Entergy powers life for 3 million customers through our operating companies in Arkansas, Louisiana, Mississippi and Texas. We're investing in the reliability and resilience of the energy system while helping our region transition to cleaner, more efficient energy solutions. With roots in our communities for more than 100 years, Entergy is a nationally recognized leader in sustainability and corporate citizenship. Since 2018, we have delivered more than $100 million in economic benefits each year to local communities through philanthropy, volunteerism and advocacy. Entergy is headquartered in New Orleans, Louisiana, and has approximately 12,000 employees. For the latest news from Entergy, visit the Newsroom.
---