News Release > Entergy Mississippi is ready for peak of hurricane season
For Immediate Release
Entergy Mississippi is ready for peak of hurricane season
08/14/2023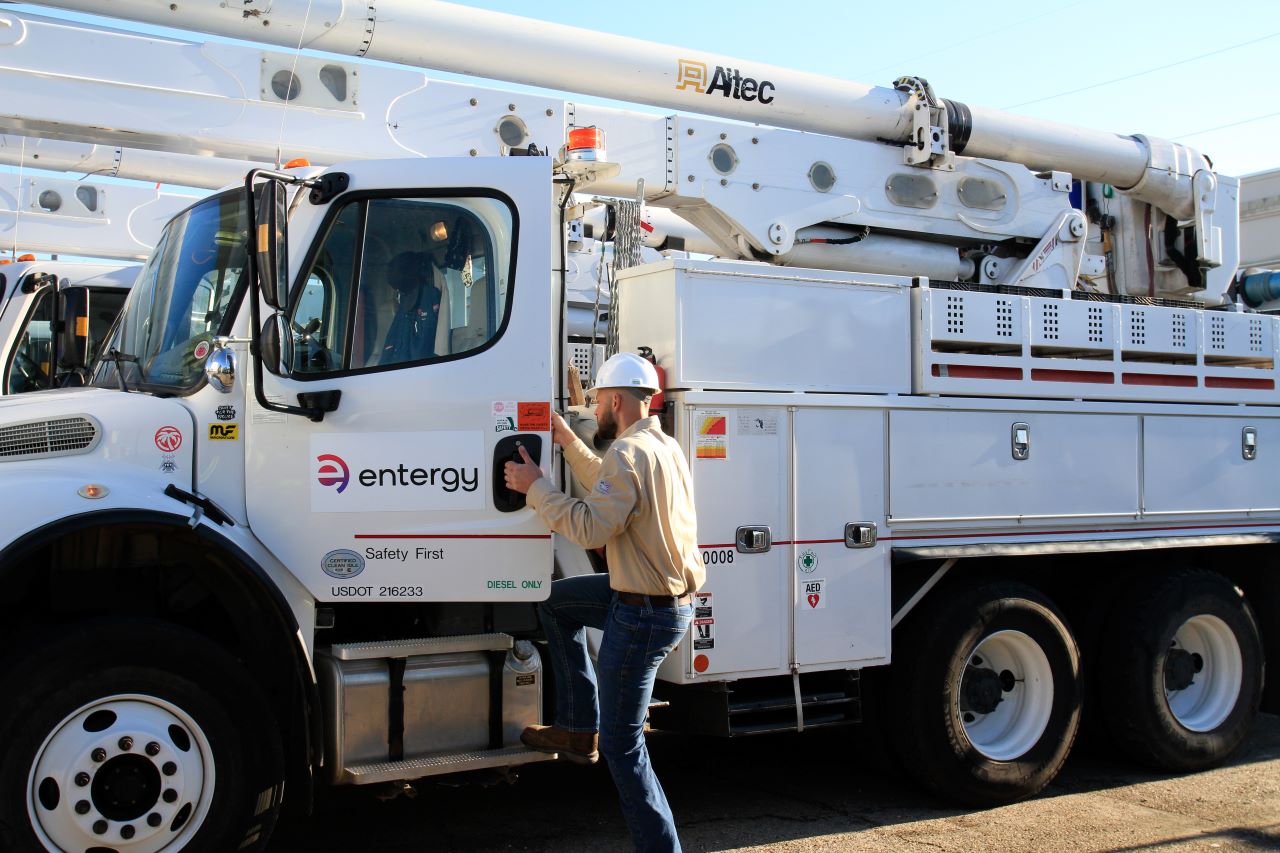 JACKSON, Miss. – Entergy Mississippi is prepared for potential hurricanes this season, and you should be ready, too. With the height of the hurricane season approaching, the National Hurricane Center last week increased their estimated number of major storms expected for the remainder of the season, citing record-high temperatures in the Atlantic and Gulf of Mexico as reasons for greater threats of severe weather.
"Storms are impacting our region more frequently and with increased intensity, making it a greater priority to prepare ahead of time," said Shawn Corkran, vice president for reliability Entergy Mississippi. "We're committed to restoring power safely and as quickly as possible following severe weather and urge customers to prepare and have a plan in place."
Entergy Mississippi performs storm preparations year-round – from inspections and vegetation management to training and industry collaboration. Since trees and other vegetation are a leading cause of power outages, we conduct "sky to ground" vegetation trimming on targeted sections of line, which removes tree limbs that would normally have been above or near the power lines. And, we use computer modeling to help predict when trimming may be needed.
The next few weeks are critical, with past late-August storms such as Hurricanes Andrew, Katrina, Laura and Ida reminding us of the need to be ready. In the last two years, hurricanes, tornadoes, and major thunderstorms have caused significant damage to our distribution system.
Staying storm ready is a full-time job, 24/7, 365 days a year. When there's a hurricane threat, Entergy uses forecasts and computer models based on experience with past storms to predict damage to our power delivery infrastructure such as poles, transformers and wire spans. Based on those estimates, the company will call on restoration workers from around the country as needed to safely get the power back on as quickly as possible. Assessing damage, deploying personnel to the right place with the right materials and restoring power are all processes Entergy Mississippi continually plans for and improves.
Stay prepared
"Safety is at the forefront of all we do, and we encourage you to prepare now and remain safe when severe weather hits," said Robbie Kemp, vice president of customer service for Entergy Mississippi. "Take the time now to get your personal storm plans in place and make a kit with the basic supplies needed in an emergency. You can learn how to make an emergency kit and get important severe weather safety tips on the Entergy Storm Center."
Stay informed
Staying informed before, during and after a tropical system strikes is just as important as making personal storm plans. Here's how you can stay up to date on Entergy Mississippi's preparations and restoration efforts:
We want to make sure you receive the updates we send throughout a storm response. Customers are encouraged to log into their online Entergy account at com to verify contact information.
Download the Entergy App. Customers can use the app to report outages or check on the status of power at their home or business.
Check our View Outage Maps show where outages are located and give information about restoration progress.
Follow us on Facebook and Twitter. Social media also plays an important role in keeping you informed, and we place a high priority on updating company's social media channels throughout an event.
Sign up for notificationsabout storm and restoration efforts by texting REG to 36778.
Visit the Entergy Storm Center The site has storm safety, preparation and restoration information that is updated throughout the day.
Download the Operation: Storm Ready Guide. This guide will help you plan and prepare for weather emergencies. Versions are available in Spanish and Vietnamese.
About Entergy Mississippi
Entergy Mississippi, LLC provides electricity to approximately 461,000 customers in 45 counties. Entergy Mississippi is a subsidiary of Entergy Corporation, a Fortune 500 electric company. Entergy powers life for 3 million customers through our operating companies in Arkansas, Louisiana, Mississippi and Texas. We're investing in the reliability and resilience of the energy system while helping our region transition to cleaner, more efficient energy solutions. With roots in our communities for more than 100 years, Entergy is a nationally recognized leader in sustainability and corporate citizenship. Since 2018, we have delivered more than $100 million in economic benefits each year to local communities through philanthropy, volunteerism and advocacy. Entergy is headquartered in New Orleans, Louisiana, and has approximately 12,000 employees. For the latest news from Entergy, visit the Newsroom.
---