News Center > Entergy Partners with Port Gibson and Local Organizations to Give Back to the Community
For Immediate Release
Entergy Partners with Port Gibson and Local Organizations to Give Back to the Community
11/06/2019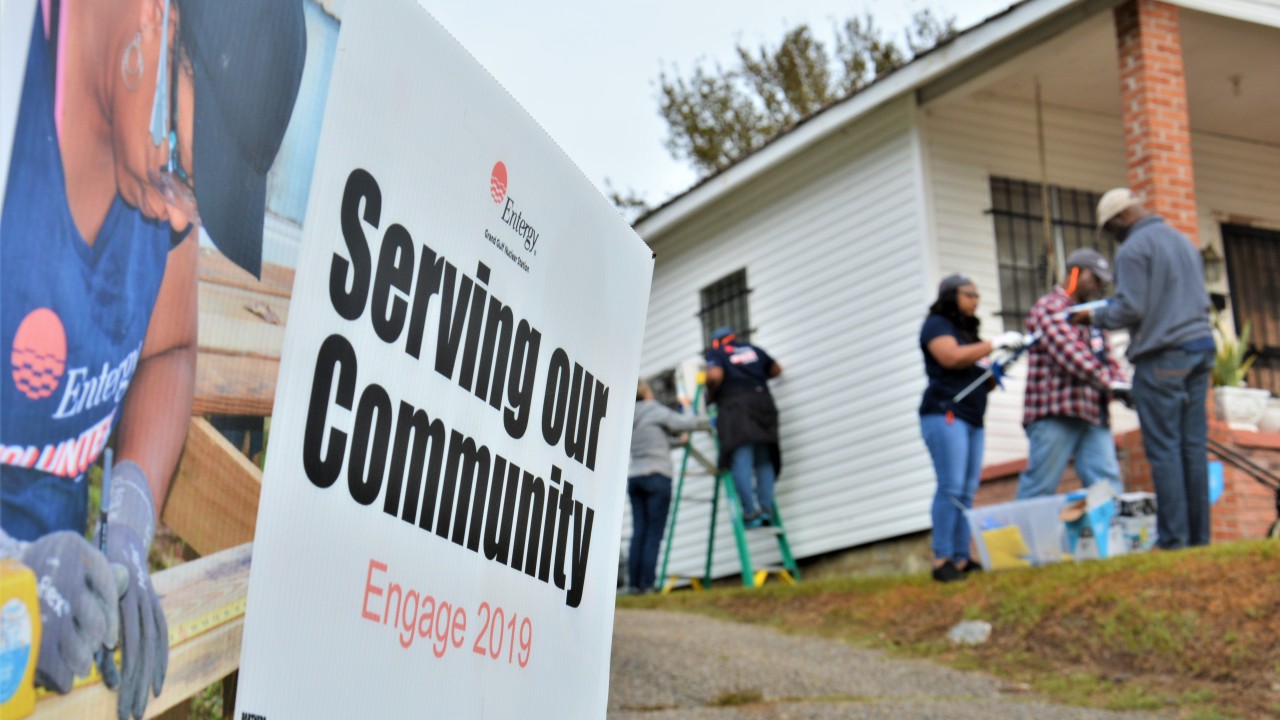 Entergy employees recently provided residents of Port Gibson with a warmer, brighter future. From
October 14-24, this community volunteer event, called "Engage 2019," winterized 130 homes across all six Port Gibson wards and improved aesthetics of the downtown area.
"Port Gibson is our community," said Eric Larson, site vice president of Entergy's GrandGulf Nuclear Station. "The community is one of Entergy's stakeholders and Engage 2019 is a collaborative effort to give back, because we are proud to be a part of the Port Gibson family."
Winterization efforts included adding weather strips to doors, caulking windows and doors, replacing broken windows, cleaning gutters, removing debris, mowing and pruning, placing heat wrap on pipes, HVAC cleaning and filter replacement, and installing up to 10 energy-efficient lightbulbs per home.
Volunteers also collaborated on a beautification project for downtown Port Gibson, including purchasing metal benches, repairing old benches, painting trash receptacles, providing flower pots, and painting a wall to display movies for community "movie nights"—complete with a new popcorn machine. Entergy has invested more than $60,000 of supplies and volunteer-hours in Engage 2019.
Partners included Entergy's Grand Gulf Nuclear Station and corporate offices, the City of Port Gibson and the Port Gibson/Claiborne County Chamber of Commerce, Christian Volunteer Services, AmeriCorps, Claiborne County School District, Alcorn State University, Terry Service, and Day & Zimmerman.
Christian Volunteer Services, a local non-profit organization, and City of Port Gibson officials selected the homes for winterization. Day & Zimmermann provided labor for beautification efforts and Terry Service provided supplies and labor for HVAC cleaning and filter replacement.
-30-
entergy-nuclear.com
Facebook: Entergy Nuclear
Twitter: @EntergyNuclear
---