News Center > Entergy Prepares for Storm Season in Weeklong Drill
For Immediate Release
Entergy Prepares for Storm Season in Weeklong Drill
05/22/2014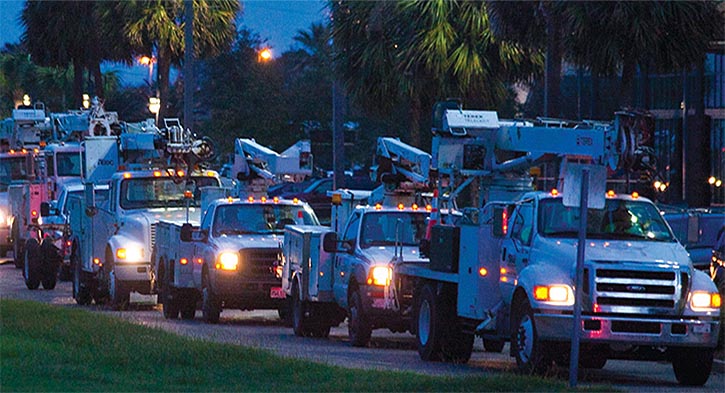 Company Puts Response and Communication to the Test with Hurricane Scenario
NEW ORLEANS – In preparation for the upcoming hurricane season, hundreds of Entergy employees across the company's utility service territory recently engaged in an intensive storm drill. The drill tracked a fictional hurricane and its potential impact on the Entergy service territory. 
Following Hurricane Katrina, Entergy adopted the federal and state Incident Command Structure for disasters that clearly defines the roles and responsibilities of the entire storm team. The drill began with a message announcing that a Category 3 hurricane was expected to make landfall that week potentially impacting Louisiana, Mississippi, and Texas. Participants immediately began responding to the message as if it were a real weather threat. 
"We approach every drill as a real event," said Greg Grillo, Entergy's system storm incident commander. "We gather people at all command centers to practice our response to a hurricane even in those areas not in the storm's path as they may serve as critical support to the event. We use this as an opportunity to strengthen restoration protocols and to improve communications with our customers.  As always, even in a drill, safety is our top priority."  
Over the last few years, Entergy has been refining and testing new communication processes, particularly those designed to address demands of real-time digital and social media.  Customer service teams work with field crews and communications staff to get restoration information from the field into the customer's hands as quickly as possible.
The storm path outlined in the scenario also required Entergy's nuclear plants in Louisiana and Mississippi to implement severe weather procedures. These procedures involve securing the site and making arrangements for staffing at the plant during and after the storm.   
"Continually testing our emergency response and communication plans is a key component to our 'prepare for the worst and hope for the best' approach to storm restoration. Our customers can be assured we will be doing everything we can to restore their power as safely and quickly as possible," said Grillo. "Entergy is recognized in the industry as having one of the best storm restoration teams in the country."
Even with the swiftest response, a major storm can cripple a community's infrastructure, delaying access to basic needs such as food, water and electricity. Entergy strongly encourages customers to make their own plans. There are several things everyone can do to be storm ready:
Download our free app for your smartphone at entergy.com/app.
Sign up for text alerts. From your cellphone, text R-E-G to 368374.
Visit the Entergy Storm Center website and our View Outages page for the latest information.
Follow us on Twitter.com/entergy or facebook.com/entergy.
Entergy Corporation is an integrated energy company engaged primarily in electric power production and retail distribution operations. Entergy owns and operates power plants with approximately 30,000 megawatts of electric generating capacity, including more than 10,000 megawatts of nuclear power, making it one of the nation's leading nuclear generators. Entergy delivers electricity to 2.8 million utility customers in Arkansas, Louisiana, Mississippi and Texas. Entergy has annual revenues of more than $11 billion and approximately 14,000 employees.
-30-
@entergy  (Twitter)
---