News Release > Entergy Texas continues annual pole inspections to improve service reliability
For Immediate Release
Entergy Texas continues annual pole inspections to improve service reliability
07/11/2023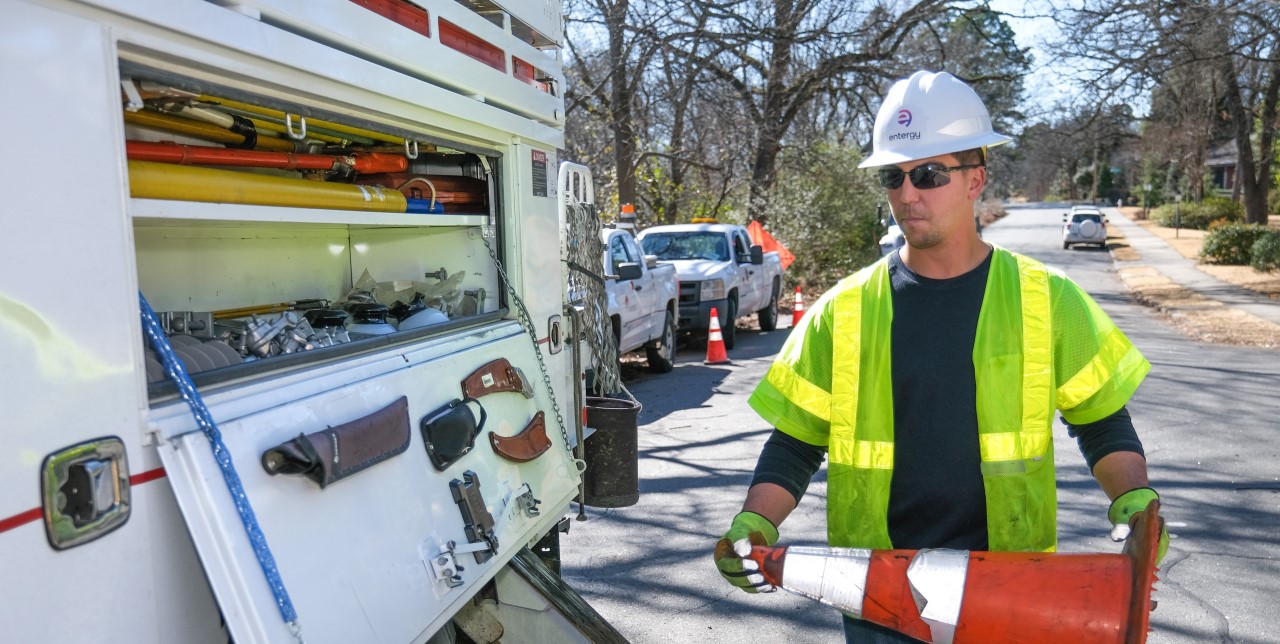 Crews plan to inspect more than 43,000 poles to help prevent outages
THE WOODLANDS, Texas – Entergy Texas works year-round to maintain and upgrade its infrastructure to improve service reliability to customers across Southeast Texas. Utility poles are a critical piece of equipment to providing power, and over time, poles can become weathered by forces of nature or even damaged by the public. For that reason, Entergy Texas performs an annual pole inspection to help identify poles that need to be reinforced or replaced.
"Our annual inspections help prevent repeated or extended outages, leading to a better experience for customers," said Melanie Taylor, vice president of distribution operations at Entergy Texas. "Over the next few weeks, crews will inspect more than 43,000 poles spanning from Huntsville to Orange, which is essential to our mission of delivering safe, reliable and affordable electricity to communities across Southeast Texas."
Osmose Utilities Services, Inc., a specialist in its field, will perform the routine inspections and preventative maintenance work for Entergy Texas. During pole inspections, crews will thoroughly inspect poles for defects. Following a visual inspection, the poles are "sounded" with a hammer to find any internal voids or hollow cavities. Poles that show signs of internal or external decay are fully excavated to determine the extent of decay at the groundline. Osmose may reinforce some poles during the inspection, but poles identified as needing further maintenance will be reported to Entergy Texas for replacement at a scheduled time.
As crews begin inspections, it's important to keep safety a priority. Whether you're at home or on a worksite, remember to always avoid power lines. If you notice a potential hazard, please call 1-800-ENTERGY (1-800-368-3749) and we'll make sure it's safe.
About Entergy Texas
Entergy Texas, Inc. provides electricity to approximately 499,000 customers in 27 counties. Entergy Texas is a subsidiary of Entergy Corporation, a Fortune 500 electric company. Entergy powers life for 3 million customers through our operating companies in Arkansas, Louisiana, Mississippi and Texas. We're investing in the reliability and resilience of the energy system while helping our region transition to cleaner, more efficient energy solutions. With roots in our communities for more than 100 years, Entergy is a nationally recognized leader in sustainability and corporate citizenship. Since 2018, we have delivered more than $100 million in economic benefits each year to local communities through philanthropy, volunteerism and advocacy. Entergy is headquartered in New Orleans, Louisiana, and has approximately 12,000 employees. For the latest news from Entergy, visit the Newsroom.
---