News Release > Entergy Texas and ENGIE partner to explore sustainable power solutions
For Immediate Release
Entergy Texas and ENGIE partner to explore sustainable power solutions
07/07/2023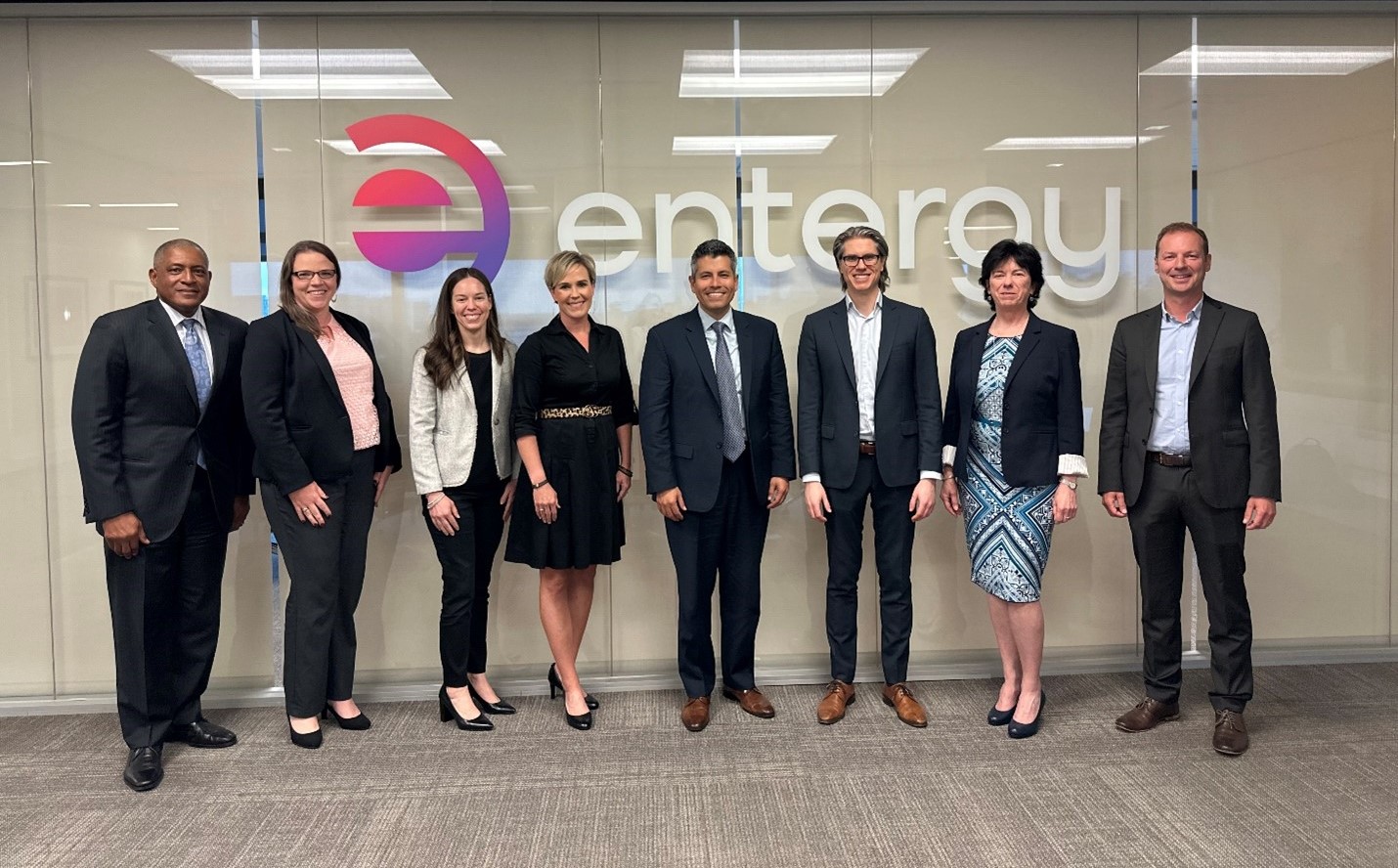 BEAUMONT and HOUSTON, Texas – Entergy Texas and ENGIE North America (ENGIE) recently executed a memorandum of understanding to work collaboratively toward the exploration of mutually beneficial sustainability solutions.  
ENGIE is currently developing a 350 MW industrial-scale green hydrogen plant in Entergy Texas' service area with an estimated commercial operation date by 2026. This first phase of the proposed project requires an investment of over $500 million and will generate up to 500 jobs during construction and as many as 40 full time positions. Subsequent phases of the proposed hydrogen project could grow this Renewable Hydrogen project to 1 GW by 2030.
"We are proud to partner with industry leaders like ENGIE to support the needs of our customers and communities," said Eliecer Viamontes, president and CEO of Entergy Texas. "Southeast Texas has the infrastructure and workforce to play an essential role in the growing low-to-zero carbon hydrogen industry, and our collaboration with ENGIE will lead the way for significant advancements." 
Entergy Texas operates in the Midcontinent Independent System Operator energy market and has reliably served customers in Southeast Texas for decades. The company plans to invest over $2.5 billion by the end of 2024 to build a more resilient and sustainable energy future for the region. 
"High-energy, low-emission, locally produced hydrogen could be the next game-changing energy resource for Texas," said Eric De Caluwe, Managing Director of Flexible Generation & Hydrogen at ENGIE North America. "With Houston being home to our North American headquarters for the last 40 years and Texas continuing to be a key market of investment and advancement of new projects and technologies, we look forward to working with Entergy Texas to serve the changing needs of industrial and heavy transport customers here as they seek cleaner forms of energy to fuel their operations and processes." 
About Entergy Texas 
Entergy Texas, Inc. provides electricity to approximately 499,000 customers in 27 counties. Entergy Texas is a subsidiary of Entergy Corporation, a Fortune 500 electric company. Entergy powers life for 3 million customers through our operating companies in Arkansas, Louisiana, Mississippi and Texas. We're investing in the reliability and resilience of the energy system while helping our region transition to cleaner, more efficient energy solutions. With roots in our communities for more than 100 years, Entergy is a nationally recognized leader in sustainability and corporate citizenship. Since 2018, we have delivered more than $100 million in economic benefits each year to local communities through philanthropy, volunteerism and advocacy. Entergy is headquartered in New Orleans, Louisiana, and has approximately 12,000 employees. For the latest news from Entergy, visit the Newsroom. 
About the ENGIE Group 
The ENGIE Group (made up of ENGIE S.A. and its subsidiaries and affiliates) is a global leader in low-carbon energy and services. With its 96,000 employees, its customers, partners and stakeholders, the Group is committed to accelerate the transition toward a carbon-neutral world, through reduced energy consumption and more environmentally-friendly solutions. Inspired by its purpose ("raison d'être"), ENGIE reconciles economic performance with a positive impact on people and the planet, building on its key businesses (gas, renewable energy, services) to offer competitive solutions to its customers. ENGIE S.A. (ENGI), is listed on the Paris and Brussels Stock Exchanges. 
In North America, ENGIE companies have delivered integrated, innovative energy solutions to public and private organizations for nearly half a century. We employ approximately 3,000 people focused on enabling our customers to become more sustainable and achieve their decarbonization targets through expert project delivery and competitive solutions. For more information on ENGIE in North America, please visit our LinkedIn page or Twitter feed, https://www.engie-na.com/ and https://www.engie.com.
---