News Center > Entergy Texas and Habitat Montgomery County partner to make homes more energy efficient
For Immediate Release
Entergy Texas and Habitat Montgomery County partner to make homes more energy efficient
05/30/2023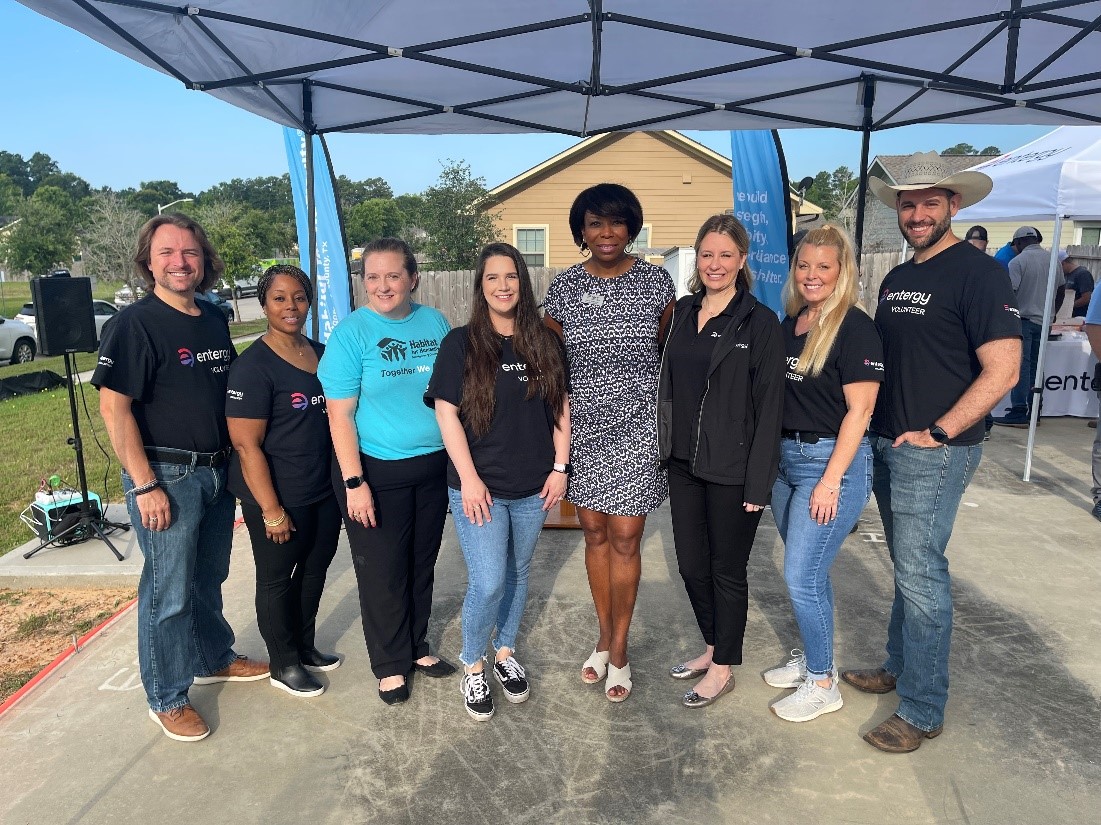 The partnership helped weatherize more than 40 homes in Conroe ahead of summer
THE WOODLANDS, TEXAS – Summer is near, and with weather remaining one of the leading contributors to high energy bills, Entergy Texas teamed up with Habitat for Humanity of Montgomery County, TX to help residential customers save energy and money.
Volunteers and energy efficiency contractors helped weatherize more than 40 Habitat for Humanity homes in the Conroe area. Weatherization efforts included duct sealing, adding insulation to attics and air conditioner tune-ups to avoid increased energy usage.
"Cooling and heating costs make up about 55% of an average customer's energy bill," said Mark Delavan, Entergy Texas program manager. "We're excited to partner with Habitat Montgomery County to provide long-term energy efficiency solutions during summer and winter months."
Additionally, Entergy Texas supported the Critical Home Repair program run by Habitat Montgomery County with a grant of $20,000 to provide critical home repairs for low-income homeowners. Repairs include full roof replacements, HVAC repairs and replacement, and upgrades to home insulation – all of which will not only make homes safer but more energy efficient leading into the hot, summer months.
"Entergy Texas' involvement and commitment to our home repair program is significant," said Vicki Johnson, Executive Director for Habitat Montgomery County. "Together we are ensuring more families get the needed repairs and energy efficiency tools to live safely and productively in their homes. These essential home improvements prevent homeowners from high energy costs, hazards, injuries or falls."
Entergy Texas is committed to helping customers manage energy usage to keep costs down and offers several residential and commercial energy efficiency programs.
To learn more, visit www.entergy.com/energyefficiency.
About Entergy Texas 
Entergy Texas, Inc. provides electricity to approximately 499,000 customers in 27 counties. Entergy Texas is a subsidiary of Entergy Corporation, a Fortune 500 company headquartered in New Orleans. Entergy powers life for 3 million customers through its operating companies across Arkansas, Louisiana, Mississippi and Texas. Entergy is creating a cleaner, more resilient energy future for everyone with our diverse power generation portfolio, including increasingly carbon-free energy sources. With roots in the Gulf South region for more than a century, Entergy is a recognized leader in corporate citizenship, delivering more than $100 million in economic benefits to local communities through philanthropy and advocacy efforts annually over the last several years. Our approximately 12,000 employees are dedicated to powering life today and for future generations. For the latest news from Entergy, visit the Newsroom.
---