News Center > Entergy Texas and Monarch Energy collaborate to advance Southeast Texas energy infrastructure
For Immediate Release
Entergy Texas and Monarch Energy collaborate to advance Southeast Texas energy infrastructure
04/05/2023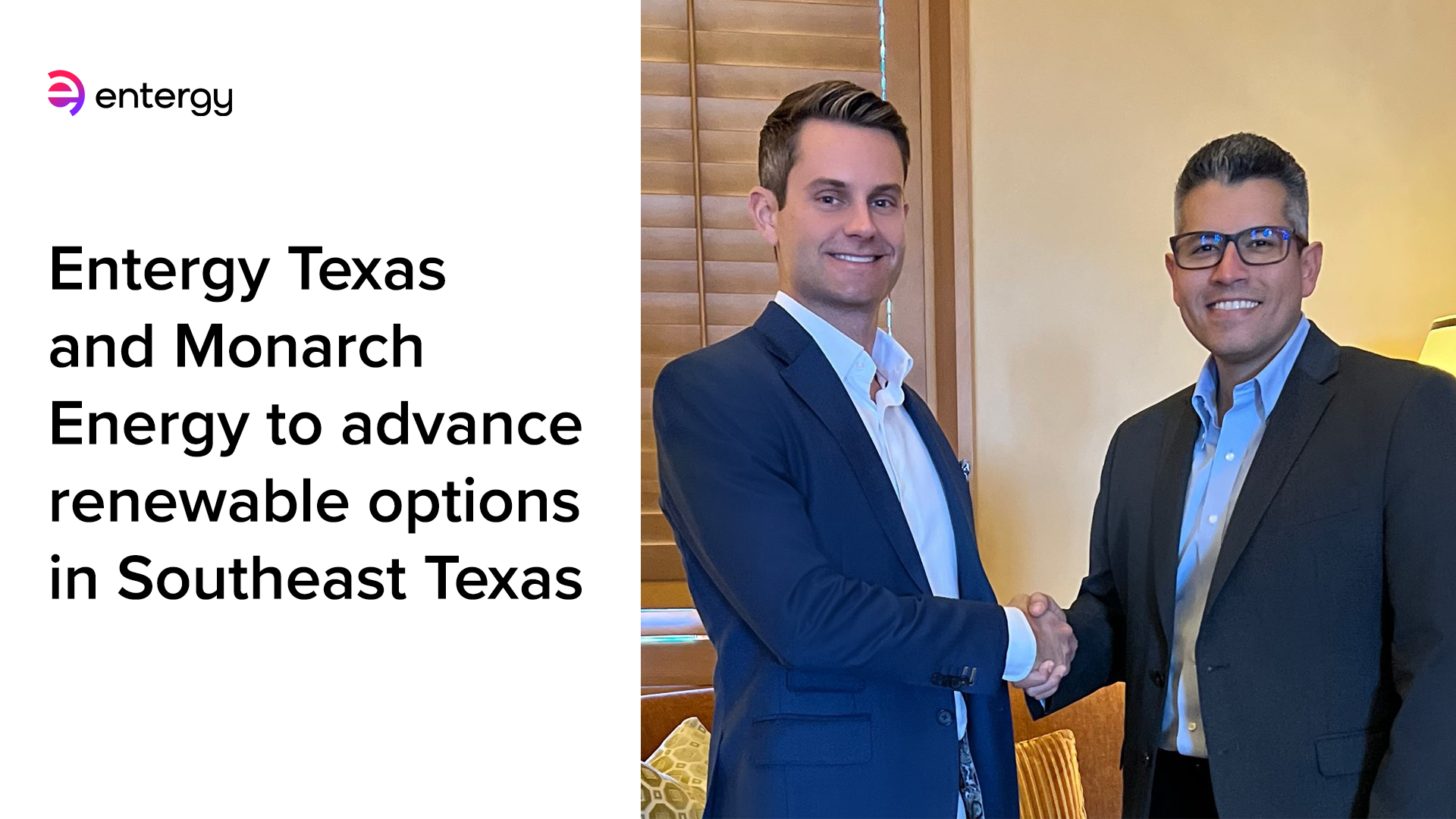 Companies sign MOU on the development of renewable energy resources to serve Monarch's green hydrogen facilities
BEAUMONT, Texas – Entergy Texas and Monarch Energy, a company known for its green hydrogen and electro-fuels projects, have signed a memorandum of understanding to help advance the energy infrastructure in Southeast Texas. As part of the agreement, Entergy Texas will work with Monarch Energy to leverage existing transmission infrastructure and/or construct new generation resources to supply long-term renewable power to Monarch's 500-megawatt green hydrogen electrolyzer project near Beaumont, Texas.
"Southeast Texas is growing at a rapid pace, and it's essential we make investments that help power that growth and support a resilient electric system," said Eliecer Viamontes, president and CEO of Entergy Texas. "This partnership with Monarch Energy allows us to diversify our generation portfolio while also strengthening the region's economic development."
Monarch Energy's hydrogen electrolyzer project represents a potential $500 million investment in the Beaumont region, creating over 500 temporary construction jobs and over 30 permanent operational jobs. Monarch Energy began development of the facility in 2021 and expects to commence commercial operations in 2026.
"Monarch is excited to be working with a best-in-class partner in Entergy Texas," said Ben Alingh, co-founder and CEO of Monarch Energy. "Securing a reliable supply of clean power is critical to the success of our green hydrogen project in Beaumont."
Entergy Texas has a distinct locational advantage as it sits in the heart of hydrogen producers, storage infrastructure and industrial customers. Additionally, the utility's service territory has a workforce with the skillset needed to support hydrogen innovation. Entergy Texas remains committed to working with industry leaders to provide reliable, affordable and sustainable power to our customers for generations to come.
About Entergy Texas
Entergy Texas, Inc. provides electricity to 499,000 customers in 27 counties. Entergy Texas is a subsidiary of Entergy Corporation, a Fortune 500 company headquartered in New Orleans. Entergy powers life for 3 million customers through its operating companies across Arkansas, Louisiana, Mississippi and Texas. Entergy is creating a cleaner, more resilient energy future for everyone with our diverse power generation portfolio, including increasingly carbon-free energy sources. With roots in the Gulf South region for more than a century, Entergy is a recognized leader in corporate citizenship, delivering more than $100 million in economic benefits to local communities through philanthropy and advocacy efforts annually over the last several years. Our approximately 12,000 employees are dedicated to powering life today and for future generations. For the latest news from Entergy, visit the Newsroom.
About Monarch Energy
Monarch Energy develops green hydrogen and electro-fuels projects with a specialization in hydrogen electrolysis and clean energy. The company was founded in 2021 with a mission to transform today's hydrogen supply chain by utilizing clean molecules derived from water and zero carbon electricity. Monarch is developing a pipeline of projects containing 4 GW of future installed electrolyzer capacity across the United States and reduces its customers' environmental footprint by providing clean alternatives to legacy feedstocks.
---