News Release > Entergy Texas sponsors United Way's book vending machine program at BISD
For Immediate Release
Entergy Texas sponsors United Way's book vending machine program at BISD
09/25/2023
Karyn Husbands, President/CEO, United Way of Beaumont & North Jefferson County
|
409-835-4575
|
khusbands@uwbmt.org
Jackie Simien, Director of Community and Media Relations, Beaumont Independent School District
|
409-617-5088
|
jsimien@bmtisd.com
The new program encourages students to discover a love of reading and works to boost literacy rates across Southeast Texas.
BEAUMONT, Texas – As part of its ongoing commitment to investing in education, Entergy Texas donated $50,000 to the United Way of Beaumont & North Jefferson County to support a new book vending machine program within the Beaumont Independent School District (BISD). The program allows BISD to implement incentives aligned with student attendance, behavior, effort, and reading practice. Students are awarded special tokens for meeting their goals, which can be used at on-campus book vending machines. BISD held a special ribbon-cutting ceremony at Guess Elementary to celebrate the official start of the program.
"Beaumont ISD is overwhelmed by the generosity of Entergy Texas, the United Way of Beaumont & North Jefferson County, and their incredible support of our literacy initiatives that will positively impact our students and community," said Jenny Angelo, executive director of curriculum and instruction for Beaumont ISD. "Thanks to this community partnership, along with several other sponsors, every elementary school in the district will have access to a book vending machine. The support of Entergy Texas and United Way of Beaumont & North Jefferson County will have a measurable and lasting impact on our student achievement and contribute towards growing our students as life-long readers and learners."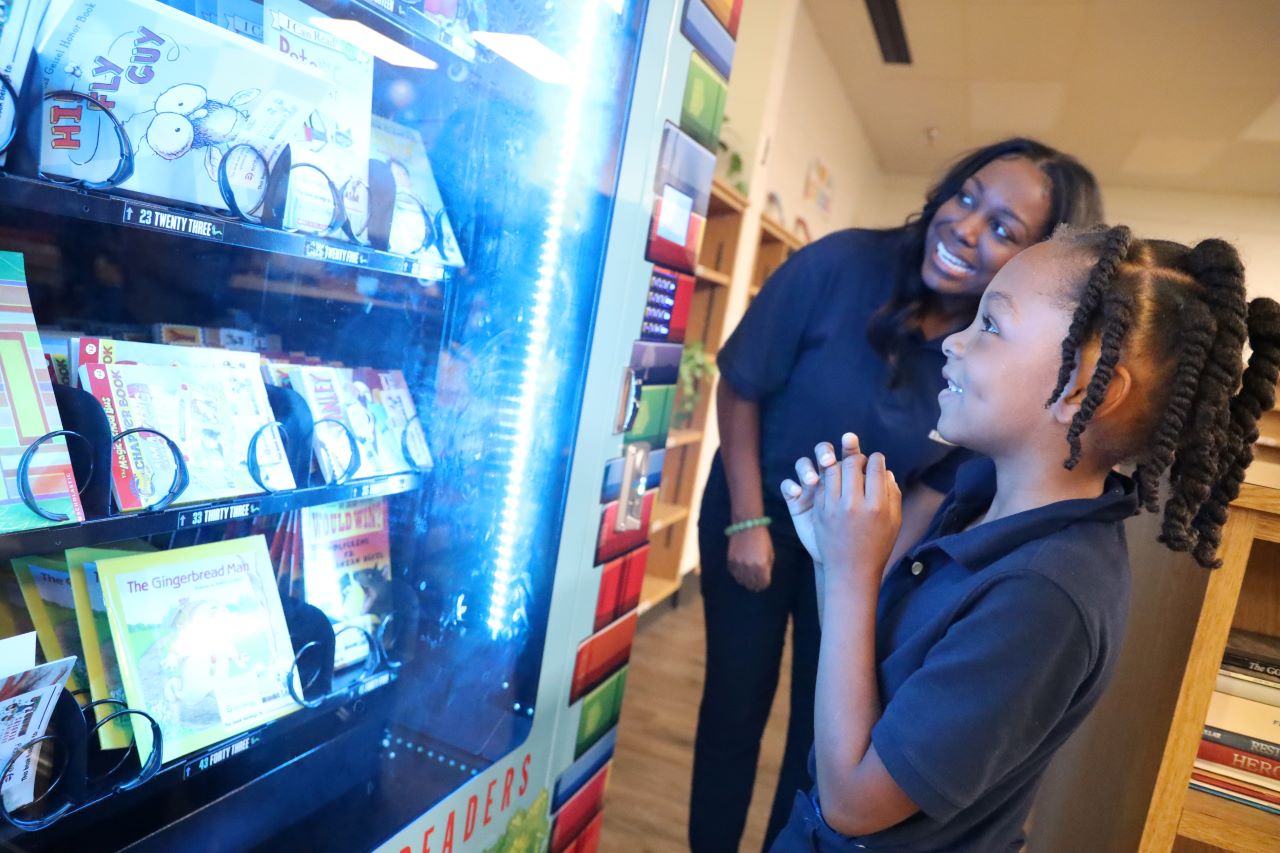 Through Entergy Texas' sponsorship, the United Way of Beaumont & North Jefferson County will be able to fill book vending machines on 10 BISD school campuses every month throughout the 2023-2024 school year, providing thousands of books to students across the district. Unlike visiting a library, the books students select from the vending machines will be theirs to keep. 
"United Way is truly grateful for the support of Entergy Texas during the launch of the United Way is Growing Readers literacy initiative," said Karyn Husbands, president and CEO of United Way of Beaumont & North Jefferson County. "The desire is to help build home libraries for young scholars and create opportunities for learning."
Beaumont ISD recognized and thanked both community partners for their contributions and ongoing support during the September BISD Board meeting. To learn more about how to sponsor a BISD book vending machine, contact the United Way of Beaumont & North Jefferson County.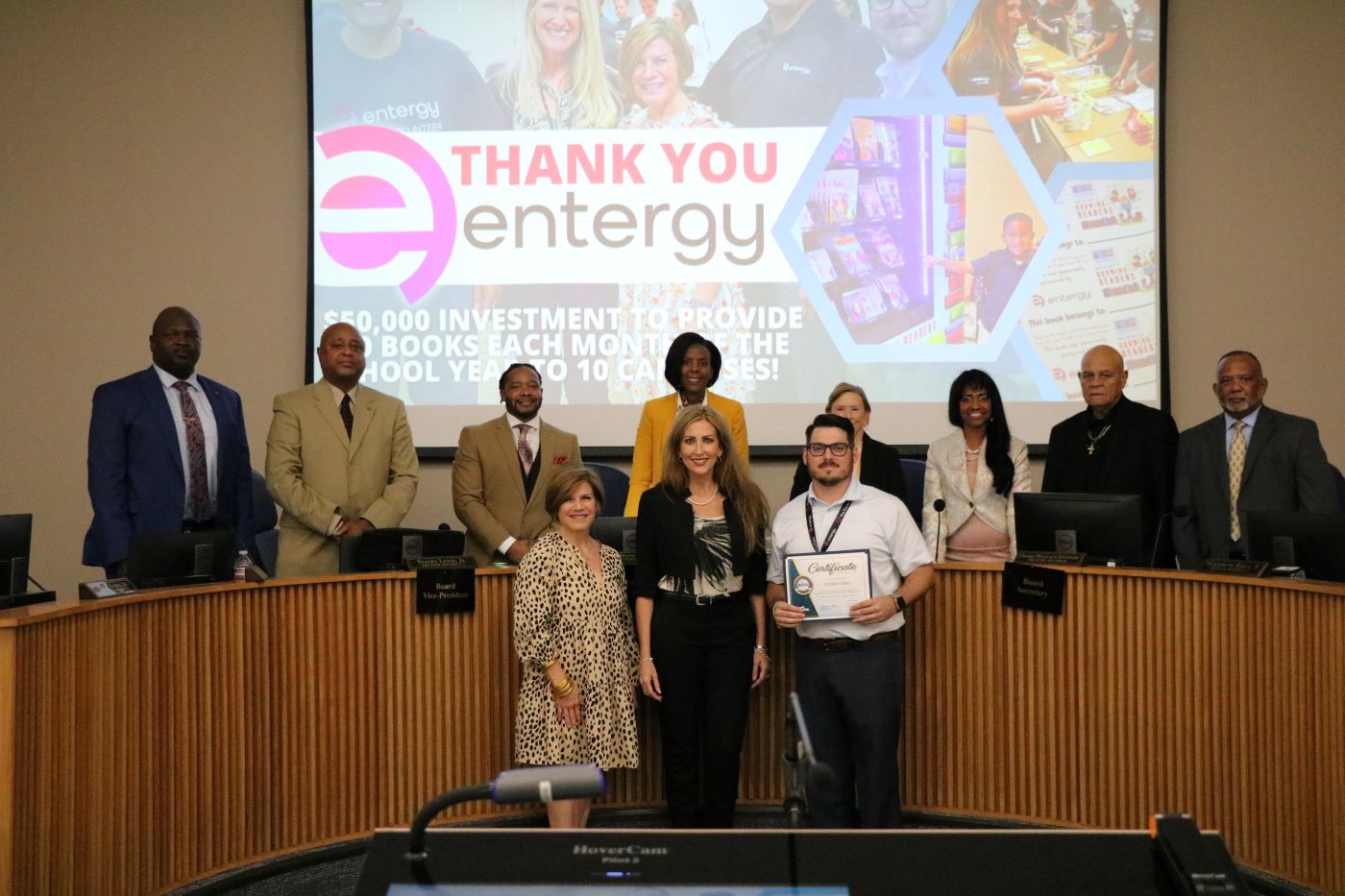 About Entergy Texas 
Entergy Texas, Inc. provides electricity to approximately 499,000 customers in 27 counties. Entergy Texas is a subsidiary of Entergy Corporation, a Fortune 500 company headquartered in New Orleans. Entergy powers life for 3 million customers through its operating companies across Arkansas, Louisiana, Mississippi and Texas. Entergy is creating a cleaner, more resilient energy future for everyone with our diverse power generation portfolio, including increasingly carbon-free energy sources. With roots in the Gulf South region for more than a century, Entergy is a recognized leader in corporate citizenship, delivering more than $100 million in economic benefits to local communities through philanthropy and advocacy efforts annually over the last several years. Our approximately 12,000 employees are dedicated to powering life today and for future generations. For the latest news from Entergy, visit the Newsroom.
About Beaumont ISD 
The Beaumont Independent School District was established in 1983 through the merger of the former Beaumont School District (founded in 1883) with South Park Public Schools (founded in 1891). The citywide district encompasses 153.34 square miles in Jefferson County in Southeast Texas and has 16,760 students enrolled with over 2,400 employees.  
About United Way of Beaumont & North Jefferson County 
Our Mission is to provide visionary leadership in uniting the community's resources of donors, volunteers and nonprofit organizations to address community needs in a trustworthy and accountable way. Our Goals: Improve education and cut the number of high school dropouts in half; Help people achieve financial stability and get working families on the road to economic independence; Promote healthy lives, and increase by one-third, the number of youth and adults who are healthy and avoid risky behaviors.
---