News Center > Hardening the System After Historic Harvey
For Immediate Release
Hardening the System After Historic Harvey
08/21/2018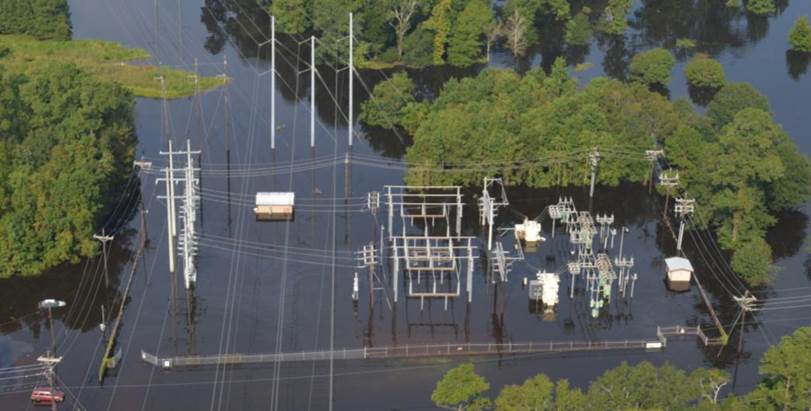 Even before the clouds passed, the rain ended and the final power outage was restored, Entergy employees came together to plan. First, Entergy worked to help customers and employees rebuild stronger communities. Entergy employees also worked to rebuild a stronger electric system. In the past year, Entergy Texas has taken steps to protect electric infrastructure, and improve restoration efforts following extreme weather.
Hurricane Harvey struck the Texas Gulf Coast last year on Aug. 25. For eight days the storm lingered over Entergy Texas' service area, resulting in power outages to approximately 41 percent of Entergy Texas customers. Within 14 days, Entergy had restored 324,300 outages.
"Harvey was unlike any storm that Entergy Texas has faced," said Sallie Rainer, president and CEO of Entergy Texas, Inc.  "Thanks to the hard work of our employees, we were able to get the power back on so our customers can get on with their lives. But our commitment to our customers doesn't end there.  We are hard at work on strengthening our infrastructure for future storms."
Harvey's floodwaters impacted 17 substations, with significant damage to six substations. 
Since Harvey, Entergy has restored all flooded substations and is working to prevent future flooding at the substations that suffered catastrophic flooding. This includes elevating control houses to above historic flood elevations. Substation control houses contain the advanced technology to manage power flow for thousands of customers.
The work is underway at the hardest-hit substations: Vidor Substation in Vidor, Viway Substation in Rose City, Bevil Substation in Bevil Oaks, Amelia Substation in Beaumont and McDonald Substation in Silsbee.
Beyond elevating control houses, other critical substation equipment is being raised. Entergy is also evaluating more substations for flood mitigation.
Additionally, Entergy has taken steps to prepare for future storms, including: 
Joining the industry group Regional Equipment Sharing for Transmission Outage Restoration. RESTORE aims to more efficiently cooperate and share equipment such as transformers and mobile substations for faster recovery from disasters.
Participating in several Public Utility Commission of Texas task forces on hurricane restoration best practices. These efforts strengthen the collaboration between other Texas electric utilities and the State of Texas during future extreme weather events.
Ordering an additional mobile substation – a piece of equipment that played a crucial role in quickly restoring power to affected customers. Entergy also has ordered other equipment to divert floodwaters from critical infrastructure.
Using data analytics to improve response efforts. The company has conducted flood forecasting based on publicly available information that will better predict water levels, so Entergy can deploy emergency protection at vulnerable equipment in a timely manner.
"Harvey's impact on our communities didn't end a year ago. We know that customers and communities continue the rebuilding process, and we want to be there for them," Rainer said. "Entergy Texas is working to fund grants for nonprofit organizations and educational initiatives that will brighten the lives of so many who were affected by this tragic storm."
Entergy Texas, Inc. provides electricity to approximately 450,000 customers in 27 counties. Entergy Corporation is an integrated energy company engaged primarily in electric power production and retail distribution operations. Entergy owns and operates power plants with approximately 30,000 megawatts of electric generating capacity, including nearly 9,000 megawatts of nuclear power. Entergy delivers electricity to 2.9 million utility customers in Arkansas, Louisiana, Mississippi and Texas. Entergy has annual revenues of approximately $11 billion and more than 13,000 employees.
-30-
Twitter: @EntergyTX
---