News Release > Nearly $600,000 in Grants Awarded To Improve Lives and Organizations in Louisiana
For Immediate Release
Nearly $600,000 in Grants Awarded To Improve Lives and Organizations in Louisiana
07/27/2016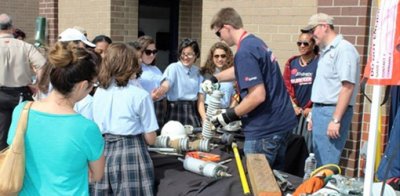 Entergy Charitable Foundation accepting new grant requests through Aug. 1
BATON ROUGE, La. – More than 18,000 students in the Baton Rouge area are among the beneficiaries of the Entergy Charitable Foundation's grants for the first half of 2016. New Schools for Baton Rouge is an example of the more than 80 nonprofit organizations in seven states recently awarded grants totaling $1.5 million from the company's foundation.
Organizations in communities served by Entergy Louisiana, LLC received $595,700 in grants.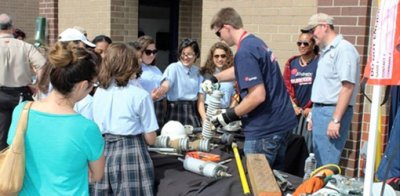 "We see it as our responsibility to give back to communities we serve in a way that enables our customers and our communities to prosper," said Phillip May, president and CEO of Entergy Louisiana.
The Entergy Charitable Foundation provides monies focused on education, poverty solutions and environmental programs that improve the quality of life in communities served by Entergy. Applications for the foundation's next grant award cycle can be submitted at "Our Community" at entergy.com through Aug. 1, 2016.
"Making a difference in our communities through the Entergy Charitable Foundation is one of the many ways We Power Life for our stakeholders," May said. "Entergy shareholders – our owners – provide the funding for charitable organizations that create vibrant, healthy communities. Our employees and retirees take an active role in their local communities to maximize benefits."
Among the programs supported by 2016 grants are:
New Schools for Baton Rouge to expand quality choice school options for the highest-need students.
Beginners Mind, Inc. of Baton Rouge to meet basic needs of disabled citizens through a pantry and benefit fund.
City Year, Inc., to help at-risk students overcome daily challenges, increase academic performance and reach their full potential.
LSU Foundation to enhance the Electrical and Computer Engineering Advisory Board Endowed Fund established to benefit the College of Engineering Department of Electrical and Computer Engineering.
Teach for America to place teachers in high-needs schools with focus on special education and STEM subjects.
Charles Parish Library for a summer reading program emphasizing healthy lifestyles.
Policy Institute for the Children of Louisiana, Inc. to support best practice research on how to provide high-quality child care to more at-risk children across the state and support actions to improve the quality and accessibility of early childhood education in Louisiana.
Partnerships with the United Negro College Fund and the American Indian College Fund benefit stakeholders in all Entergy utility service areas. A complete list of 2016 grant awards can be found here.
In 2015, Entergy shareholders awarded more than $15 million to local nonprofits through various grant programs.  Over the past 10 years, Entergy Corporation has donated more than $150 million. Entergy employees engaged in more than 100,400 hours of volunteer service last year valued at more than $3 million. Learn more in our 2015 integrated report.
Entergy Louisiana provides electric service to more than one million customers and natural gas service to nearly 93,000 customers in the greater Baton Rouge area. With operations in southern, central and northeastern Louisiana, the company is a subsidiary of Entergy Corporation.
Entergy Corporation is an integrated energy company engaged primarily in electric power production and retail distribution operations. Entergy Corporation is an integrated energy company engaged primarily in electric power production and retail distribution operations. Entergy owns and operates power plants with approximately 30,000 megawatts of electric generating capacity, including nearly 10,000 megawatts of nuclear power. Entergy delivers electricity to 2.8 million utility customers in Arkansas, Louisiana, Mississippi and Texas. Entergy has annual revenues of approximately $11.5 billion and more than 13,000 employees.
-30-
entergylouisiana.com
facebook.com/EntergyLA
Twitter: @EntergyLA
---