News Release > Pathway to Premier: Entergy releases 2022 Integrated Report
For Immediate Release
Pathway to Premier: Entergy releases 2022 Integrated Report
04/11/2023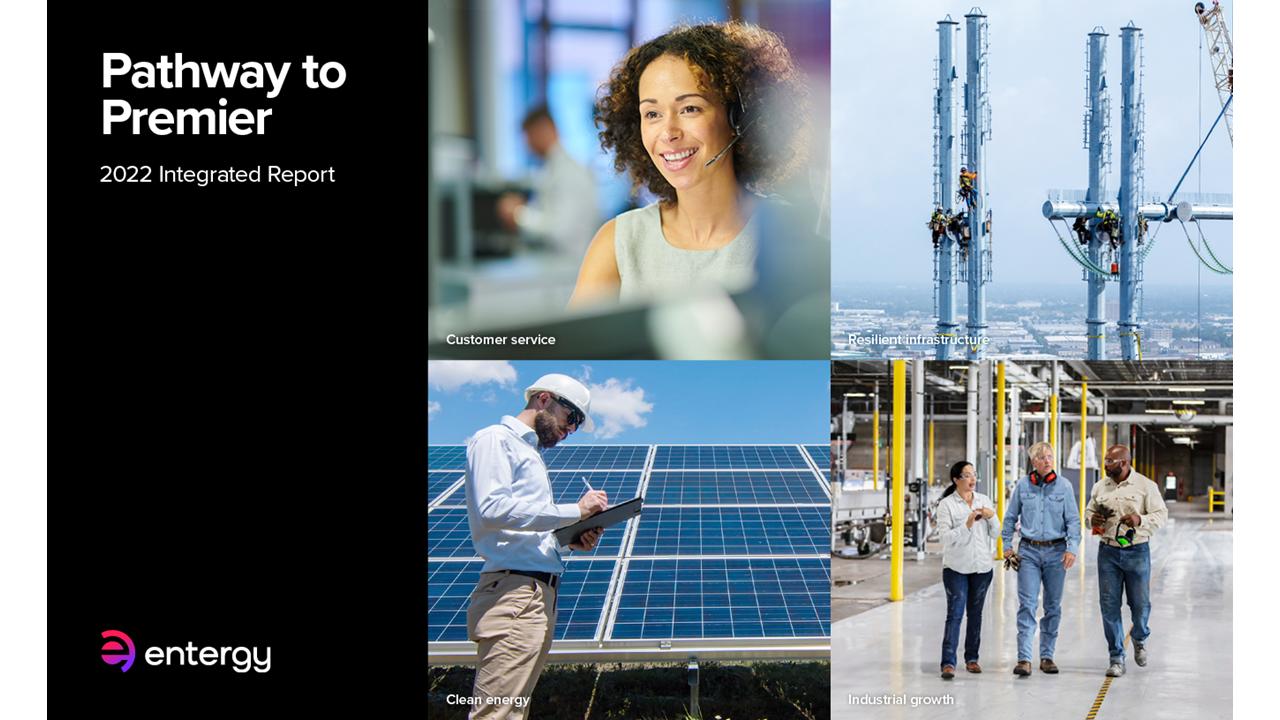 Annual report demonstrates progress made on commitments to all our stakeholders and the growth opportunity ahead
NEW ORLEANS – Today, Entergy announced the release of its 2022 Integrated Report, an overview of the company's performance and highlights for the year, progress on its goals and the opportunities ahead for 2023 and beyond. The report, titled "Pathway to Premier," outlines Entergy's unique position to grow and support a rapidly expanding industrial base while creating a cleaner, more resilient system for all its stakeholders.
"After a strong 2022, Entergy and our nearly 12,000 employees are ready to take our performance even higher in the coming years," said Drew Marsh, chairman of the board and CEO of Entergy. "We're actively investing in solutions our customers demand: accelerated system resilience as well as clean and renewable energy. We're harnessing a rapidly expanding industrial base to support economic growth and improve affordability in our communities. We're hard at work attracting and retaining a high-performing and diverse workforce. And we're continuing to deliver steady, predictable financial results for our owners. These focused efforts will benefit all our stakeholders, and we are working together with them on the pathway ahead — the pathway to premier."
Key drivers of Entergy's business strategy and 2022 performance include:
Starting with the customer. We are partnering with our customers to identify opportunities to help them achieve their own sustainability goals with innovative, effective products and solutions. The drive for carbon reductions across the entire value chain, and the potential for electrification as a key driver of this outcome, is unprecedented. We see this as a growth opportunity that will continue for years to come as our customers need our help to achieve their own large-scale emission reduction goals.


Creating a carbon-free future. Our transition to cleaner generation resources continues to have a positive climate impact. Our utility carbon dioxide emission rate was 31% lower than in 2000. We released an updated climate report detailing our milestones and progress toward our commitment of achieving net-zero carbon emissions by 2050. We're also actively expanding our renewable energy capacity, with requests for proposals for 5,500 megawatts of renewable projects issued last year.
Implementing a talent and culture strategy. We're working to foster a workforce with a diversity of ideas, backgrounds, perspectives and skills in an inclusive culture. We also introduced four drivers of talent and culture outcomes — diversity, capability, culture and commerce — to help build a premier team ready for anything.


Being a strong community partner. We amplified our longstanding initiative to improve lives, build businesses and create prosperity through a number of customer and community assistance programs. Our 2022 corporate citizenship initiatives delivered $180 million in benefits to our communities — a 41% increase over our $127 million impact in 2021.


Expanding our region's economic footprint. Entergy helped attract or expand 45 economic development projects within our utility service area representing a capital investment of almost $6.4 billion and more than 5,100 new jobs created in our region.
Delivering on our financial commitments. We delivered again on our financial commitments. Our 2022 adjusted earnings per share of $6.42, or $5.37 on an as-reported basis, was in the top half of our guidance range for the seventh year in a row. Our steady, predictable financial results are the result of our strategies and actions to create value for our four key stakeholders — our customers, employees, communities and owners. See page 58 of the report for reconciliation of GAAP to non-GAAP measures and a description of adjustments.
For Entergy, our sustainability strategy is our business strategy. In 2014, we were the first U.S. electric utility to combine an annual shareholder report with a sustainability report. We are one of only a few leading U.S. companies to consolidate these reports into a single integrated report that measures advancements in clean, reliable and affordable energy delivery and innovation, financial performance, climate action, customer opportunities, environmental stewardship, governance, workforce development and community partnerships. This 2022 report relies on the guidance of the Global Reporting Initiative, the world's most widely used sustainability reporting framework.
Read Entergy's 2022 Integrated Report and learn how we power life for all our stakeholders at integratedreport.entergy.com.
About Entergy
Entergy (NYSE: ETR) is a Fortune 500 company that powers life for 3 million customers through our operating companies in Arkansas, Louisiana, Mississippi and Texas. We're investing in the reliability and resilience of the energy system while helping our region transition to cleaner, more efficient energy solutions. With roots in our communities for more than 100 years, Entergy is a nationally recognized leader in sustainability and corporate citizenship. Since 2018, we have delivered more than $100 million in economic benefits each year to local communities through philanthropy, volunteerism and advocacy. Entergy is headquartered in New Orleans, Louisiana, and has approximately 12,000 employees. Learn more at entergy.com and follow @Entergy on social media. #WePowerLife
---