News Release > Recruiting the next generation of nuclear workers
For Immediate Release
Recruiting the next generation of nuclear workers
04/25/2023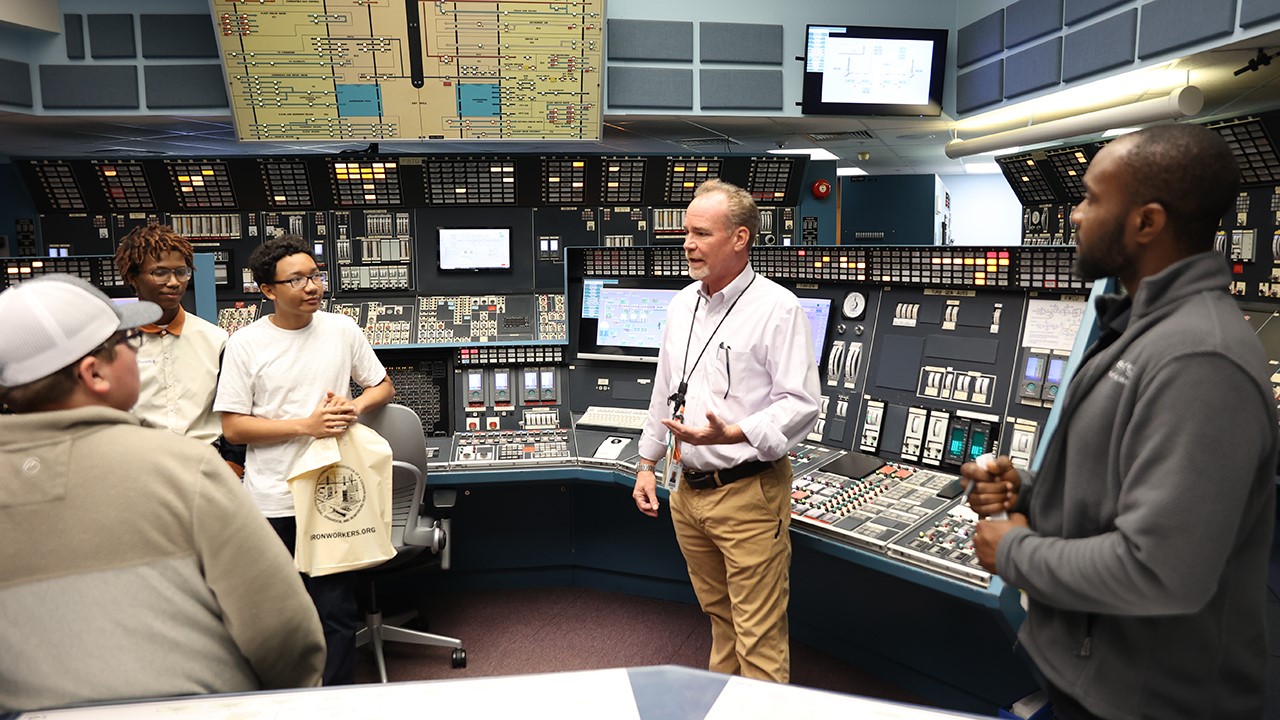 Grand Gulf Nuclear Station hosts career day for local students
PORT GIBSON, Miss. – Volunteer employees at Grand Gulf Nuclear Station recently hosted approximately 100 students from Lincoln and Lawrence County school districts to teach them about career opportunities in the nuclear industry.
"It's so important that we invest in our communities," said Keith Huff, Grand Gulf director of regulatory assurance and performance improvement. "We want people in our communities to come work at Grand Gulf. It's such a great place to work, and we want students to learn about what we do here. The nuclear industry is growing, and we need talented individuals to do the hard work to continue providing clean, carbon-free energy to our communities."
During the plant tour, students performed hands-on activities to learn about craft trades from contract partner Day and Zimmerman. Entergy employees shared with students what it is like to work at a nuclear plant, including teaching them what an instrumentation and controls technician does, and how a radiation protection technician keeps workers and communities safe. Students also learned about a day in the life of a security officer, what an operator does in the control room and more.
Volunteers included employees from Grand Gulf and Day and Zimmerman.
Grand Gulf Nuclear Station, located in Port Gibson, is the largest single-unit nuclear power plant in the country and is the most affordable source of electricity in Mississippi. Entergy Nuclear, headquartered in Jackson, employs approximately 4,000 highly-skilled professionals in Mississippi, Louisiana and Arkansas.
About Entergy
Entergy Nuclear, headquartered in Jackson, Mississippi, is a subsidiary of Entergy Corporation. Entergy Nuclear owns, operates and supports a fleet of five reactors in four locations, generating enough clean, carbon-free electricity to power millions of homes. Entergy is a Fortune 500 company that powers life for 3 million customers through our operating companies in Arkansas, Louisiana, Mississippi and Texas. We're investing in the reliability and resilience of the energy system while helping our region transition to cleaner, more efficient energy solutions. With roots in our communities for more than 100 years, Entergy is a nationally recognized leader in sustainability and corporate citizenship. Since 2018, we have delivered more than $100 million in economic benefits each year to local communities through philanthropy, volunteerism and advocacy. Entergy is headquartered in New Orleans, Louisiana, and has approximately 12,000 employees. Learn more at entergy.com and follow @Entergy on social media. #WePowerLife
---