News Center > Weather 'Extremely Active' Hurricane Season with Entergy's Tips
For Immediate Release
Weather 'Extremely Active' Hurricane Season with Entergy's Tips
08/10/2020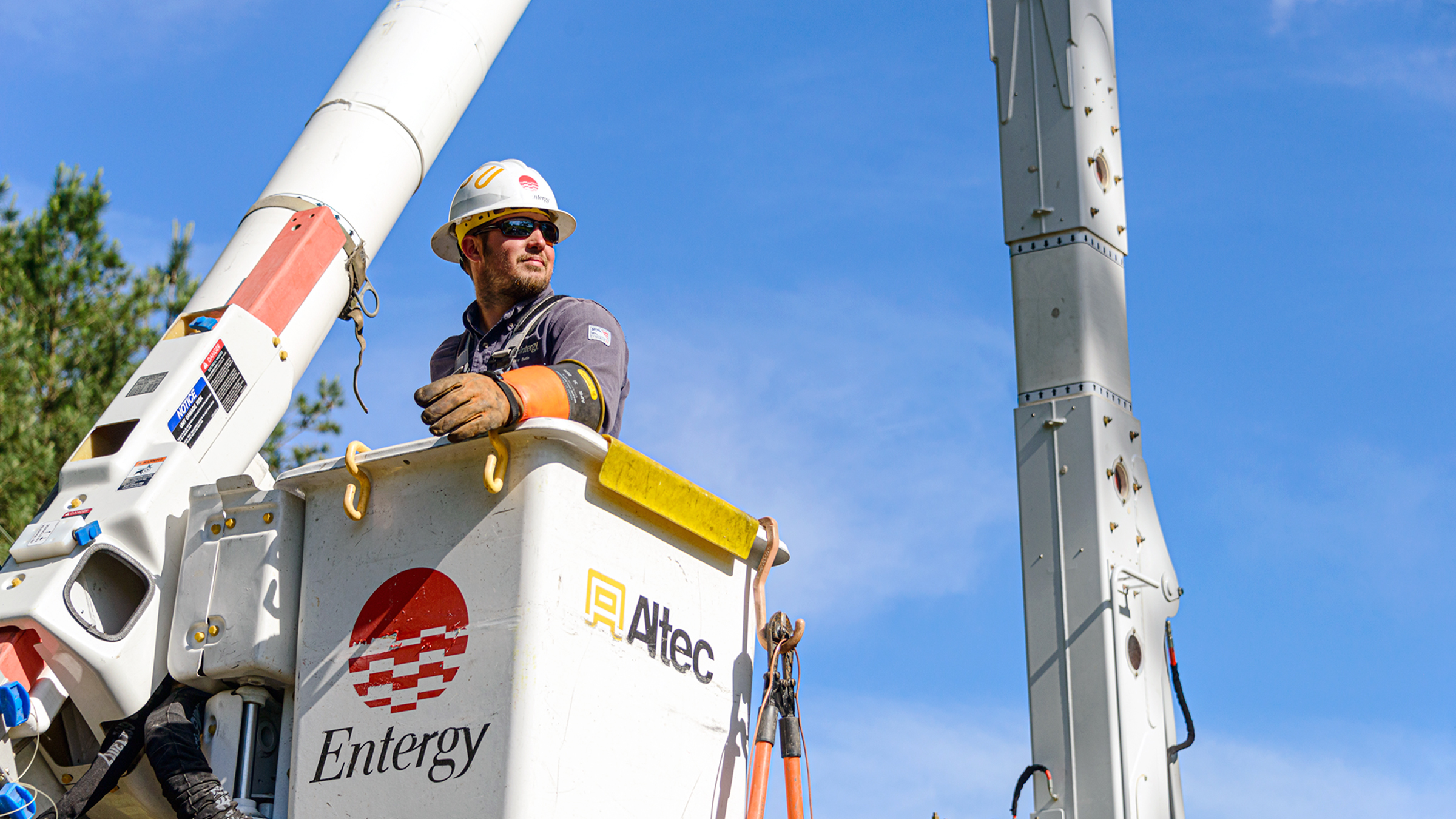 JACKSON, Mississippi – As the peak of the 2020 Atlantic hurricane season nears, there has already been a record-setting nine named storms. NOAA, which recently released its mid-season update, says the season has the potential to be one of the busiest on record.
Entergy Mississippi is prepared for the worst and urges those who have not yet prepared, to do so now.
"We don't know when or where a hurricane or tropical storm may strike, but our employees are ready if one heads our way," said Robbin Jeter, Entergy Mississippi vice president of distribution operations. "Entergy's Operation: Storm Ready is a plan of continuous preparation, training and action that ensure our teams can respond to outages and continue to deliver for our customers and communities despite the current pandemic."
Along with standard storm preparations, Entergy employees are navigating the COVID-19 pandemic by taking additional steps. These include adjusting crew staging locations and using drones to help with social distancing. Crews know to stop work if job conditions change that prevent social distancing. Due to these added safety measures, or if the company cannot secure extra help from outside sources, restoration may take longer. That is especially true if outages are widespread.
Stay Prepared
Monitoring severe weather is a full-time job. When weather threatens, Entergy uses forecasts and computer models to predict the number and duration of outages that could occur. Based on those estimates, the company calls on workers from around the country to restore power as quickly and safely as possible.
The company continuously works to improve the process of assessing damage, putting workers in the right place with the right materials and restoring power. Employees complete annual storm-response exercises to ensure company procedures are reviewed and updated before hurricane season begins.
Safety is essential at Entergy, and the company urges customers to make it a top priority as well. Customers should create personal storm plans and an emergency supply kit. Learn more about what should go in a kit here. Visit the Entergy Storm Center for more important safety tips.
Stay Informed
Staying informed before, during and after a storm strikes is as important as making a storm plan. Here's how Entergy Mississippi keeps customers updated:
Download the Entergy app at entergyapp.com. Customers can use the app to report outages or check on the status of power at their home or business.
Entergy's View Outages website includes maps that show where outages are located and give information about restoration progress.
Sign up for text messages about storm and restoration efforts by texting REG to 368374.
The Entergy Storm Center website has storm safety, preparation and restoration information that is updated throughout the day.
Operation: Storm Ready Guide is a free downloadable guide that helps customers plan and prepare for weather emergencies.
Get Social
Social media plays an important role in keeping customers informed. The company places a high priority on updating its channels throughout an event. Customers can follow Entergy Mississippi on Twitter and Facebook at @EntergyMS.
Committed to The Community
To help our communities, Entergy's shareholders renewed their partnership with the American Red Cross. Their $500,000, two-year commitment will help our communities better prepare for and recover from disasters. The contribution will also help streamline the disaster response process, by speeding up the process of getting funds to those affected.
Entergy Mississippi, LLC provides electricity to approximately 450,000 customers in 45 counties. Entergy Corporation (NYSE: ETR) is an integrated energy company engaged primarily in electric power production and retail distribution operations. Entergy owns and operates power plants with approximately 30,000 megawatts of electric generating capacity, including 8,000 megawatts of nuclear power. Entergy delivers electricity to 2.9 million utility customers in Arkansas, Louisiana, Mississippi and Texas. Entergy has annual revenues of $11 billion and approximately 13,600 employees.
-30-
---