News Release > The winners of the 2023 New Voices $150,000 POWER PITCH sponsored by Entergy are announced
For Immediate Release
The winners of the 2023 New Voices $150,000 POWER PITCH sponsored by Entergy are announced
07/10/2023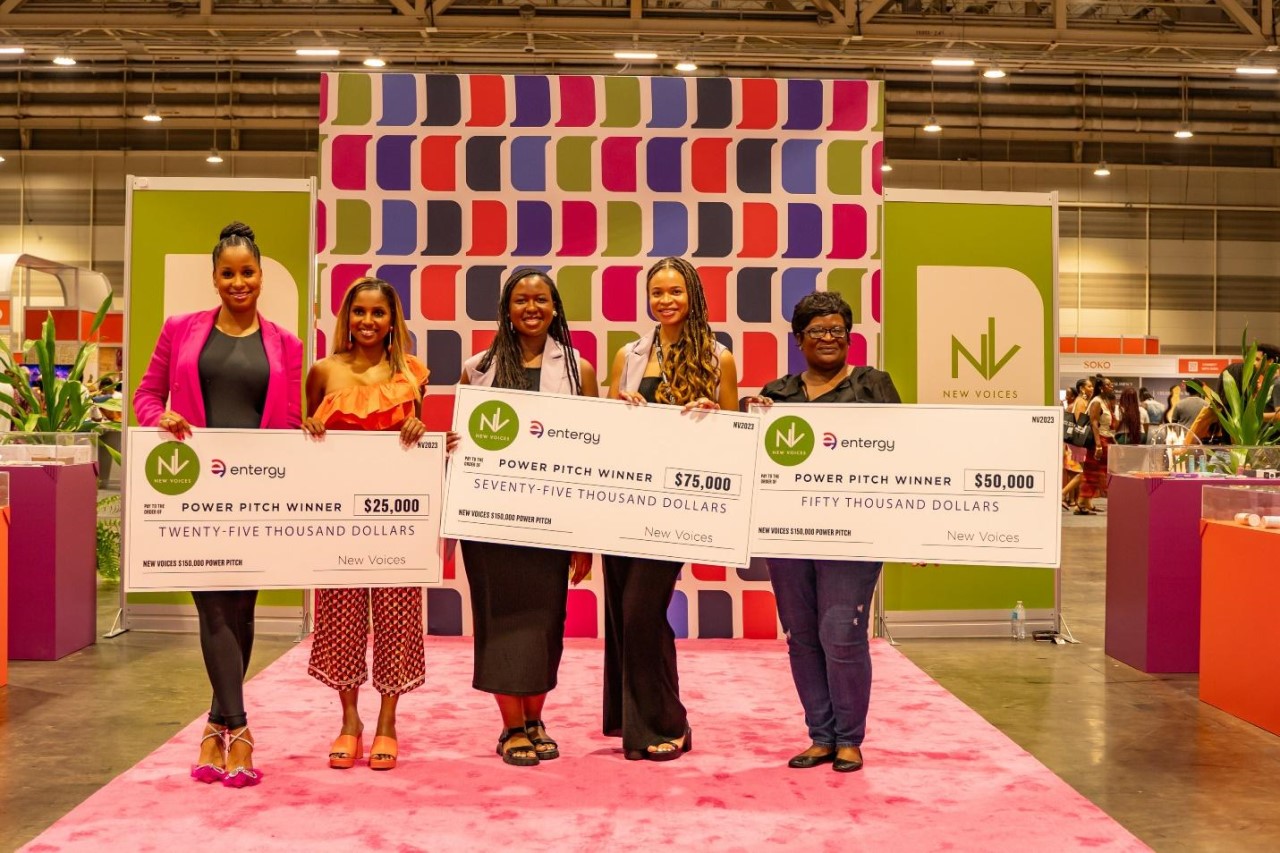 Three Black Women Entrepreneurs Receive $25,000 - $75,000 Cash Grants and Business Coaching at the 2023 ESSENCE Festival of Culture™ Presented by Coca-Cola®
NEW ORLEANS AND NEW YORK--The New Voices Foundation is proud to announce the winners of the New Voices $150,000 POWER PITCH sponsored by the Entergy Charitable Foundation. Three Black women entrepreneurs pitched on the Global Black Economic Forum Stage at the ESSENCE Festival of Culture™ presented by Coca-Cola ® on Saturday, July 1st for a $75,000 grant, $50,000 grant, and $25,000 grant and business coaching.
The Foundation has held many pitch competitions virtually and in-person around the country since July 2018, providing more than $1,250,000 in non-dilutive capital and over $650,000 of supportive services to pitch entrepreneurs. Entergy's sponsorship is part of a $250,000 donation from the Entergy Charitable Foundation to support the work of the New Voices Foundation in expanding economic opportunities for entrepreneurs of color.
"New Voices Foundation advances economic equity by closing gaps in access to capital, revenue, entrepreneurial education, and networking opportunities. Our growing and diverse ecosystem allows us to positively impact Black women-owned businesses as we disrupt the status quo in wealth generation," said Richelyna Hall, Chief Impact Officer of New Voices Foundation.
The Foundation was thrilled to return to New Orleans, and partner with Entergy at the ESSENCE Festival of Culture™ presented by Coca-Cola to support these growing Black women-owned companies and their founders through the New Voices $150,000 POWER PITCH.
"Entergy is committed to promoting diversity and inclusion and we recognize the importance of supporting underrepresented female entrepreneurs," said Deanna Rodriguez, president and CEO of Entergy New Orleans. "This grant will provide much-needed resources to help deserving, women-owned black-owned businesses thrive and contribute to the growth of our community. We are proud to be a part of their journey and look forward to seeing their continued success."
The winners are:
$75,000: Brooke Hill, Co-Founder & CEO, Swella Beauty - Over 13 million Black women in America lack access to reliable quality braid services. Unlike other demographics with designated salon chains that provide efficient standard services, Black women do not have this convenience. Swella solves the fragmented, time-consuming, antiquated process of receiving braids by providing a one-stop shop for all things hair braiding, integrating patent-pending technology and streamlined processes to deliver a premium salon experience.
$50,000: Felicia Jackson, CEO/President, CPRWrap - CPRWrap is a disposable CPR template that addresses responder hesitation by having an easy-to-use template with clear, numbered instructions, a built-in, one-way breathing barrier, and visual hand placements that give the victim the best chance that a bystander might have the confidence to provide effective, immediate care.
$25,000: Mabel & Shaira Frias, Co-Founders, LUNA MAGIC - LUNA MAGIC is a fast-growing indie beauty & lifestyle brand founded by sisters Mabel and Shaira Frías. By combining their passions for beauty and lifestyle, the Frias Sisters created a vibrant brand that celebrates their mutual love for their multicultural heritage, culture, and music—in living color. LUNA MAGIC is distributed nationwide at Target, CVS, and Walmart retail stores.
About New Voices
New Voices Foundation is a ground-breaking, community-building effort designed to build a more inclusive entrepreneurial ecosystem for women of color to advance their significant contributions to our economy and society. Driven by its PACE (Purpose.Access.Capital.Expertise.) model, New Voices offers its community of 30,000 women of color entrepreneurs access to capital, leadership development, skill-building, and networking opportunities via entrepreneurial summits, accelerators, bootcamps, pitch competitions, mentoring and coaching, and more.
About Entergy
Entergy (NYSE: ETR) is a Fortune 500 company that powers life for 3 million customers through our operating companies in Arkansas, Louisiana, Mississippi and Texas. We're investing in the reliability and resilience of the energy system while helping our region transition to cleaner, more efficient energy solutions. With roots in our communities for more than 100 years, Entergy is a nationally recognized leader in sustainability and corporate citizenship. Since 2018, we have delivered more than $100 million in economic benefits each year to local communities through philanthropy, volunteerism and advocacy. Entergy is headquartered in New Orleans, Louisiana, and has approximately 12,000 employees. Learn more at entergy.com and follow @Entergy on social media. #WePowerLife 
---