We're making improvements to serve you better
You may have noticed some changes in Entergy's Outages map. We've made some updates to make this tool easier and more intuitive to use. See below for our existing and enhanced features.
1. Finding your specific address is easier than ever. The field where you enter your ZIP code or address is now located prominently on the map itself for ease of use.

2. Red and green lines continue to show power status on your street. Green lines indicate that the line segment is energized, or power is flowing. Red lines indicate that line segment is de-energized, or no power is flowing. While a green line is an indication that power has been restored to the area, it doesn't necessarily indicate that power is on at your specific location. The new opacity slider allows you to change the brightness of these lines as desired.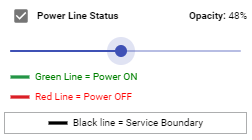 The line that marks Entergy's service area is now black for better visibility.

3. Icons for power outages based on the number of customers impacted should reduce confusion and make information clearer for those who have trouble distinguishing between colors on a digital screen. You can click on any of these icons for outage details.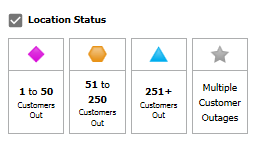 When power outages are present, a number near the star icon will indicate the number of separate outages in the area. Just click on the icon for a "zoom in" option that provides a more detailed view of the map.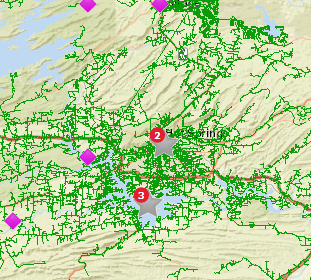 4. Icons at the top of the menu can be used for quick navigation. You can easily switch from location view to area view, overlay weather information, search for locations by county or state, or access stored "favorite" views.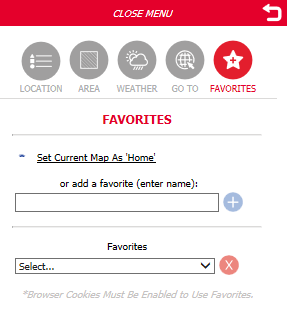 5. Area view will display description of this layer and when it is best to be used during a storm. If customer chooses to override area view default with location layer, it will persist for remainder of the day. Reports for county/parish and state remain available on menu when area layer is selected.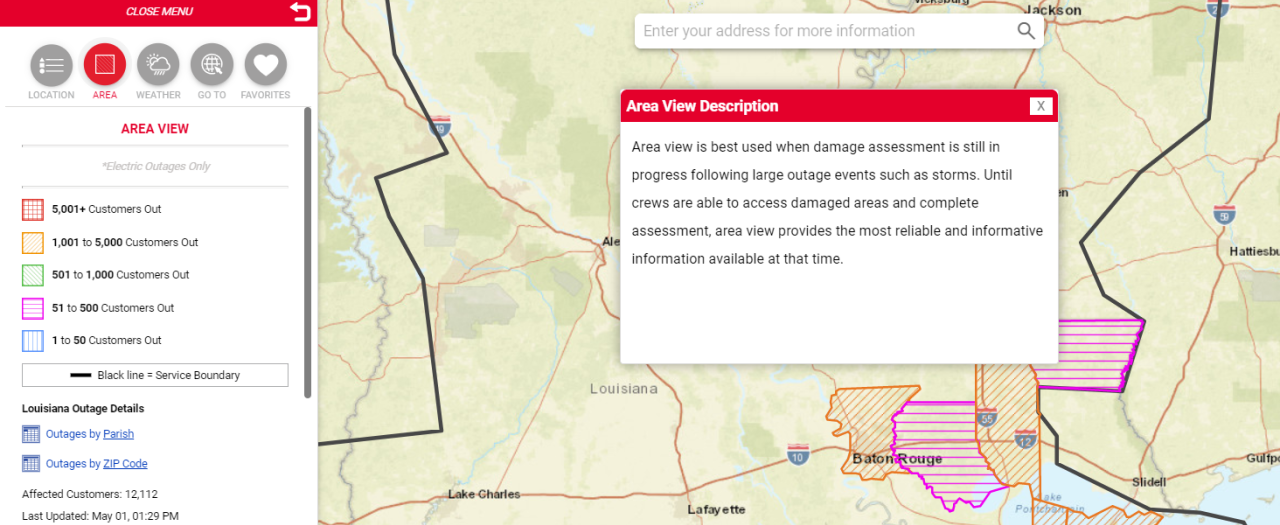 6. Location menu includes reminder to stay away from downed power lines. To close the menu for a fuller view of the Outages map, click the return arrow at the top right of the menu.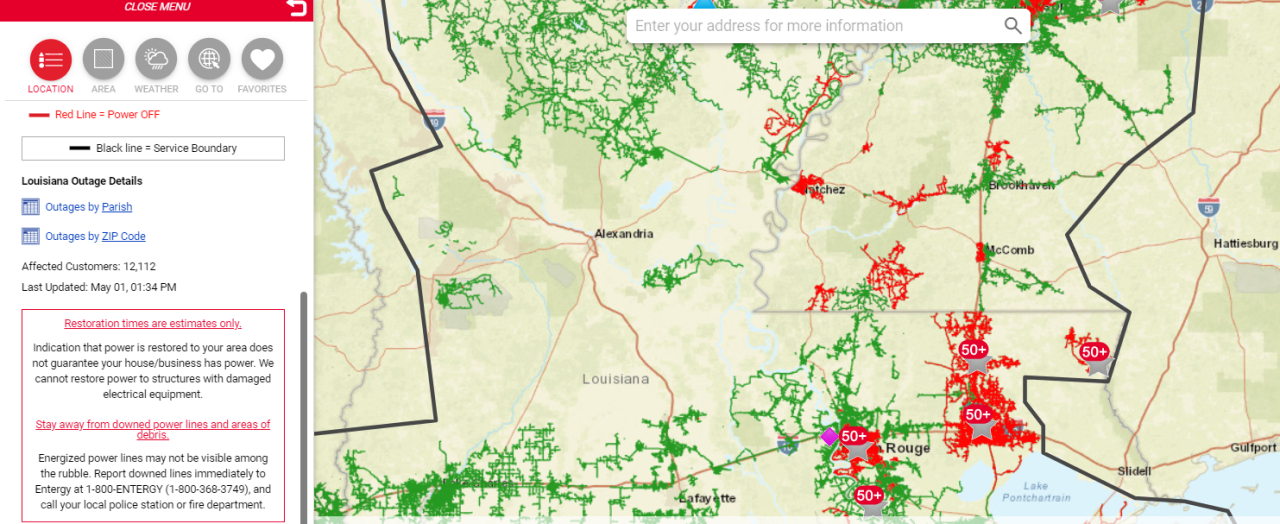 You can click on the menu icon on the top left of the map when you're ready to display/access the main menu again.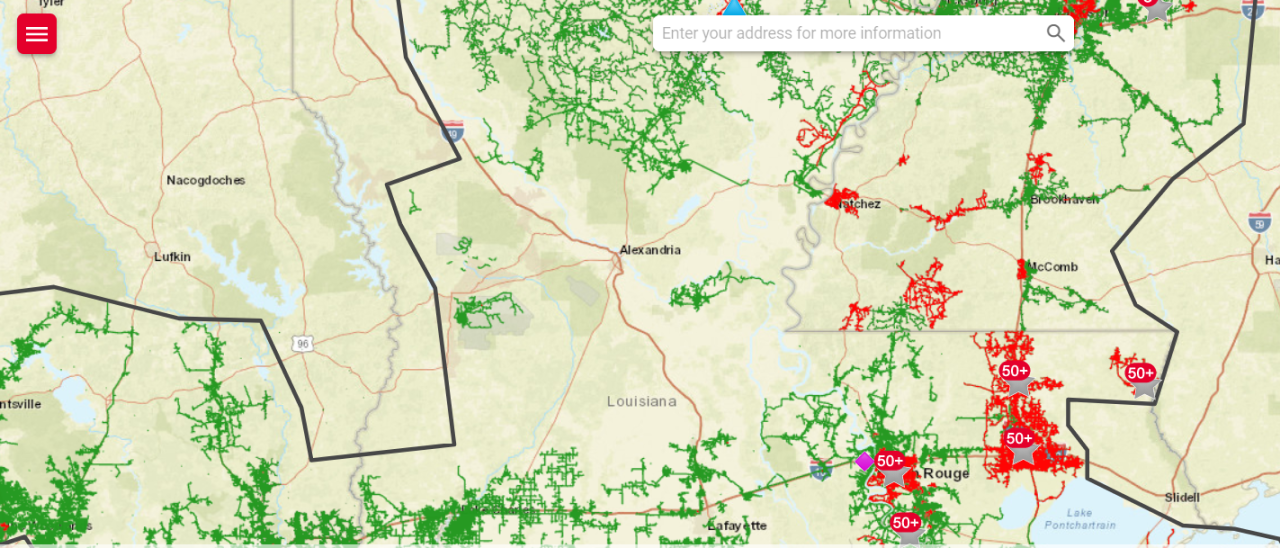 7. Address pin now points to outage icon when located together on map as indicated in red oval below.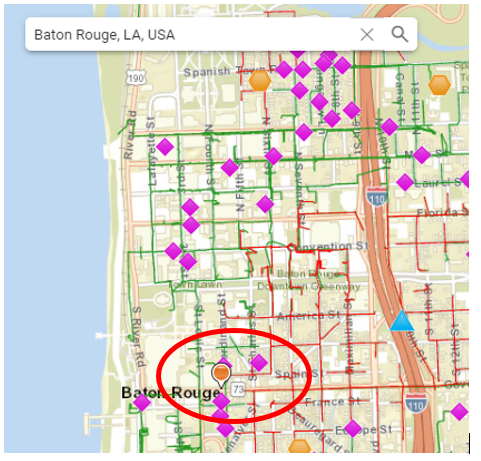 8. When a major storm is threatening our service area, the pre-storm layer may be provided by Entergy to provide weather, damage and estimated restoration predictions based on historical experience. In pre-storm mode, the map displays weather impact with weather data updated every 30 minutes.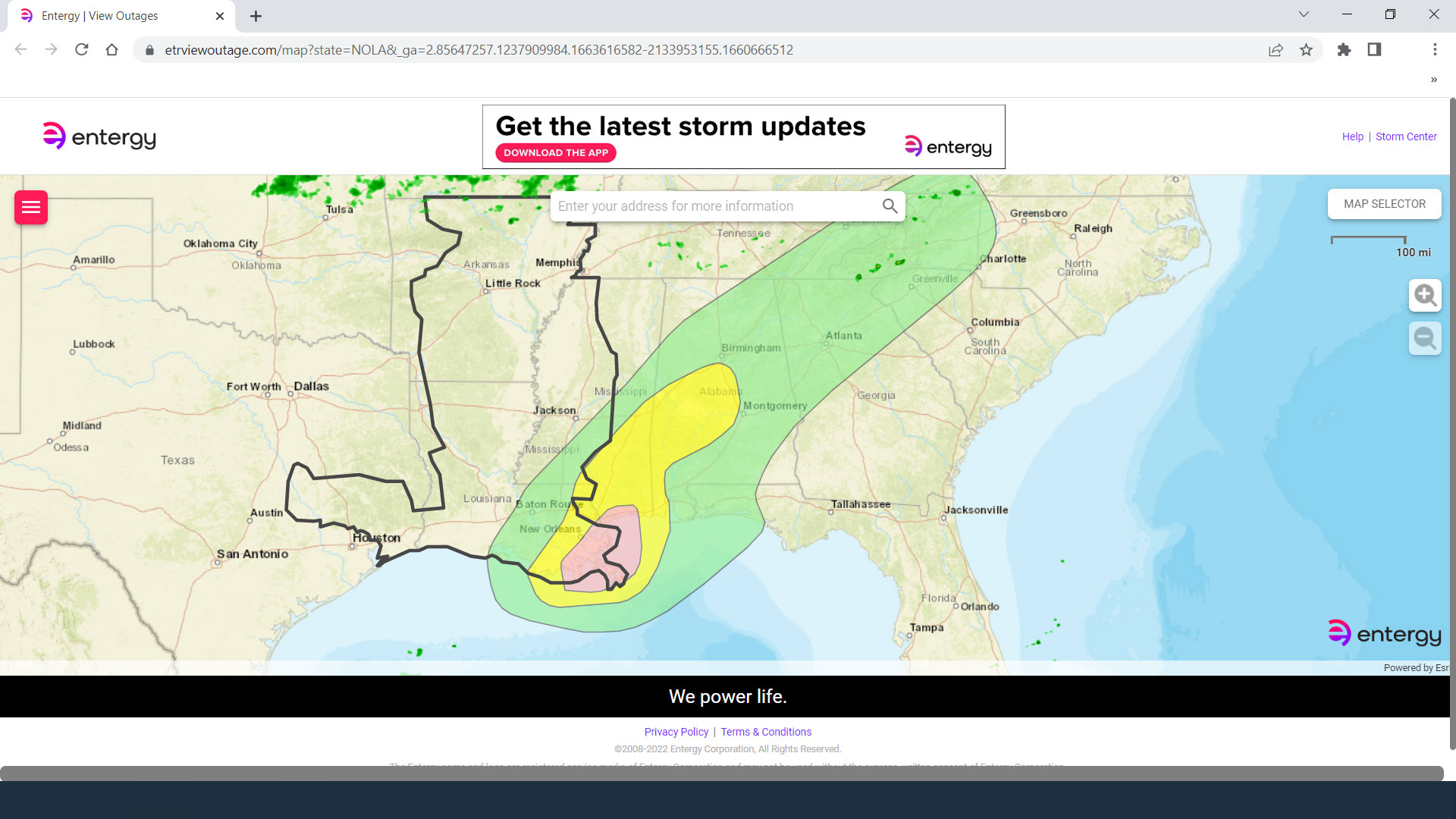 There are three distinct color-coded bands – red, yellow, and green – that indicate the potential impact of an impending storm. Clicking on any of the bands or a specific address within a band will provide a pop-up window with 1) observed and forecasted weather, 2) damage predictions, and 3) an estimated restoration timelines.
Green represents the least severe weather forecast where light infrastructure damage is expected and thus the fastest restoration time should be expected.
Yellow represents moderately severe weather forecasted where moderate infrastructure damage is expected and thus the average restoration time should be expected.
Red represents the most severe weather forecast where severe infrastructure damage is expected and thus the extended restoration time would be necessary. Note: The number of days depends on storm category, so it cannot be stated here generically. We are able to add the number of days once we know definitively the category of storm.
9. After the storm passes, the map will display the damage assessment mode. This mode shows the number of customers experiencing outages by county or parish and provides detailed damage assessment information as it becomes available.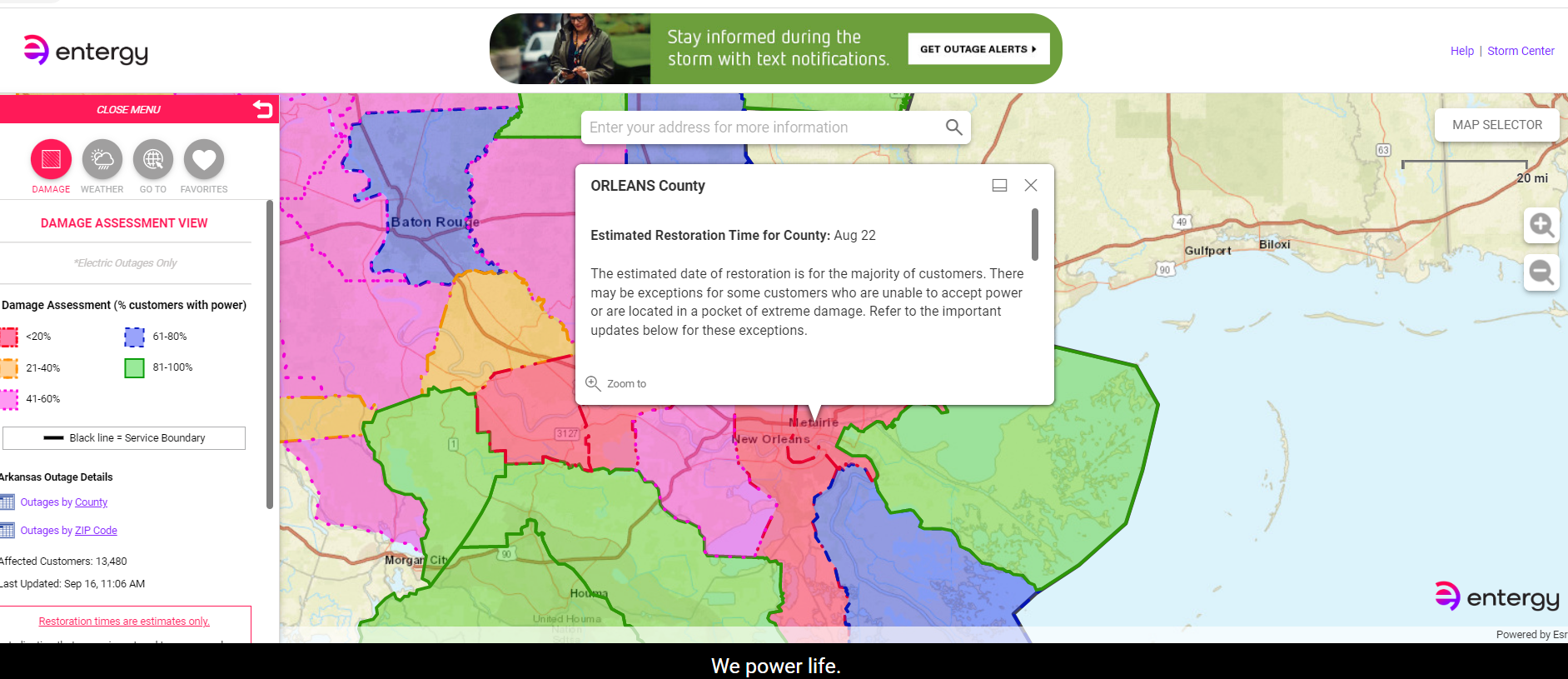 To find location specific information, customers may enter their zip code or service address into the search field or hover over their outlined area on the map.
A pop-up window will display with information specific to the entered geographic area.
We expect the damage assessment view to remain active for approximately three days as damage assessments in the field progress. Power is restored in parallel with assessments where possible.
10. As the majority of damage assessments are complete, and our crews have a better idea of actual damage caused by the storm, the map will display the restoration mode.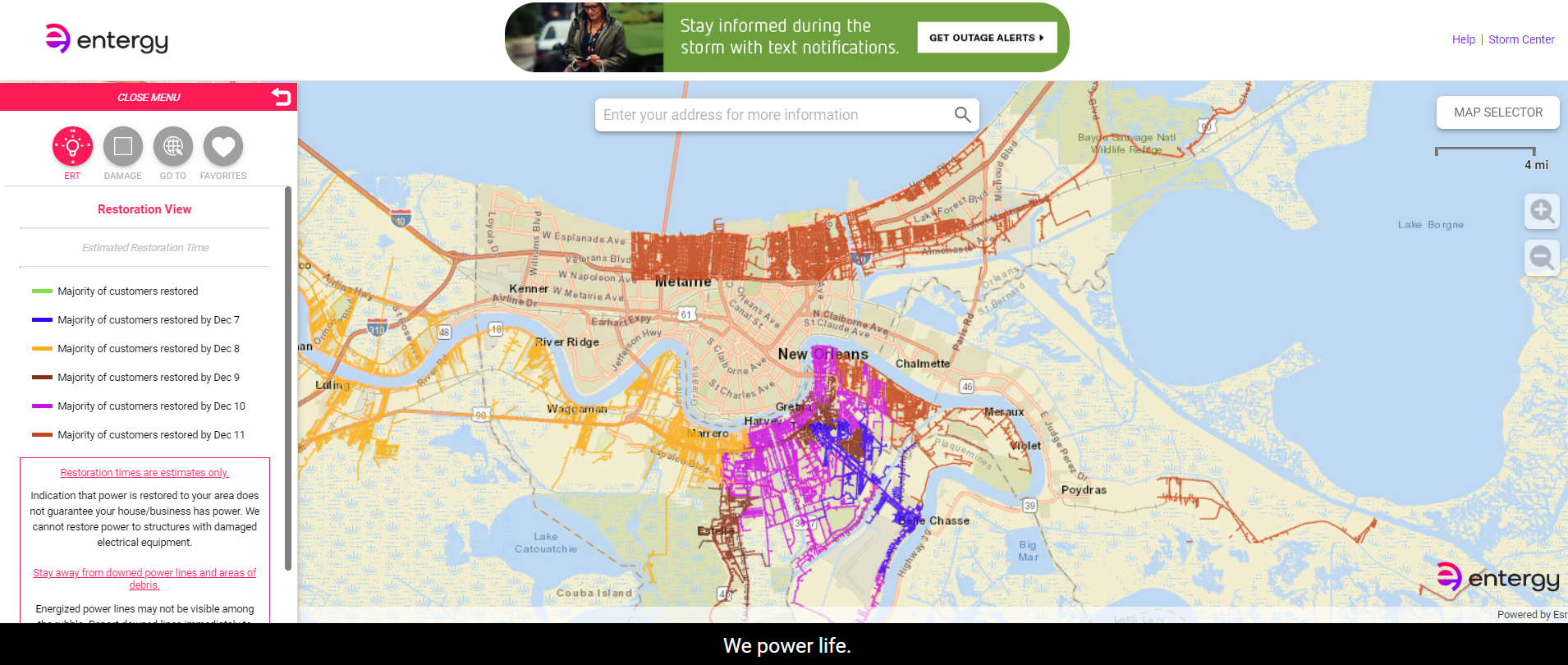 Estimated restoration times are shared at the feeder-level, which are circuits that run through neighborhoods.
The Outages map may look similar for several days following landfall, and when estimated restoration timelines are available, you'll see this reflected as colored lines displayed on the restoration map view.
Download the free Entergy mobile app
Call 1-800-9OUTAGE (1-800-968-8243) to report downed power lines