Insights > Accelerating into electrification
Accelerating into electrification
03/28/2022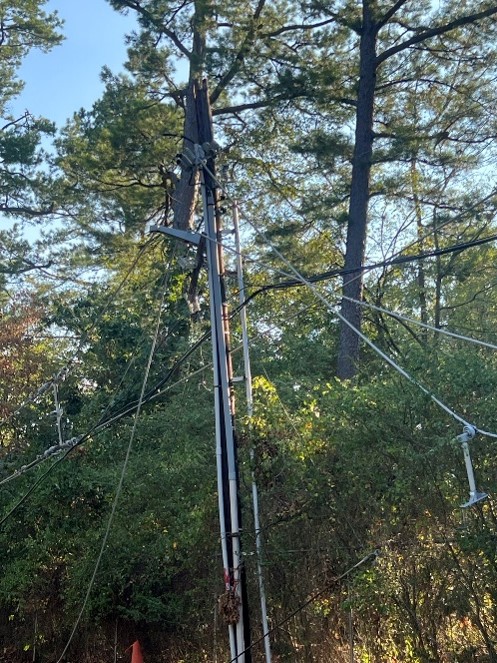 Entergy grant helping LSU engineering students, TigerRacing Formula SAE build an electric vehicle
Josh Brooks sees the design, engineering and construction of an electric vehicle not as a deviation from the traditional horsepower he came to enjoy several years ago, but as the next best thing.
Before coming to LSU, Brooks found inspiration through pictures posted to Instagram of students building a vehicle that ran on fossil fuels. He inquired about the project with members of TigerRacing Formula SAE, an LSU club that helps students receive hands-on engineering experience and participate in the largest collegiate engineering competition, and decided to join the team.
Today, Brooks is a senior mechanical engineering student and captain of TigerRacing. He and other students are welding pipes and sourcing parts to build circuit boards and a battery, among other steps, to build the electric vehicle. The vehicle is part of a senior design project that is being supported, in part, by a grant from Entergy and will be presented to faculty this spring.
"Each year, there are improvements, and that's how I view electric cars, as the next improvement," said Brooks, who added that although the electric vehicle would be heavier than its combustion engine prototypes, it would pack greater horsepower.
"It's not a bad trade off," he joked.
While Brooks and fellow student Terry Geraldsen, for example, are focused on the mechanical side of the project and are likely to be found in the shop on campus, students like Carson Hymel, Brandon Chan, Clay Knight, Alex Watkins and Jacob Holt are focused on either the computer programming or electrical engineering portions of the project and can be found collaborating in a lab at LSU's Patrick F. Taylor Hall.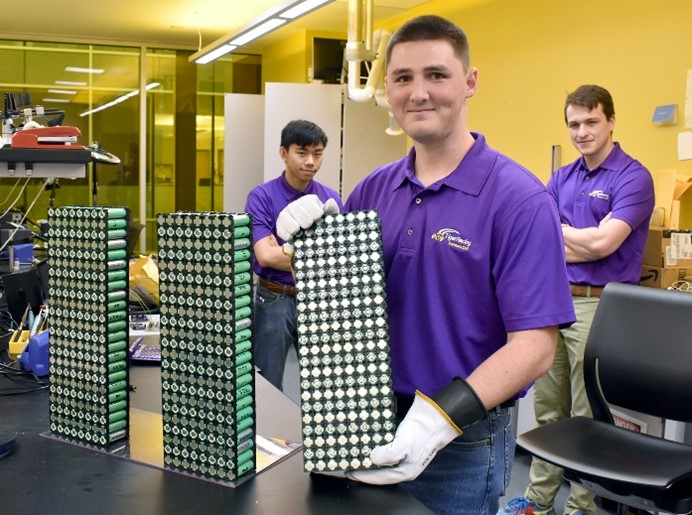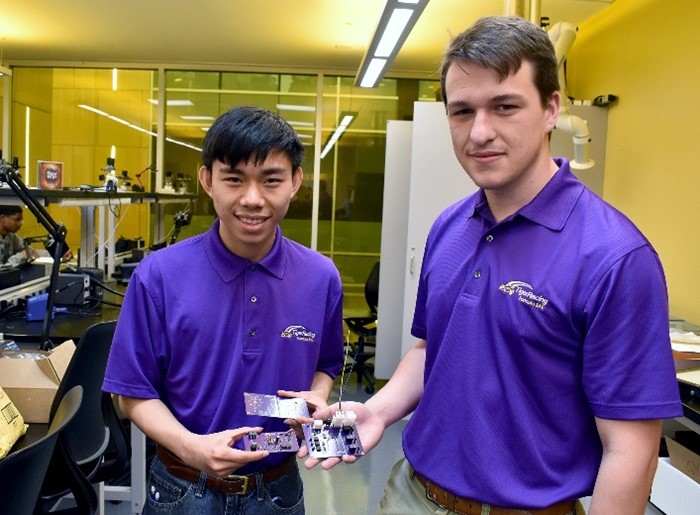 At left, LSU electrical engineering student Clay Knight poses with a module that'll be used to build the battery component of an electric vehicle. At right, LSU electrical engineering students Brandon Chan and Alex Watkins pose with circuit boards that were soldered and built to allow an electric vehicle to function.
According to Holt, who spent nearly eight years as an intelligence specialist in the U.S. Navy before returning to school, each student is working on a critical piece of the puzzle. For example, Chan and Watkins are working on low-voltage components that'll communicate with auxiliary equipment and the brake system. Meanwhile, Hymel is programming an accelerator pedal that'll put the vehicle in motion. Some students on the TigerRacing team, like Mia Arizmendi, are even helping promote the team's efforts through social media and internal communications at LSU.
When asked what keeps the students on a path to success, Geraldsen said it boils down to interest in not only the project itself, but also in keeping up with the changing workforce.
"The project is interesting and it's keeping us current with developments in the engineering world as well as the transportation sector," said Geraldsen.
The students also said the project will provide a blueprint for future students to not only build a race car but also to innovate and create a more sustainable world through lower emissions.
"And it won't hurt to be able to tell future employers that you've had experience with the electrification of cars," Holt said.
"Entergy has long partnered with LSU and it's college of engineering to develop the workforce of the future," said Scott Barrios, Entergy sales and partnership manager – electric mobility and Louisiana Clean Fuels president. "With this project, we're not only preparing the next generation of workers, but we're also paving the way for a more sustainable future by furthering studies around beneficial electrification and clean energy use."
"We're proud to support this project and look forward to seeing the finished product," he said.
To learn more about the LSU TigerRacing Formula SAE, visit formulalsu.com. And to learn more about Entergy's sustainability initiatives, visit entergy.com/sustainability.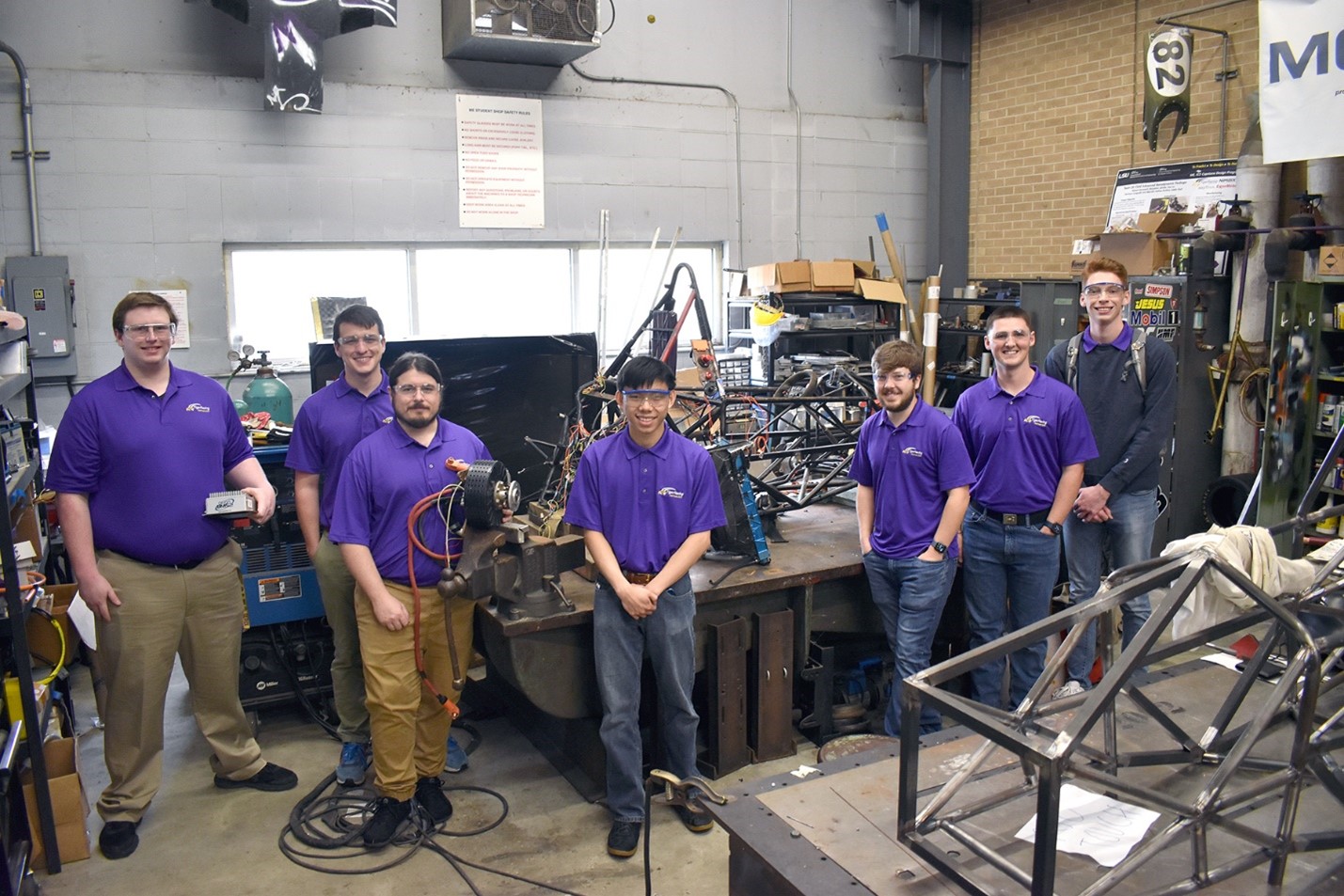 Pictured, from left, are LSU engineering students Carson Hymel, Alex Watkins, Jacob Holt, Brandon Chan, Josh Brooks, Clay Knight and Terry Geraldsen. The students are members of TigerRacing Formula SAE.
---