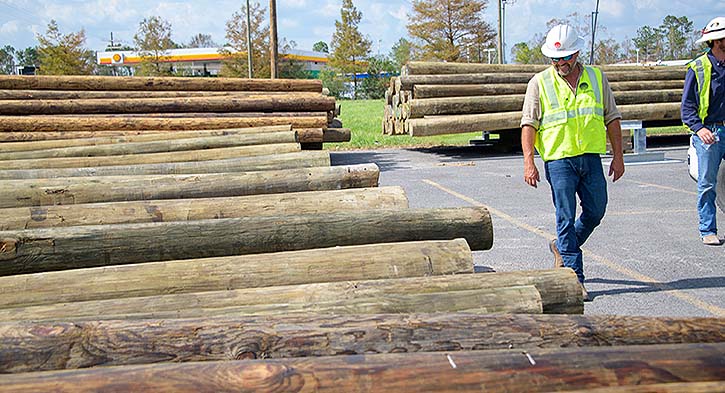 OPERATION: STORM READY
We're prepared for every weather situation that comes our way. 
When weather phenomena strike, Entergy is well prepared to get your lights back on as safely and quickly as possible. We rely on a continuous cycle of planning, preparation and training. We call it Operation: Storm Ready.
At Entergy, storm preparation is a continuous cycle without a beginning or end. It is through this strategic set of action steps that we are able to respond, restore, and safely reconnect our customers' power more quickly and more efficiently after every storm.
With military precision, we attack power interruptions in a way only a battle-tested, storm-seasoned company can. Operation: Storm Ready serves as the guiding principle to Entergy's 24/7-365 storm preparation.
Entergy is the only utility in the nation to receive an Edison Electric Institute Emergency Response award every year offered, receiving more than 30 since 1998 for its restoration and mutual-assistance work.

Monitor.
We continually monitor threatening weather that could possibly affect our customers. We use the latest high-tech tools and services to track these weather systems 24/7-365.
Mobilize.
Before a storm hits, Entergy workers, contractors and personnel from neighboring utilities mobilize on the ground to respond to the weather emergency. Safety and your power are always our priorities.
Act.
We monitor our response and mobilize our resources to restore outage sources wherever they may occur. Sometimes that means repairing a power line right outside your door. And sometimes that means an overhaul of a power substation several miles away. All the while, we communicate with our customers, the media and government officials – every day until power is restored.
Learn.
We review our performance following each and every storm, learning valuable lessons on how to restore power quicker, safer and more efficiently.
Collaborate.
We never stop seeking new ideas, resources and processes to improve our storm response. So each year, we collaborate with government officials, contractors and neighboring utilities to develop new best practices.
Train.
Each year at Entergy, we assemble our troops for Storm Response Training. We also conduct detailed storm simulations to stay storm-ready year round.
 
Mutual Assistance Agreements
During routine outage events, utility companies in the United States use their own crews and/or contractors to restore power. In the event of a major storm, however, the task of restoration is so huge that outside help is needed. Entergy partners with other utilities in mutual assistance Agreements that lend a hand to each other if called in during widespread outage emergencies such as hurricanes or ice storms. Entergy crews have traveled as far as New York, Kansas, Oklahoma and North Carolina to get the power back on.
Mutual assistance companies meet annually to strengthen their partnership. Entergy participates in four different mutual assistance organizations. Learn more about our mutual assistance agreements.
Operation: Storm Ready (PDF).
Preparacion Para Tormentas (PDF).
CHỐNG GIÓ BÃO (PDF)