Insights > Arkansas Crew Steps Up Three Times After Hurricanes Lash Louisiana
Arkansas Crew Steps Up Three Times After Hurricanes Lash Louisiana
11/02/2020
Mutual assistance allows for extra help in disasters 
Things that come in threes are typically better, funnier or more dramatic, but the "Rule of Three" took a nasty turn this year, with Hurricanes Laura, Delta and Zeta lashing Louisiana in rapid succession.
It takes a minimum of three to make a pattern or greater impression, and examples can be found in many things, from art and religion to marketing and science. And this year, nature made quite an impact with the three hurricanes. Lake Charles took a direct hit in late August from Category 4 Laura, which decimated the grid as it destroyed property and took lives, and Delta and Zeta came through in October to pummel the state again.
However, one crew out of Arkansas has had quite an effect over the course of the three storms, working 16-hour days to repair, rebuild and restore power safely to those in Louisiana able to receive it. Michael Mixon estimates his crew of 10 from Pike Electric out of Texarkana, Arkansas, have spent about 10 weeks in Louisiana for Entergy so far this season.
"In nearly 25 years in the field, I haven't worked the same area three times in one year," said Mixon. "We normally work on grid maintenance for our local cooperative, but we are always ready to support restoration efforts outside our service area when needed. Usually we work in Florida, but this has been an unusually rough hurricane season that hit hard."
The crew was positioned in New Orleans with four bucket trucks and two line trucks hours before Hurricane Zeta hit the coast as a Category 2 – just 1 mph shy of a Category 3 storm – the last week of October. They were part of restoration, which caused outages for 481,000 Louisiana customers.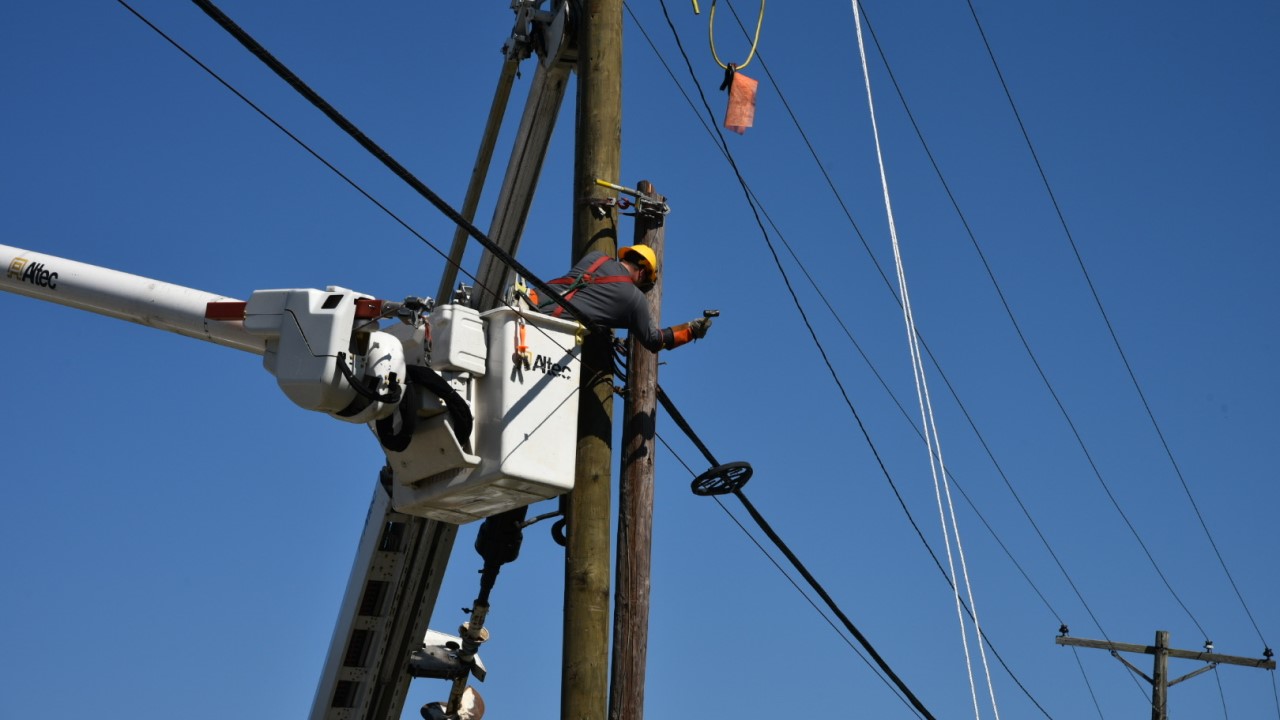 While Entergy Corporation's operating companies in Arkansas, Texas, Mississippi and Louisiana are mobilized to assist in their service territories, there is often the need for more help. Contractors like Pike Electric are part of a mutual-assistance agreement where utility crews are moved around the country to help restore power following disasters. Mixon's crew and others from Pike were positioned early and nearby in preparation for the last of five named hurricanes to hit the Gulf Coast of Louisiana, with three dealing majors blows to the transmission and distribution lines and thousands of power poles.
With a current workforce of nearly 6,100, including Entergy employees and help from other electric companies and contractors, Entergy shared estimated restoration times for all who are able to receive it within the coming week – focusing on essential services and getting the greatest number of customers online at a time – with many coming online sooner.
---