Insights > Entergy Arkansas focuses grant money, volunteer hours on improving literacy and education
Entergy Arkansas focuses grant money, volunteer hours on improving literacy and education
08/01/2023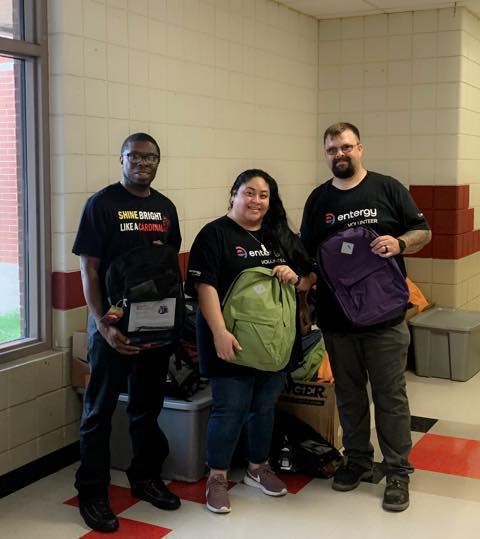 Literacy and education efforts
Entergy Arkansas employees spend hours in schools and aftercare programs across the state, mentoring, reading and helping students achieve their educational goals. Whether it's reading to a class of elementary kids or one-on-one homework assistance, our employees put in the time and effort to encourage young learners. Corporate contributions also go to bolster those efforts with new books and materials for students and teachers, as well as scholarships.
Preschool Literacy
For more than 20 years, Entergy Arkansas has funded Imagination Library, "Books for Babies" and summer literacy programs across the state.
According to the Arkansas Research Center, children who received free books from the Imagination Library are 24% more likely than students that did not receive books from the Imagination Library to score ready or exceeding in science, 15% more likely to score ready or exceeding in math and 18% more likely to score ready or exceeding in reading and language arts.
Grade School Intervention
In both virtual and in-person tutoring sessions, ARKids Read provides activities, curriculum, and literacy engagement materials to tutors. Staff are available at any time to problem solve both literacy challenges as well as technical issues associated with virtual learning). In 2022, the organization used Entergy Arkansas funds to serve 1st through 5th grade students reading six-months to one-year below grade-level through its Campaign for Grade program.
Studies also show Illiteracy rates are correlated with high school drop-out rates, incarceration, public welfare and even chronic health concerns. Therefore, early intervention and support is not only a personal issue but a communal one. Grade-level reading efforts are an investment in individual children, and, simultaneously, an investment in the child's community. Strong, confident readers grow up to become a healthier, more stable workforce and directly impact a community's capacity for economic growth.
Career Path Education
Through The Academies of Central Arkansas, Entergy Arkansas has partnered with two of the 11 local high schools in four school districts along with several businesses to provide students relevant learning with real-world experiences resulting in improvements in their academics once their core classes are taught through the lens of something that interests them.
In addition to teaching students the life skills to be successful in both high school and life beyond, annual Freshman Seminars expose them to a multitude of careers available to them in central Arkansas. Based on that exposure, the students can select the Academy in which they will study beginning their sophomore year.
Academy pathways include: Building, Automotive & Design; Health & Safety; Service, Sales & Marketing; Science & Technology; Business & Design; Engineering; Health & Applied Science; Business & Computer Science; Leadership & Public Service; Agriculture Business & Innovation; Science & Construction; Digital Communications & Fine Arts; Engineering Technology & Computer Science; Engineering, Aerospace & Design; Digital, Visual & Performing Arts; Business, Hospitality & Future Technology; and Health & Human Services. Entergy Arkansas supports the Energy Pathways programs at Joe T. Robinson High School and Hall STEAM High School with volunteers and grant dollars.
The Academies of Central Arkansas better prepares students for both post-secondary pursuits and/or entering a career immediately after high school and teaches them the skills necessary to be successful in life. Students also have the opportunity to earn dual/concurrent credit and industry recognized certifications.
Scholarships
Knowing that higher education leads to a qualified workforce, Entergy Arkansas funds college scholarships for both public and private school students based on need and course of study every year to the tune of thousands of dollars. Those range from industry-specific training and STEM fields to the Single Parent Scholarship Fund.
Additionally, the Oscar J. Washington Memorial Scholarship Oscar Washington which honors the former Vice President of Customer Service for Entergy Arkansas to assist potentially at-risk, qualified students, who seek to further their education. Entergy Arkansas has financially supported the program since its inception in 2017.
Other grant recipients –
THEA Foundation – supplied art materials for teachers to use in their classroom
Positive Atmosphere Reaches Kids (P.A.R.K.) Foundation – provided afterschool tutoring and summer programs for at-risk students
TEACH for America – a special program with a social and emotional approach to student well-being
Martin Luther King Jr. Commission – held Back to School events where school supplies were provided, and haircuts to help kids start off on the right foot
Arkansas Research Alliance – supported research at five member universities and the National Center for Toxicological Research (NCTR) to leverage university research for 21st Century job creation in Arkansas
Junior Achievement of Arkansas - provided young people with the real-world skills and allowing them to recognize the value of staying in school, increasing the likelihood they will graduate
City Year – held group and 1:1 tutoring and mentoring sessions for kids with academic intervention needs
Board Service
One intentional way Entergy Arkansas serves its communities is through volunteer service on various advisory committees and nonprofit boards. Danielle Hoefer in Regulatory Affairs serves on the board of directors for Central Arkansas Montessori. Mark Martin, customer service manager, is the Harrison Board of Education Vice President. Chris Wasson, customer service manager, is board member for Girls Learning About Math and Science and a member of the South Ark College Advisory Committee. Customer Service Manager Tongia Brown is on the Southeast Arkansas Community College Foundation Board. Vice President of Customer Service Ventrell Thompson is on the finance committee of the Single Parent Scholarship Fund. Chris Warren, regional engineering manager, is on the Arkansas Tech University - Electrical Engineering Academic Advisory Board. Customer Service Manager Jay Hartmann is on the board of the Little P.A.R.K. Foundation. Director of Business and Economic Development Danny Games is on the Goodwill Industries of Arkansas board of directors.
Entergy Arkansas is committed to investing in the future of the communities we serve through our support for education, as it enables individuals to achieve their fullest potential and contribute positively to society. An educated, skilled, and diverse workforce is critical to Entergy's long-term success and the health and viability of the communities we serve. With our education partners, the Entergy Charitable Foundation strives to ensure that every child has access to a quality education and the skills to be successful in life.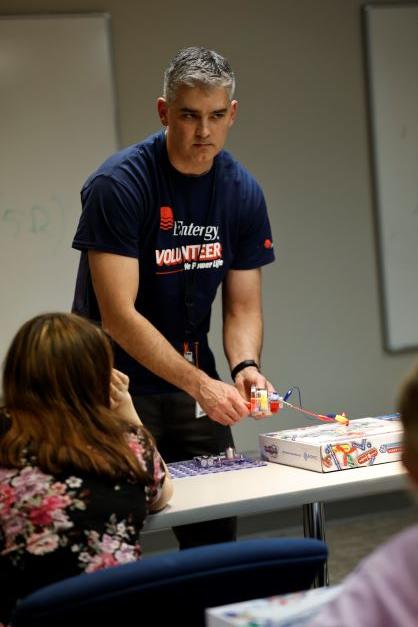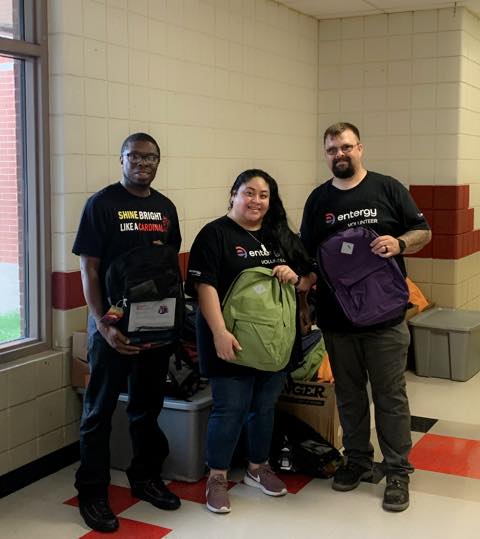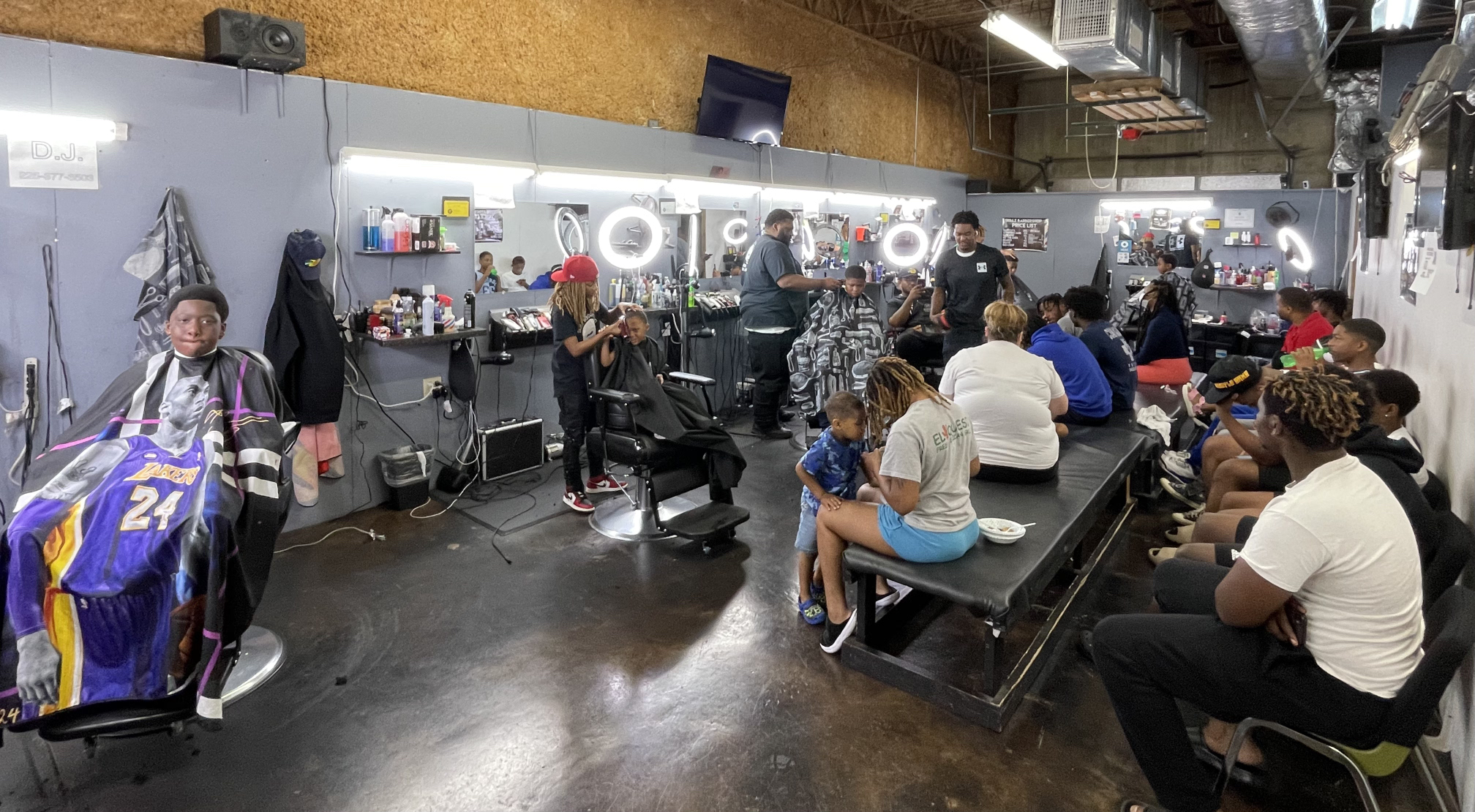 ---