Insights > Electricity is in Their DNA
Electricity is in Their DNA
11/01/2018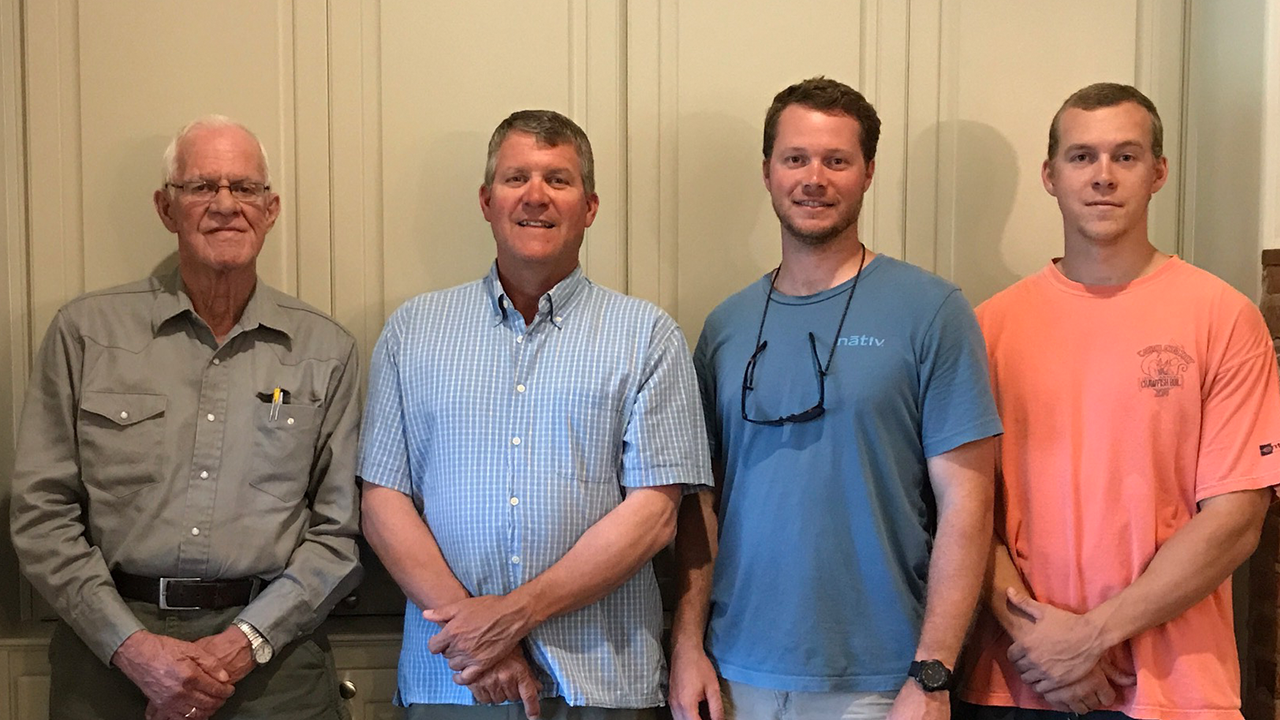 Three Generations of Vaughans Power Life for Entergy Customers
Entergy retiree Bill Vaughan Sr. remembers the days when electricity was transforming rural life across Mississippi and on his family's farm in Eupora, where one of his many chores was milking cows twice a day with his sister.
"My dad told us that if we could milk over 20 cows at one time, he'd get an electric milking machine," Bill said. "We got up to 22 cows, and he bought it for us. It was really a relief."
Working with family to provide a commodity that people relied on was a theme that set the course of Bill's life and career. In 1972, he was hired as a lineman in Winona for Mississippi Power & Light and spent the next 32 years making sure customers were supplied with safe, reliable and affordable electricity to power their lives.
Leading by Example
Bill's decision to join the company also started a family tradition. Today, his son and two grandsons work for Entergy.
"The bond we have is wonderful. I feel honored and blessed to have them follow in my footsteps," said Bill, 77, who retired in 2004.
His son William Vaughan Jr., 54, joined Entergy Mississippi in 1987 and is now the vegetation operations coordinator for transmission in Grenada. Grandson Will Vaughan III, 28, who has been with the company five years,  is supervisor of transmission lines for Entergy Arkansas in Little Rock; and grandson Tyler Vaughan, 25, joined Entergy Mississippi last year as a substation construction and maintenance trainee based in Greenwood.
Over three generations, the Vaughan family has worked a cumulative 65 years for Entergy. Bill's youngest grandson, Bailey Vaughan, is a freshman at Mississippi State University majoring in civil engineering. Naturally, there are hopes among family members that he'll join the Entergy team one day.
Being His Brother's Keeper
Bill spent most of his career working as a serviceman and troubleman in Greenville and Greenwood, where he now lives with his wife of 57 years, Barbara.
"I liked meeting people and keeping the lights on for everybody," Bill said. "The company always took care of us and looked out for us. There's a good future with Entergy."
Bill still feels a strong connection to the company and cherishes memories of the camaraderie and commitment that defined his work experience. In 1988, he received an award from MP&L President Donald Lutken for helping a fellow lineman who was electrocuted on the job.
"I used techniques we learned in training and brought him back to life," said Bill, who also was awarded by IBEW and American Red Cross for his lifesaving action.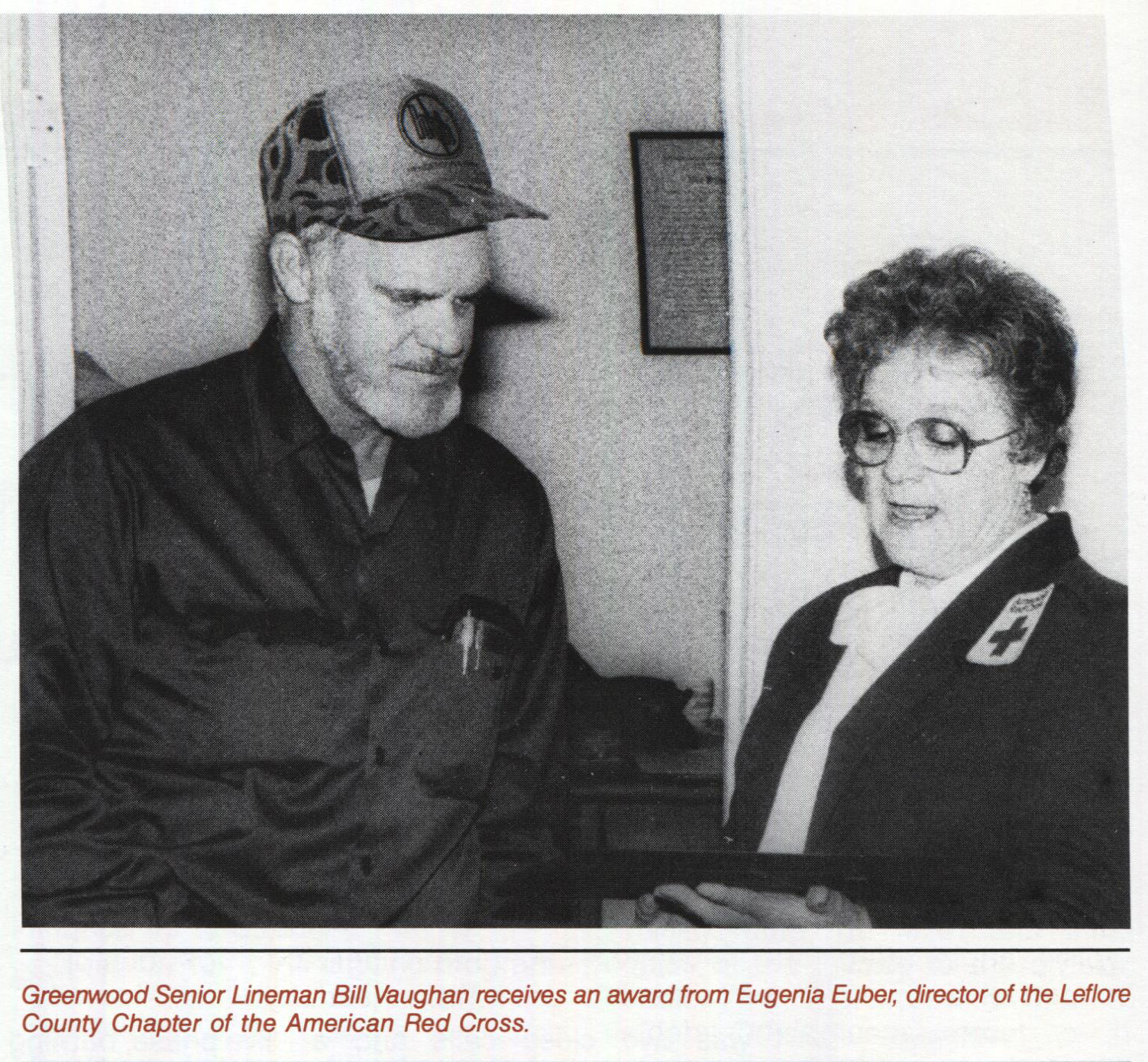 In this photo from our archives, Bill Vaughan receives one of several awards in appreciation of measures he took to save a colleague's life.

Just as his father dispensed advice that motivated him to achieve, Bill makes sure to remind his family that even though they're operating in a new era, some things will never change.
"When you go out there to do a job, always know that any job worth doing is worth doing right," Bill said. "It's also important to have respect for everybody — coworkers, customers and managers. I always tried to get along with people."
Like Father, Like Son
The example Bill set and the career path he chose made enduring impressions on his son, William, who will celebrate 32 years at Entergy in December.
"Dad put a lot of good work ethics into me, and I've tried to pass those along to my kids," William said. "The company's been here over a hundred years — that tells you a lot. Entergy has been around a long time for a reason. It's a good, family-oriented company to work for. Family-oriented means people care."
Many of William's warmest memories of growing up involve visits to his father's office in Greenwood. Employees were his hunting and fishing buddies, and on a few occasions, William accompanied his father's work crew when they went out on calls. It was quite the adventure for a young boy, as well as an example of how much things have changed at Entergy in his lifetime.
"Of course, employees can't do that now because of safety rules, but back then it was OK," William said. "I'd be out all night and fall asleep in the truck. We ate midnight supper and then had breakfast after they'd been working all night. I'd always wanted to work for Entergy and was fortunate enough to start on the crew my dad started on in Winona."  
Before his recent move to Grenada, William had spent the majority of his Entergy career in Madison, where he and his wife Tish raised their family. After working as a lineman, he became a crane operator, a position that was heavily involved in storm-restoration efforts. 
"We chased storms all over Mississippi and 28 states," he said. "I did a lot of traveling in those 15 years. It was a very demanding job, but if you're raised that way, it's not a big deal. You're helping people all the time."
The Tradition Continues
When William's sons were very young, they remember when he was away from home for two months helping with service restoration after Hurricane Katrina. It may come as no surprise that restoring service after storms is one of the most satisfying aspects of Will's job.
"When you're working on storm response, it's like controlled chaos — it's pretty amazing how everyone comes together and gets things done," Will said. "Providing communities with something they can't live without gives me a sense of accomplishment, and I like being part of getting customers' power back on."
Will's move to Entergy Arkansas in 2016 and subsequent promotion to supervisor of transmission lines in January not only placed him and his wife, Katelyn, to move closer to her family in Arkansas, but also created more opportunities for him to expand his company knowledge and experience.
"One thing I learned is don't ever say no when you're asked to do something, as far as moving around or trying different jobs," he said. "It's nice to know I can look forward to a good, happy life working for Entergy like my dad and grandad. I know I can provide for my family like they did for theirs."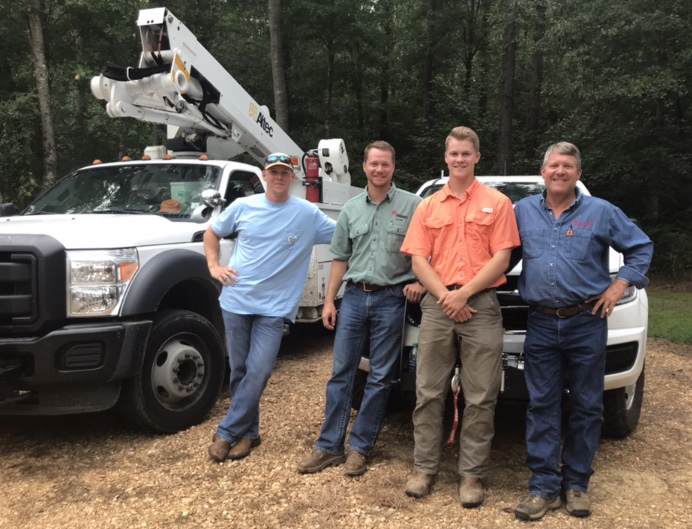 Tyler, Will, Bailey and William Vaughan.
It's All in the Family
Will's brother, Tyler, has also experienced the company's family-like culture since joining Entergy in May 2017 as a substation construction and maintenance trainee in Greenwood.
"The best part of my job is being able to work with a great group of guys every day," Tyler said. "It makes me look forward to coming to work."
In addition to learning new skills and making new friends, Tyler said Entergy's focus on safety has been "an eye-opener."
"I used to run a landscaping crew, and the goal was working as fast as possible to make more money," he said. "When you work here, it's all about slowing down, taking your time and doing everything safely so everybody goes home in one piece. 'Safety as a core value' is a good way to look at things. You practice it at work and you'll find yourself practicing it at home."
Earlier this year when Tyler travelled to Carrolton to help crews install a mobile substation, he ran into a familiar face.
"I'll never forget working on a job site the first time my dad showed up," Tyler said. "We were working side by side. It was really neat. Working at Entergy has always been in my family, and they've always had positive things to say about it. I'm glad I finally took my dad up on his word and hired on with Entergy. I love it."
Are you interested in joining our team? Check out career opportunities with Entergy! You can also keep up with Entergy career opportunities by following us on LinkedIn!
---