Insights > Entergy Arkansas winter storm update – 2/2/23, 10 a.m.
Entergy Arkansas winter storm update – 2/2/23, 10 a.m.
02/02/2023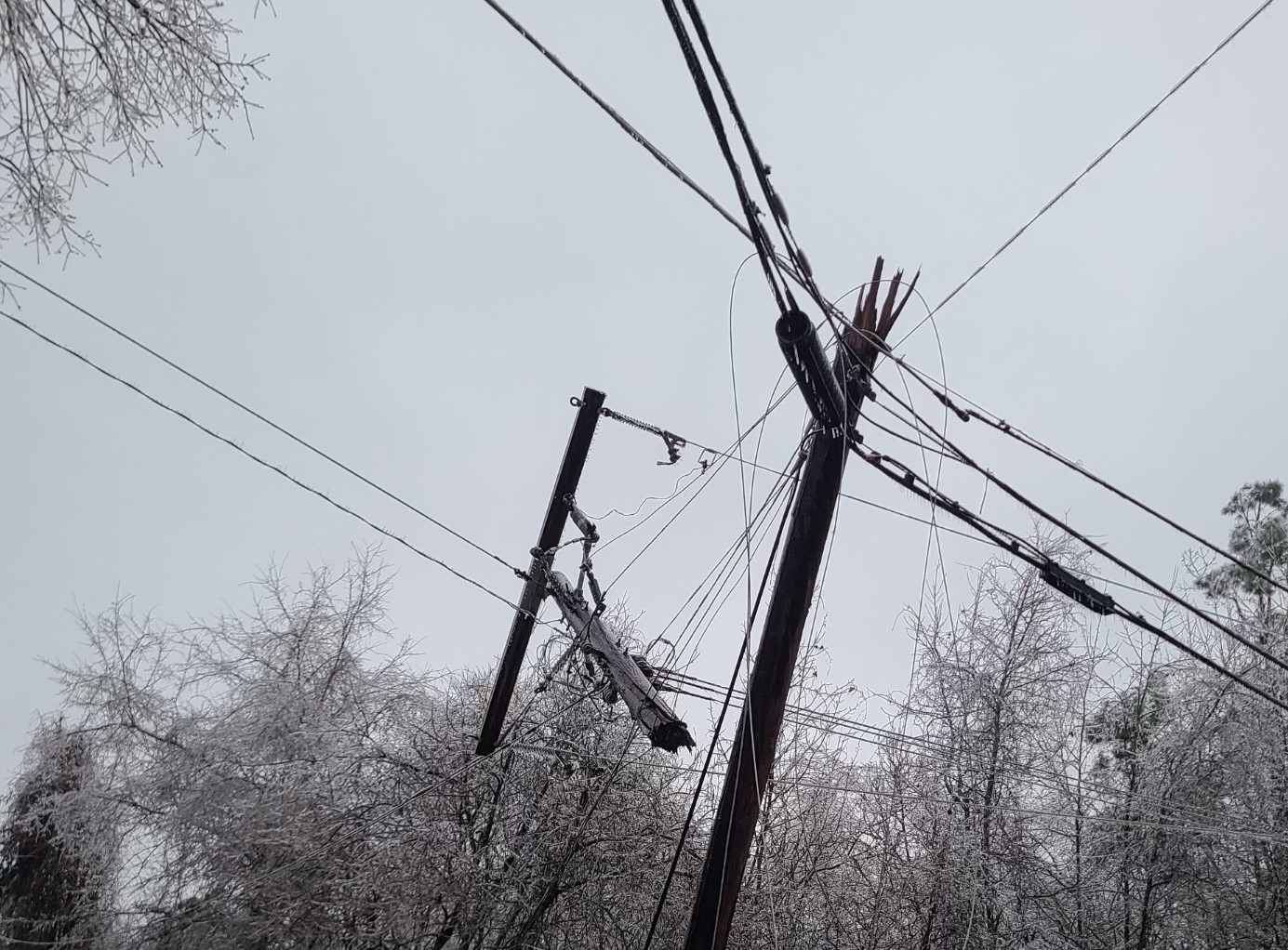 Ice of up to half an inch in some areas in the southern region of the state has caused approximately 43,000 customer outages this morning.
We have an estimated 2,800 workers engaged and responding to outages as quickly and safely as possible. This includes additional resources that have come to Arkansas from other states to assist with restoration efforts, including scouts, vegetation crews, electricians, track equipment and more.
Extra weight on power lines caused by ice can cause them to fall or stretch, possibly causing power interruptions. While Entergy Arkansas manages growth of trees and bushes near electrical equipment, one half-inch of ice can increase the weight of a tree limb as much as 30 times, causing limbs to bend or snap, falling onto power lines and causing an outage.
This final line of severe winter weather and ice accumulations will be exiting the state this afternoon, bringing temperatures slightly above freezing and some relief to the hazardous winter weather conditions.
We want to keep you informed. The best way to get information about outages is via Entergy's View Outage page on our website.
Additional resources for your convenience:
Download our app for your smartphone at entergy.com/app or visit Entergy Storm Center to stay informed on our restoration progress.
Sign up for text alerts. From your cellphone, text R E G to 368374, or visit entergytext.com.
Follow us on Facebook and on Twitter @EntergyARK.
Follow updates in your local news media, like radio, television, and newspapers.
Greatest Impacted Areas
(2-2-23; 10:00am)
| | |
| --- | --- |
| County | Customers Out |
| ARKANSAS | 685 |
| BRADLEY | 4,016 |
| CALHOUN | 545 |
| CHICOT | 183 |
| CLARK | 5,437 |
| CLEVELAND | 1,340 |
| COLUMBIA | 941 |
| DALLAS | 2,667 |
| DESHA | 1,579 |
| DREW | 7,030 |
| GRANT | 2,531 |
| HEMPSTEAD | 532 |
| HOT SPRING | 1,225 |
| JEFFERSON | 5,557 |
| LINCOLN | 168 |
| NEVADA | 1,771 |
| OUACHITA | 4,109 |
| PHILLIPS | 613 |
| UNION | 1,648 |
| ARKANSAS | 685 |
Warming Centers Open for Customers
(2-2-23; 10:00am)
County

Location

                                                      Address

 

GARLAND

First United Methodist Church

1100 Central Ave. Hot Springs, AR

POINSETT

Campbell Street Senior Center

351 Campbell Street, Trumann, AR

POINSETT

First Baptist Church

302 Kenwood Avenue Lepanto, AR

POINSETT

Fisher Fire Department

105 N Front Street Fisher, AR

POINSETT

Harrisburg Community Building

203 W South Street Harrisburg, AR

POINSETT

Marked Tree City Hall

1 Elm Street Marked Tree, AR

POINSETT

Rice Festival Building

208 Kings Highway Weiner, AR

POINSETT

Senior Citizen Building

135 Main Street Tyronza, AR

POINSETT

Stepping Stone Sanctuary

904 Speedway St. W, Trumann, AR

POINSETT

Waldenburg City Hall

5645 Highway 14 Weiner, AR

PULASKI

Dunbar Community Center

1001 W. 16th St. Little Rock, AR

PULASKI

First Presbyterian Church

1208 W. Main St Jacksonville, AR

VAN BUREN

Fairfield OEM Warming Shelter

101 Little Rock Road, Heber Springs, AR
WINTER WEATHER RESTORATION PROCESS
We are deploying scouts to assess damage in all affected areas. It is on these assessments that we base our estimated restoration times. We will communicate these estimates with you, updating as new information becomes available. Our crews will simultaneously be restoring service where it is deemed safe to do so. We ask for your patience, and please know restoring your power safely and quickly is our top priority.
Please be aware the restoration process can be hampered by the surge of instantaneous electrical demand from appliances (heating units, water heaters, etc.) when service is restored to your location, potentially overloading protective devices on Entergy's electrical system. To help mitigate this problem, Entergy encourages you to turn off any electrical heaters or electrical appliances that can easily be turned off until power is restored.
As with any weather event, please be mindful of the following safety tips:
Live wires can be deadly. Stay away from downed power lines. Call 1-800-9OUTAGE or 1-800-968-8243 to report downed or dangling power lines, damaged or downed poles or other damaged equipment.
Do not trim trees or remove debris on or near downed power lines. Only power company crews or their contractors should remove trees or limbs touching power lines. Again, stay away from downed power lines.
Keep away from the immediate areas where crews are working. There is always the danger of moving equipment and the possibility of construction materials, limbs or overhead wires falling to the ground.
If you plan on using a generator for temporary power, get a licensed electrician and disconnect from the utility electric system before hooking up to your main electric panel. 
Do not run a generator in a confined space without adequate ventilation. Use them only outdoors, following all manufacturers' safety guidelines.
Turn off any electrical appliances that can easily be turned to the off position until power is restored.
Check on seniors, who can be particularly susceptible to extreme temperatures.
Try to stay off the roads in affected areas. More traffic in bad weather leads to more accidents, including more injuries and fatalities as well as accidents that can damage electrical poles and other equipment, creating outages and impeding the ability of crews to access and repair damage and slowing restoration.
---