Insights > Entergy Bikes the Big Easy
Entergy Bikes the Big Easy
10/16/2017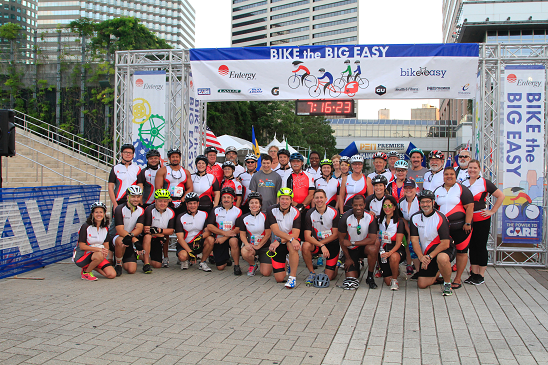 On October 14, over 150 Entergy employees participated in the third annual Entergy Bike the Big Easy. Beginning in the shadows of the Superdome and trekking through the French Quarter before heading into the Garden District and across City Park, cyclists enjoyed some iconic New Orleans sites on the 20-mile and 32-mile courses that stretched along the closed streets of the Crescent City.
The casual, social and cultural ride highlights the city's more than 100 miles of bike paths made possible in part by contributions from Entergy shareholders. The paths and the event encourage ecotourism and healthy lifestyles and contribute to New Orleans' rank as one of the most bike-friendly cities in America.
Bike the Big Easy also raises awareness for Entergy's The Power to Care. A portion of the proceeds from the 2017 ride benefits the fund, which assists seniors and disabled individuals in crisis with their Entergy bills. Entergy customers, employees and shareholders contributed more than $200,000 to Entergy New Orleans' Power to Care fund in 2016, helping over 1,000 elderly or disabled customers with bill payment assistance. We can only be as successful as the communities we serve, and giving back to the community is an integral part of Entergy's corporate mission.
To learn more about The Power to Care or to donate, click here.
For more photos from the 2017 Entergy Bike the Big Easy:
https://www.flickr.com/photos/entergy/sets/72157688093012333
---