Insights > Entergy Employees Go Green by Helping Clean
Entergy Employees Go Green by Helping Clean
03/29/2018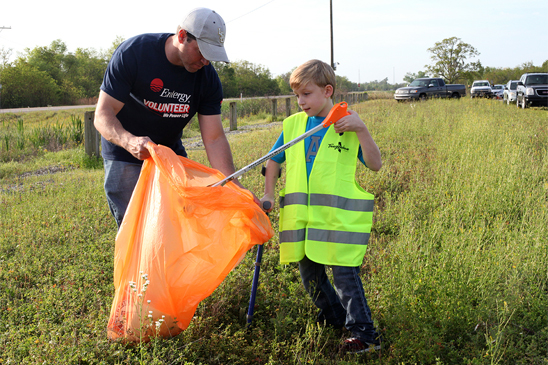 Armed with gloves, garbage bags and grabbers, Entergy's Louisiana employees and volunteers descended on areas around Lake Pontchartrain Saturday to help clean up and protect some of south Louisiana's most precious green spaces and waterways.
The effort was part of the Lake Pontchartrain Basin Foundation's 4th Annual Spring Sweep, a designated cleanup day sponsored by Entergy and held in held in conjunction with the Great American Cleanup.
"We're proud to sponsor events such as these and to give back to the communities we serve in such a personal and meaningful way," said Customer Service Representative Ann Johnson, who was part of the team coordinating the Spring Sweep events. "By taking care of outdoor green spaces, we're not only helping the environment, but we're also making the area in which we live and work a place everyone can enjoy."
Entergy employees and volunteers focused their efforts on four locations. In Jefferson Parish, volunteers placed pine straw around trees, added mulch to flower beds and a kayak launch area, trimmed trees, repaired lighting, and picked up trash at the Bonnabel Boat Launch and Bucktown Marina.
Customer Service Representative Patrick Hamby and his family enjoyed a fun, productive day at the Bonnabel Boat Launch, Hamby said.
"It helped instill in my young children the value of giving back to the community," said Hamby. "The event was a success and really made a positive impact on the Bonnabel Boat Launch – it is now ready for the increased springtime activities!"
In Orleans Parish, Entergy New Orleans volunteers picked up trash at the Riverview, also known as "The Fly," behind Audubon Zoo. In Tangipahoa and St. John parishes, Entergy volunteers teamed up with volunteers from Tangipahoa Parish government, Manchac Greenway, Manchac Boat Association, Manchac Coalition and the Louisiana Department of Wildlife and Fisheries. Heavy equipment, bucket trucks, small boats and airboats were used to pick up debris and litter along the Manchac Greenway.
By removing litter and debris, volunteers helped care for areas that drain the Pontchartrain Basin. They also helped mitigate a dangerous threat to birds, fish, turtles and other estuarine species.
"Everyone benefits from getting the litter off our streets and we always have a good time out there. We are grateful to Entergy Louisiana for sponsoring this event. It's impressive to see how much we can achieve when we work together for just a few hours," said Kristi Trail, executive director for the Lake Pontchartrain Basin Foundation.
---