Insights > Entergy Employees Honored for Nuclear Industry Leadership
Entergy Employees Honored for Nuclear Industry Leadership
07/13/2018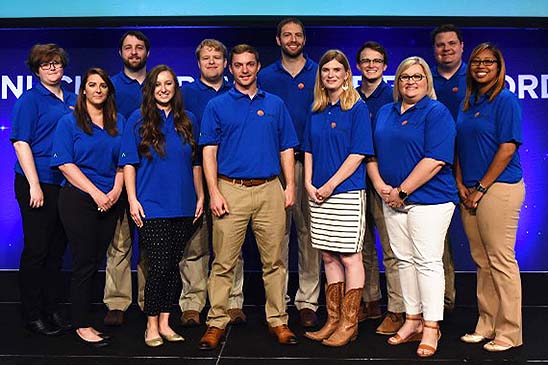 It isn't often you stumble across a room full of young leaders power posing with top industry leaders. But once a year, the North American Young Generation in Nuclear combines forces with the Nuclear Energy Institute to shape the future of nuclear at their annual professional development conference and Nuclear Energy Assembly.
Entergy's Natalie Wood, vice president coordinator at River Bend Nuclear Station and past national president of NAYGN, is rumored to have started the power posing at this year's conference, highlighting the path to success of several female leaders from across the industry.
In addition to making her mark at this year's conference, Wood has made her mark on the industry these past three years at the helm of NAYGN. Wood officially ended her leadership commitment to the organization at this year's conference, having served as vice president, president and past president.
When asked what she was most proud of during her time as a leader of NAYGN, she said without a doubt, the winning of a Top Innovative Practice Award at this year's conference for the NAYGN Impact.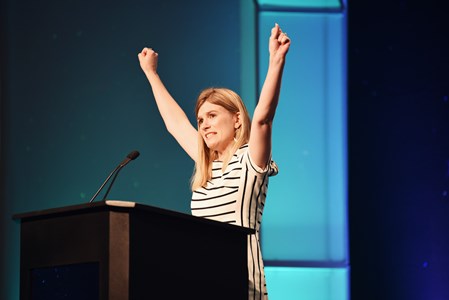 "It is an acknowledgement, at the highest of industry levels, of the efforts and the impact of each and every member of NAYGN in energizing the future of nuclear," she noted.
Entergy Senior Communications Specialist Katie Damratoski was also honored at this year's conference with the organization's individual achievement award. This is the first year the award has been given. Recipients are recognized for their significant contributions to the organization.
Damratoski has been a member of the organization for seven years, serving as the Southeast Region Lead for the past three. In that role, she provides leadership and oversight to 27 of the organizations chapters. Damratoski has also served as the chapter chair of the River Bend NAYGN chapter and is currently the Entergy fleet president.
NAYGN provides opportunities for a young generation of nuclear enthusiasts to develop leadership and professional skills, create life-long connections, engage and inform the public, and inspire today's nuclear technology professionals to meet the challenges of the 21st century.
---