Insights > Entergy IT announces first STEM scholarship recipients for 2023-24 school year
Entergy IT announces first STEM scholarship recipients for 2023-24 school year
05/02/2023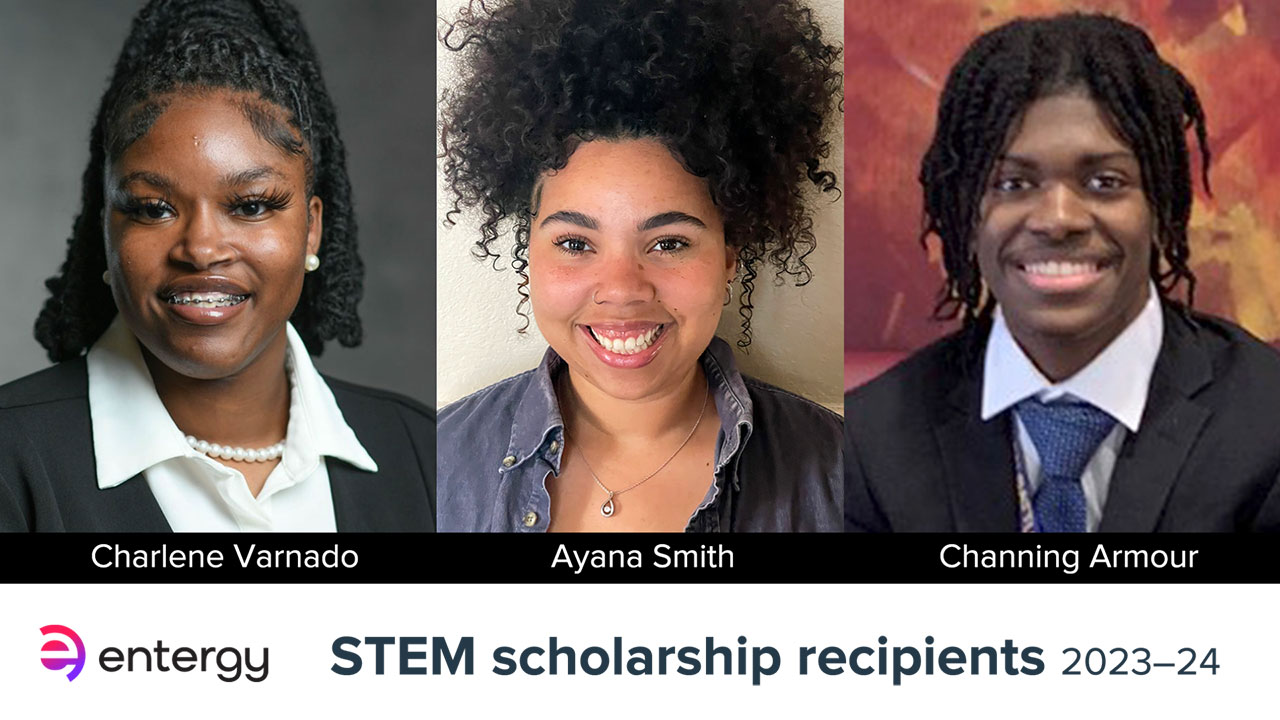 Entergy IT is excited to announce the first recipients of the new Entergy STEM college scholarship for the 2023-24 academic year. Channing Armour, Ayana Smith and Charlene Varnado, all of the New Orleans metro area, will receive a $4,000 scholarship toward their college degrees.
The scholarship program was created to support New Orleans-area current college students obtaining degrees in the fields of science, technology, engineering or math. Channing, a senior attending Dillard University, is majoring in computer science. Smith, a junior at Loyola University New Orleans, is majoring in physics and planning to obtain a master's in mechanical engineering. Varnado, a senior at Grambling State University, is majoring in cloud computing.
"Before being awarded this scholarship, I didn't know how I was going to afford the resources I needed for next semester or how I was going to pay for certifications and projects to verify my knowledge. I've always been interested in the field of cybersecurity but couldn't afford to take any classes on the subject," Varnado shared. "Since I was blessed with this amazing award, I have been able to take additional classes for my major and also add cybersecurity as a second major for the fall." 
"Entergy IT is proud to help these students fulfill their academic dreams," said Michael Rhymes, Entergy vice president and chief information officer. "This scholarship program will also have a positive, lasting impact on our communities and help build the local technology workforce."
Registration will open early this fall for students to apply for the 2024-25 school year scholarship. To receive the scholarship, students must be graduates of a high school located in greater New Orleans (Jefferson, Orleans, Plaquemines, St. Bernard, St. Charles, St. John the Baptist, St. Tammany or Tangipahoa parishes). They must also plan to attend one of the following universities in the upcoming school year: 
Dillard University 
Grambling State University 
Loyola University 
Southern University 
Entergy IT selected New Orleans as a pilot location for the new scholarship program, with hopes to expand to other communities in Texas, Mississippi and Arkansas in the future.
Visit the Entergy STEM Scholarship webpage to learn more about the scholarship or apply in the future. The Entergy STEM Scholarship is managed by Scholarship America, a leading scholarship facilitator and partner. Entergy did not participate in the selection process
The scholarship program supports the mission of the corporate social responsibility organization of Entergy to create sustainable value for our customers, employees, communities and owners. Aligning with our business objectives, the scholarship serves as a fundamental element in developing a pipeline of future talent in our workforce to expand economic development in the region and meet our customers' needs.  
'Before being awarded this scholarship, I didn't know how I was going to afford the resources I needed for next semester or how I was going to pay for certifications and projects to verify my knowledge. I've always been interested in the field of cybersecurity but couldn't afford to take any classes on the subject. Since I was blessed with this amazing award, I have been able to take additional classes for my major and also add cybersecurity as a second major for the fall.' -  Charlene Vanardo, one of three recipients of the Entergy STEM college scholarship
---