Insights > Entergy Mississippi Presents Record Donation to Salvation Army during Power to Care Night
Entergy Mississippi Presents Record Donation to Salvation Army during Power to Care Night
10/21/2019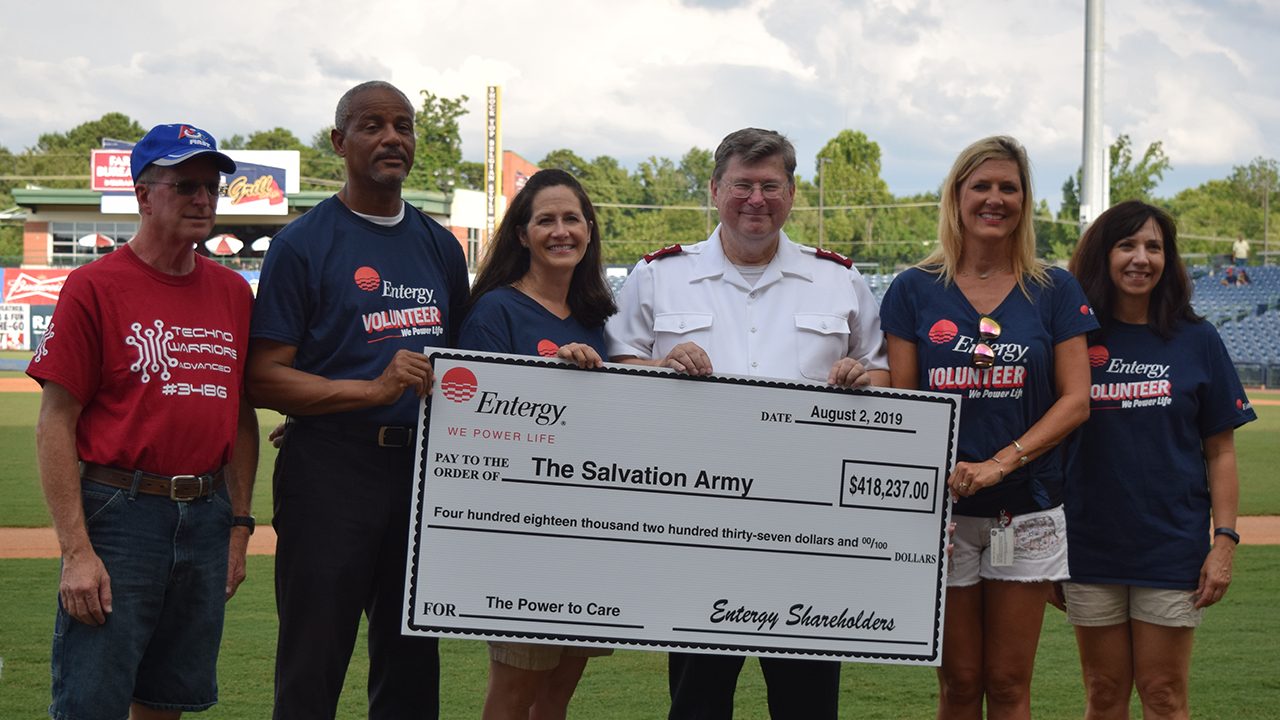 Above, Major Michael Hawley of the Salvation Army (center) receives a check for The Power to Care program from Entergy employees (l-r) Jeffrey Lanum, Gerald Husband, Liz Brister, Valarie Mabry and Cathy Cauthen.
Annual event raises more than $418,000 to help vulnerable customers pay utility bills.
If donations were baseball plays, this was a grand slam! In August, Entergy Mississippi presented a check totaling $418,237 to the Salvation Army during Power to Care night at Trustmark Park. The donation from our shareholders, employees and customers set a new annual fundraising record for The Power to Care, which helps elderly and disabled customers pay their electricity bills in times of financial crisis.
"During Power to Care night, we recognize the many ways employees positively impact their communities year-round through volunteerism and philanthropy," said Valarie Mabry, analyst, public affairs. "Setting a new donation record for The Power to Care is truly a milestone worth celebrating and one of many ways we power life in the communities we serve."
During the annual event, Entergy recognized top employee volunteers for 2018 based on volunteer hours:
Jeffrey Lanum, technical specialist, Entergy Nuclear, Jackson - 379 hours
Cathy Cauthen, project management specialist, Entergy Nuclear, Jackson - 312 hours
Gerald Husband, customer service specialist, Entergy Mississippi, Greenville - 282 hours
Lanum had the honor of throwing the first pitch of the game between the Mississippi Braves and the Tennessee Smokies.
Last year, donations from The Power to Care helped 4,000 elderly and disabled customers keep the lights on and stay comfortable during extreme cold or heat. The Salvation Army administers the program, and 100 percent of donations are used to pay utility bills for qualifying customers. Entergy shareholders match all employee and customer donations to the fund dollar-for-dollar up to $500,000 annually.
Many thanks to everyone who made 2019 Power to Care night one for the record books!  
---