Insights > Entergy Mississippi Property Search Tool: Information at Your Fingertips Any Time, Anywhere
Entergy Mississippi Property Search Tool: Information at Your Fingertips Any Time, Anywhere
08/28/2018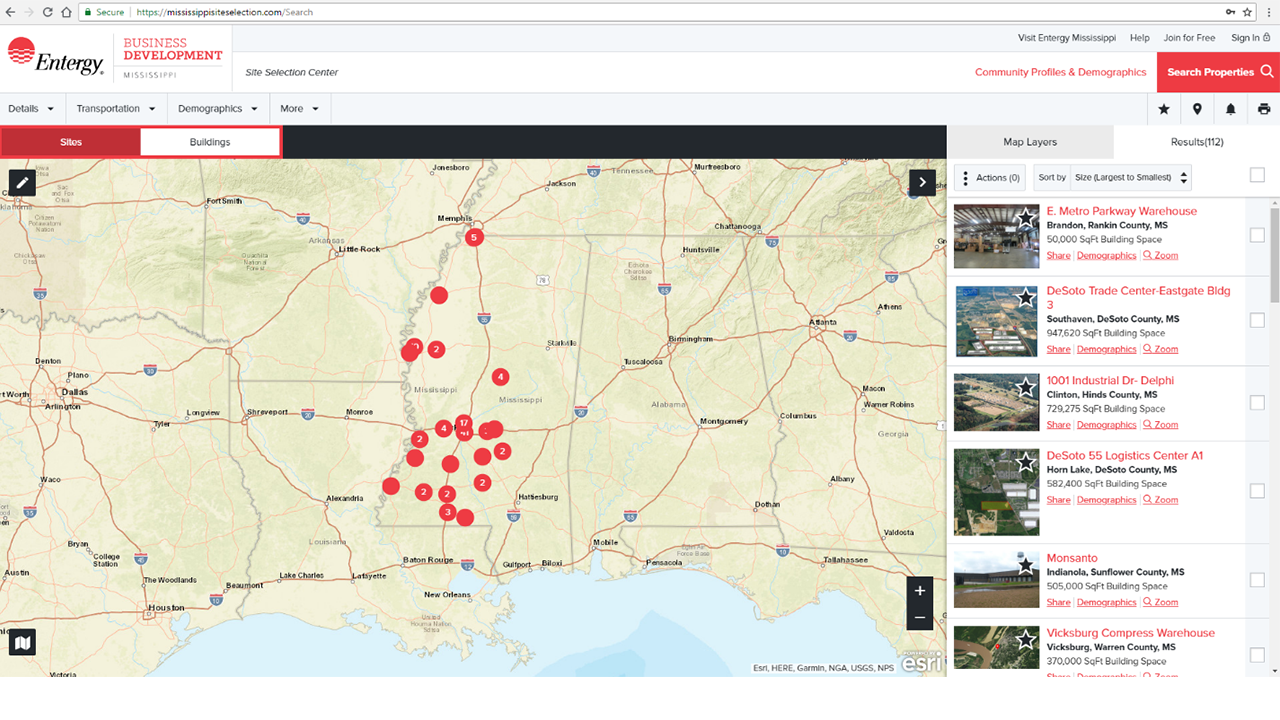 Site selection is one of the most critical decisions a business can make, and Entergy Mississippi's free commercial and industrial property database offers a high-powered, intuitive site selection tool to help businesses search and find sites. For a decade, Entergy Mississippi has continually improved our region's edge when it comes to attracting companies and industries through the property search tool which is located in the Entergy Mississippi Site Selection Center, Building and Sites.
Recent improvements made to the Property Search Tool include:
Presentation-quality PDFs of properties and reports.
The easy-to-use platform pulls in a combination of geographic information system technology, business analysis and demographic data to give users access to available industrial buildings / sites and resources within the service area. It also features a responsive design, dynamic search options and enhanced property details. In addition, the property database is based on ESRI demographic and business data that allows sites to be assessed by drive-time, mile radius, city, region, or state.
Other features include:
More Dynamic Property Search: Search results update immediately on the map and in the search results list as each criterion is changed. You can export search results as a spreadsheet and export property boundaries as a KMZ file.
Quick Property Search: When you have only a few criteria for a property search, expedite you search via Quick Property Search.
Adjacent Properties: When you conduct a search, a property's adjacent space is also considered, making it easier to find buildings that meet your space requirements.
Map Layer: By turning different map layers on and zooming in to inspect the property closely, you can see the location of geological features such as wetlands and FEMA flood zones. On the map, you can view statistics on demographics, education levels, housing, daytime and nighttime population levels- just to name a few.
The best way to get acquainted with this invaluable resource is to visit Buildings & Sites right now – use your phone, tablet or computer. You may want to start with our tips and tools page. Or maybe you'd prefer to strike out on your own and explore the possibilities: Pick some very specific searches, create a map with layers and export a report.
To learn more about the Site Selection Center and its capabilities, visit the website or contact David Rose, Entergy Mississippi Analyst at drose1@entergy.com or by calling 601-969-2412.
---