Insights > Entergy Mississippi storm update – 3/29/23, 10 a.m.
Entergy Mississippi storm update – 3/29/23, 10 a.m.
03/29/2023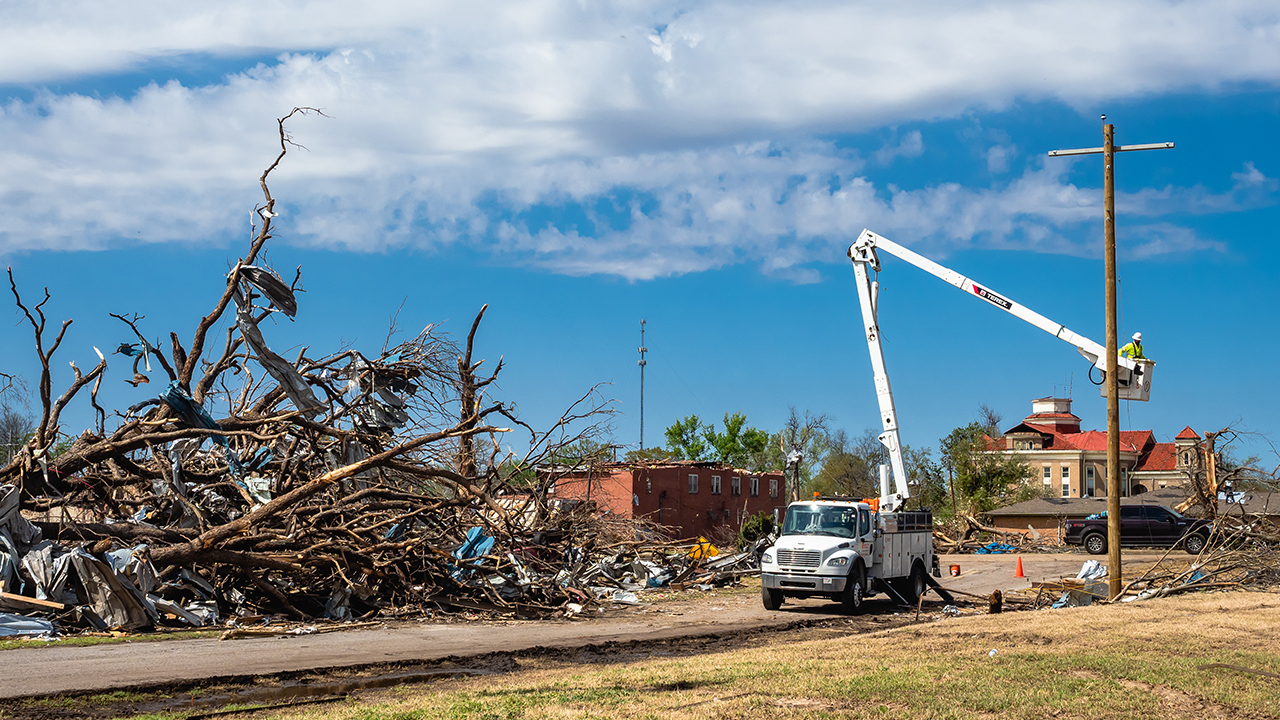 We continue to make progress in our restoration effort from the tornado and thunderstorm activity that entered Entergy Mississippi's service territory Friday night in the northern service territory. At the outage peak, 15,398 customers were without power and 532 customers remain without power in Rolling Fork and Silver City. Workers and support teams have safely and tirelessly restored power to more than 14,000 customers after the devastating tornado impacted our service territory.
Restoration is complete in Winona for all customers who can safely receive power. If you are in this area and without power, please remember, restoration workers cannot restore power to a location with a damaged meter base, conduit or weather head (the metal pipe extending upward from the structure with electrical cables inside). These items must be repaired by a qualified electrician before our workers can restore service. Learn more about the electrical equipment that serves your home. If your electric equipment appears undamaged, call 1-800-9OUTAGE, 1-800-968-8243. 
In the heavily damaged areas of Rolling Fork and Silver City, most customers who can safely receive power are expected to be restored by 10 p.m. Wednesday, March 29.
Progress has also been made from the damaging winds with large hail that came through the central and southern parts of our service territory Sunday afternoon. More than 500 line workers, substation workers, damage assessment scouts, vegetation workers, and support personnel are supporting the restoration effort. At the outage peak, 21,128 customers were without power and 600 customers from the wind and hail storm remain without power. Damage assessment has identified 60 damaged poles, 54,725 feet of downed power lines, 34 damaged transformers, and 38 damaged cross arms.
Restoration is expected to be complete for customers who can safely receive power today, March 29, in Jackson and Vicksburg by 3 p.m. and in Clinton by 6 p.m. For updated estimated restoration times, view our outage map at www.entergy.com/view-outages. We sincerely apologize for the inconvenience and appreciate your patience as our crews safely work to restore customers' power.
As with any weather event, please be mindful of the following safety tips:
Stay away from downed power lines and areas of debris. Energized power lines may not be visible among the rubble. Report downed lines immediately to Entergy at 1-800-9OUTAGE (1-800-968-8243) and call your local police station or fire department.
Do not trim trees or remove debris on or near downed power lines. Only power company crews or their contractors should remove trees or limbs touching power lines. Again, stay away from downed power lines.
Keep away from the immediate areas where crews are working. There is always the danger of moving equipment and the possibility of construction materials, limbs or overhead wires falling to the ground.
If you plan on using a generator for temporary power, get a licensed electrician and disconnect from the utility electric system before hooking up to your main electric panel. 
Do not run a generator in a confined space without adequate ventilation. Use them only outdoors, following all manufacturers' safety guidelines.
Turn off any electrical appliances that can easily be turned to the off position until power is restored.
We want to keep you informed and in control. The best way to get information about outages is via Entergy's View Outage page on our website.
Additional resources for your convenience:
Download our app for your smartphone at entergy.com/app or visit Entergy Storm Center to stay informed on our restoration progress.
Sign up for text alerts. From your cellphone, text R E G to 368374, or visit entergytext.com.
Follow us on Facebook and on Twitter @EntergyMS.
Follow updates in your local news media, like radio, television, and newspapers.
---