Insights > Entergy Mississippi Storm Update – 8/31/21 @ 2 p.m.
Entergy Mississippi Storm Update – 8/31/21 @ 2 p.m.
08/31/2021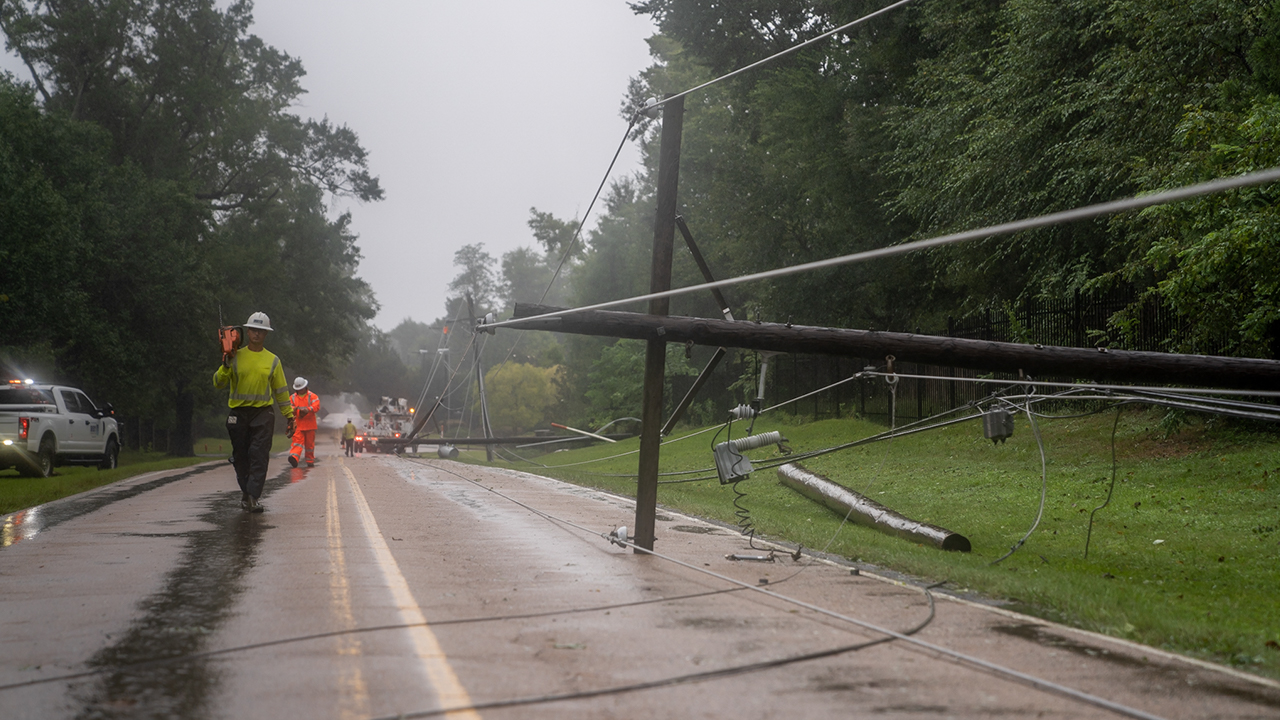 Entergy Mississippi has restored power to about 26,000 customers since Tropical Storm Ida caused power outages for approximately 46,000 customers on Monday. As of 2 p.m., about 20,000 customers remain without power.
The storm, which made landfall in Louisiana as a Category 4 hurricane, has left our territory. In Mississippi, the hardest-hit areas include the Brookhaven/McComb and Natchez/Gloster areas. Damage assessment continues using drones, helicopters and scouts on the ground, and should be nearly complete today.
We have brought in additional resources to help with restoration efforts. Our workforce includes more than 2,000 lineworkers, contractors and support staff from 15 states. Restoration work is proceeding as safely as possible. Crews continue to take additional safety measures required for COVID-19, including social distancing. We ask customers to do the same. For their safety and yours, please stay away from our work zones.
We continue to make good progress along the I-20 corridor and should restore the majority of these customers by the end of today (Jackson, Vicksburg and communities along that line) as well as in Greenville, an area in the MS Delta that also received damage.
Most of our damage was in the metro Jackson area and especially southwest Mississippi, south of Jackson and Vicksburg on down to south of Natchez. These towns include Natchez, Gloster, McComb and Brookhaven.  In the south end of the state, we continue to restore and assess damage.  We are optimistic that our restoration efforts will be complete by Thursday.
As of last night, we now have service to all of our substations. So far, we have found 60 broken poles, 254 spans of wire down, 26 broken cross arms and 19 damaged transformers. Trees across roads have presented a challenge in restoration as well as damage assessment
We know you want to know when power will be restored in your area. Updates by community, as of 11 a.m., are below. More specific assessment and restoration information is available on View Outages by selecting "For Important Storm Information Please Click Here" in the red bar at the top of the page.   
Current Outage Numbers
As of this report, the following outages have been reported:
LOCAL OFFICES

CUSTOMERS OUT

BROOKHAVEN (Lincoln)

Area working: Highway 51, Railroad Street, Bookman Drive , Old Malcum Road, Monticello Street.  Damage assessment is 50 percent complete. Damage assessors have identified 4 broken poles, 8 spans of wire down and trees on power lines.  We will provide detailed restoration times as damage assessment is completed.

2,002

CENTERVILLE (includes Wilkinson County, portion of Amite County)

Area working: Centerville, Woodville.  Damage assessment is 35 percent complete. Damage assessors have identified broken poles, trees and tree limbs on powerlines and off-road equipment is needed.

Crosby:  Damage assessment is ongoing.

1,856

CLINTON (includes Clinton, portion of Hinds County - Bolton, Byram, portion of Edwards, Learned, Raymond, Terry, and Utica)

Area working: Clinton, Edwards, Raymond, Terry and Utica. Damage assessment is 60 percent complete.  Damage assessors have identified 3 broken poles, 1 damaged transformer, 8 spans of wire down and 8 areas where trees are down. The majority of the customers should be restored by 3pm Wednesday , September 1.

402

GLOSTER (includes Amite County, Wilkinson County) 

Area working: Liberty, Gloster. Damage assessment is 50 percent complete. Damage assessors is ongoing.  We will provide detailed restoration times as damage assessment is complete.

2,125

GREENVILLE (includes Washington County, portions of Bolivar) 

Area working:  Leland, Scott, Reed Road, Garden Drive, Broadway Extended.  Damage assessment is 50 percent complete. We will provide detailed restoration times as damage assessment is completed.  The majority of the customers should be restored by 10pm Tuesday, August 31.

395

HAZLEHURST (includes Copiah County) 

Area working: Massengill Street, Woodward Street, East Whitworth Street, Monticello Street, North Street, Saint Charles, Whitehurst.  Damage assessment is 60 percent complete. Damage assessors have identified 6 spans of wire down and trees on powerlines. We will provide detailed restoration times as damage assessment is completed.

1,173

JACKSON North

Area working:  Queen Mary Ln., Benning Rd., Berlin Dr., Shady Oaks, Berwood Dr. Damage assessment is 70 percent complete. Damage assessors have identified 10 broken poles, 25 spans of wire down, 1 damaged transformer, and 15 arears where trees are down.

The majority of the customers should be restored by 10pm Tuesday, August 31 with those in the hardest hit areas being restored by Wednesday, September 1. 

762

JACKSON South

Area working:  Noble St., Woodbine Street, Old Byram Road, Alta Vista, Wingfield Street, Belvedere Road.   Damage assessment is 40 percent complete. Damage assessors have identified 7 broken poles, 17 spans of wire down, 2 damaged transformers, and 10 areas where trees are down.  The majority of the customers should be restored by 10pm Tuesday, August 31 with those in the hardest hit areas being restored by Wednesday, September 1.

1,662

KOSCIUSKO (includes portion of Attala County, portion of Choctaw County) 

Damage assessment is ongoing.  We will provide detailed restoration times as damage assessment is completed.  The majority of the customers should be restored by 10pm Tuesday, August 31 with those in the hardest hit areas being restored by Wednesday, September 1.

71

LEXINGTON (includes Holmes County, portion of Yazoo County) 

Area working: Rocky Hines Road, Old HWY 51, Castilian Springs, Gases Springs, Stroud Road, Cook Cobb Road, Carrolton Avenue. Damage assessors have identified 2 broken poles, 10 spans of wire down.  We will provide detailed restoration times as damage assessment is completed.  The majority of the customers should be restored by 10pm Tuesday, August 31 with those in the hardest hit areas being restored by Wednesday, September 1. 

122

MADISON (includes Madison County, portion of Yazoo County) 

Damage assessment is ongoing. We will provide detailed restoration times as damage assessment is completed.  The majority of the customers should be restored by 10pm Tuesday, August 31 with those in the hardest hit areas being restored by Wednesday, September 1.

173

MAGEE (includes Simpson County, Smith County, portion of Lawrence County, portion of Covington County) 

Area working:  Martin Road.  Damage assessment is 85 percent complete.  We will provide detailed restoration times as damage assessment is completed.  The majority of the customers should be restored by 10pm Tuesday, August 31 with those in the hardest hit areas being restored by Wednesday, September 1.

1,177

MCCOMB (include Pike County) 

Area working:  Fourth Street, Pearl River Ave, Summit Holmesville Road, Robb Street, Delaware Ave. Damage assessment is 10 percent complete.  Damage assessors have identified 20 broken poles, 20 spans of wire down and 3 areas with trees down. We will provide detailed restoration times as damage assessment is completed.

6,602

MEADVILLE (includes Franklin County) 

Damage assessment is 60 percent complete. Damage assessors have identified wire down, trees and tree limbs on power lines. Downtown Meadville and East of Bude are the hardest hit areas. We will provide detailed restoration times as damage assessment is completed.

872

NATCHEZ (includes Adams County and Jefferson County) 

Damage assessment is 95 percent complete. Damage assessors have identified Liberty Road and Woodlong are the hardest hit areas with trees and tree limbs on powerlines. We will provide detailed restoration times as damage assessment is completed.

Fayette: Harriston is the hardest hit area with wire down, trees and tree limbs on the line.

353

PEARL (includes Rankin County, Scott County) 

Area working:  Damage assessment is ongoing. We will provide detailed restoration times as damage assessment is completed.  The majority of the customers should be restored by 10pm Tuesday, August 31 with those in the hardest hit areas being restored by Wednesday, September 1. 

1,585

PRENTISS (includes Jeff Davis County, portion of Lawrence County) 

Area working: Henry Smith Road, Dale Street.

Damage assessment is 25 percent complete.  We will provide detailed restoration times as damage assessment is completed.

135

TYLERTOWN (includes Walthall County, portion of Pike County) 

Area working: Hope Street, Lynn Drive, Gulledge Drive, Stallings Bridge Road. Damage assessment is 10 percent complete. We will provide detailed restoration times as damage assessment is completed. 

678

VICKSBURG (includes majority of Warren County, portion of Jefferson, portions of Claiborne County) 

Area working:  Port Gibson, Timberlane, King Point, Funchess Road.  Damage assessment is ongoing.  The majority of the customers should be restored by 10pm Tuesday, Aug 31 with those in the hardest hit areas being restored by Wednesday, September 1. 

35

OTHER:

Carthage, Cleveland, Drew, Indianola, Marks, Winona, Grenada,  Tunica, Rolling Fork, Southaven

201
As with any weather event, please be mindful of the following safety tips:
Live wires can be deadly. Stay away from downed power lines. Call 1-800-9OUTAGE or 1-800-968-8243 to report downed or dangling power lines, poles or other damaged equipment.
Do not trim trees or remove debris on or near downed power lines. Only power company crews or their contractors should remove trees or limbs touching power lines.
Keep away from the immediate areas where crews are working. There is always the danger of moving equipment and the possibility of construction materials or limbs or overhead wires falling to the ground.
If you plan on using a generator for temporary power, get a licensed electrician and disconnect from the utility electric system before hooking up to your home main electric panel. 
Do not run a generator in a confined space without adequate ventilation.
Avoid using candles or other flammable devices to warm your home. 
Do your medical needs require electricity?  If so, make sure you have a plan in case of a power outage. Learn more: www.entergystormcenter.com.
Check on seniors, who can be particularly susceptible to extreme temperatures. 
Try to stay off the roads in affected areas. More traffic in bad weather leads to more accidents, including more injuries and fatalities as well as accidents that can damage electrical poles and other equipment, creating outages and impeding the ability of crews to access and repair damage and slowing restoration.
We want to keep you informed and in control so here is the best way to get information about outages in addition to the View Outage application:
---