Insights > Entergy New Orleans Hurricane Ida Update – 9/8/21 @ 8 p.m.
Entergy New Orleans Hurricane Ida Update – 9/8/21 @ 8 p.m.
09/08/2021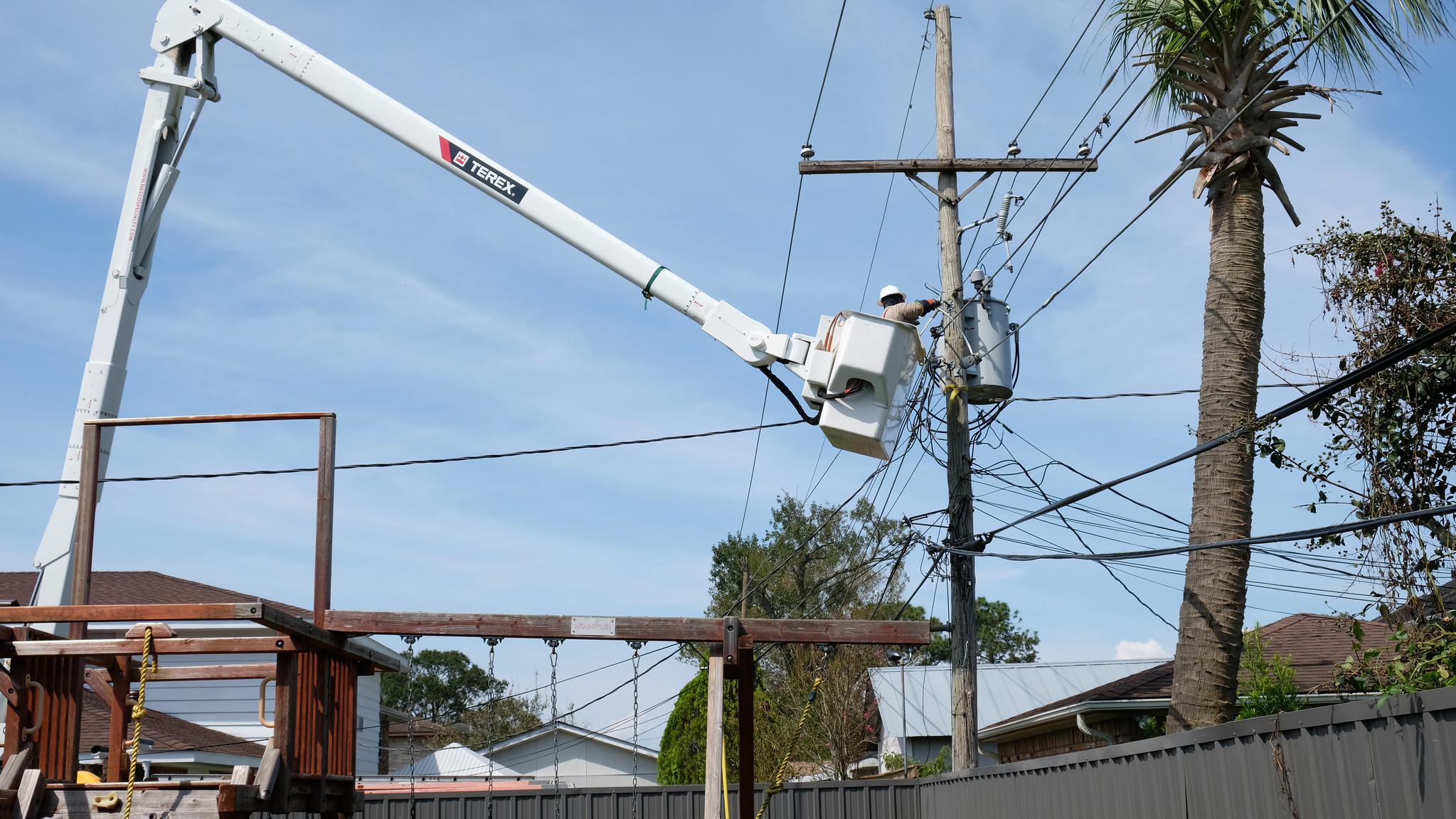 Due to the magnitude of the damages caused by this storm affecting connectivity and other issues associated with it, we are experiencing technical difficulties that may lead to delays in power status available through our outage reporting tools. As we work to restore our systems, we ask that if you are aware of an inconsistency between the reported status and power availability at a location, please notify us by typing OUT to 36778 or go to MyEntergy or Mobile App and report your outage or dial 1-800-9OUTAGE or report your outage to the automated system or speak to a representative. We are working to resolve these issues as quickly as possible.
Map Details:
Green lines indicate that the line segment is energized, or power is flowing. Red lines indicate that that line segment is de-energized, or no power is flowing.
It's important to note that while the main line may be energized, the map doesn't show power flow all the way to the home. There could be damage or other issues between the energized line and the home such as transformers, down wires from the pole to the home or damage with the meter or within the location itself. The map relies on software to predict the location of outages; actual outages may vary from those predicted.
In addition, during major storm events a large amount of activity is taking place in the field to restore power as safety and as quickly and provide information that must be communicated from the workers in the field, back to the office and ultimately be updated in the underlying systems that supply data to the outage map.
Entergy New Orleans
We anticipate the vast majority of customers in New Orleans Parish who can safely accept power will be restored by late evening Sept. 8.
While power restoration continues, customers may see that their neighbors have power restored before they do.  That could mean that each customer is served by two different parts of the electric grid.
If your neighborhood has been restored and you are still without power, please check your electrical equipment.
If you have storm damage, you must have a qualified electrician repair the damaged equipment belonging to you before we can restore your power.  The equipment at your location that is your responsibility to have repaired includes the meter base, a metal box housing our meter and protecting your connections to it.
For those whose homes sustained damage, here are some safety tips and steps to take before Entergy can restore service to your home:
Call a licensed electrician for advice when necessary. A licensed electrician's inspection of your property's electric wiring may be needed before Entergy can restore power to a home or business that has water damage from rain or flooding.
If you are still without power, check for damage to the electrical equipment attached to your home or business and contact an electrician to make repairs. If your electric equipment appears undamaged, text OUT to 36778 or call 1-800-9OUTAGE.
Customers are urged to remain safe and stay away from downed power lines and flooded areas. Do not walk in standing water and do not venture into areas of debris, since energized and dangerous power lines may not be visible. If you find or suspect damaged power lines, call 1-800-9OUTAGE immediately.
 We recognize the need for customers to receive estimated restoration times. These estimates are subject to change as we continue with restoration work, and we will issue updates to these estimates as we learn more.  See below specific information for restoration information in your neighborhood. Visit https://www.entergy.com/hurricaneida.
Customers are urged to adhere to the guidance of local officials on when to return to the area. 
We appreciate our customer's patience. We will continue to provide updates as we learn more.
Neighborhood Information
The majority of power lines to the neighborhoods below have been energized and those that can receive power should be restored: Academy Park, Along Canal St, Audubon , Audubon Riverside, B.W. Cooper, Bancroft Park, Bayou St John, Black Pearl, Bouligny, Briarwood, Broad Community, Broadmoor, Burbank Gardens, Bywater, Carrollton United, Carrollton/Riverbend, CBD Along Poydras, Central Carrollton, Central City, Charlene, Chimneywood/Georgetown, City Park, Climana, Cordell Place, Country Club Gardens, De Saix Area, Deer Park, Delachaise, Desire, Dillard, Dixon, East Carrollton, East Riverside, East Shore Village, Eastover, Edgewood Heights, Edgewood Park, Esplanade Ridge, Fairgrounds , Fairgrounds Triangle, Faubourg Avert, Faubourg Delassize, Faubourg Marengo, Faubourg St John, Filmore, Filmore Gardens, Florida Area, Florida Dev, Frenchman Wharf, Freret, Garden District, Gentilly Heights, Gentilly Sugar Hill, Gentilly Terrace, Gentilly Woods, Gert Town, Glory Land Estates, Golden Heights, Harmony Oaks, Havana Place, Hollygrove, Holy Cross, Huntington Park, Hurtsville, Iberville, Irish Channel, Keller, Kenilworth North, Lafayette Square, Lafitte Greenway, Lake Barrington, Lake Carmel, Lake Forest Estates, Lake Terrace And Oaks, Lake Willow, Lakeshore/Lake Vista, Lakeside Oaks, Lakeview, Lakewood, Lakewood East, Leonidas, Liberty Terrace, Little Woods, Lori Gardens, Lower Garden District, Lower Ninth Ward, Maple Area, Maple Ridge, Marigny, Marlyville-Fontainebleau, Marrero Commons, Mckendall And Fairway, Meadowgrove, Mid-City, Milan, Milneburg, Mirabeau Gardens, Musicians Village, Navarre, Oak Island, Oak Park, Oakridge/Blueridge, Palm Air, Parkview, Pilotland, Pines Village, Plum Orchard, Pontchartrain Park, Pontchartrain Point, Pontilly, Read Blvd East, Read Blvd West, Regency Park, Reynes Park, Rue Bienvenu/Curron, Seabrook, Seventh Ward, Small Portion Of Noe Along Paris Rd, Somerset, Spring Lake, St Anthony, St Bernard, St Claude, St Roch, St Thomas, Tamaron Estates, Touro, Treme-Lafitte, Tulane-Gravier, Twinbrook, Upper Audubon, Uptown, Uptown Triangle, Vascoville, Versailles Gardens, Viavant - Venetian Isles, Village De L'Est, Virgil Park, Vista Park, Walnut Creek Apts, Warehouse District, Warwick East, Warwick West, West End, West Lake, West Lake Forest, West Riverside, Wimbledon Hearthwood.
If your neighborhood has been restored and you are still without power, please check your electrical equipment. For information on how to check for damage and what to do next, go to www.entergy.com/weatherhead.  If your equipment is undamaged, and you do not have power, please notify us at 1-800-9OUTAGE.
Power will be restored by 9/8 for the majority of customers in the following areas who can safely accept power:  Algiers Point, Algiers Riverview, Aurora Gardens, Aurora Gardens, Aurora Oaks, Behrman, Bocage, Tennyson, Cutoff, English Turn, Fischer, Holy Cross, Huntlee Village, Lakewood Estates, Lennon Blvd., Main St., New Aurora Oakdale, Old Algiers, Packenham Oaks, Park Place, Park Timbers, Real Timbers, St. Claire Gardens, Steeple Chase/DeBattista, Tall Timbers, Tall Timber Ext., Tunisburg Square, US Naval Base, Village Aurora, Whitney, Wimbel/Sutton/Durham.
UPDATE: Power will be restored by 9/15 for the majority of customers in the following areas who can safely accept power:  Venetian Isles along Hwy 11 and Irish Bayou, Lake Catherine.
 IMPORTANT GAS SERVICE INFORMATION
Stay away from suspected gas leaks.
Do not attempt to turn natural gas valves on or off.
To report a gas leak, call 1-800-9-OUTAGE.
 STAY INFORMED
We continuously keep our communities informed throughout a storm using the following channels:
Download our free app for your smartphone at entergy.com/app.
Sign up for text alerts. From your cellphone text REG to 36778.
Visit the Entergy Storm Centerwebsite and our View Outages
Call us at 800-9OUTAGE (800-968-8243).
Follow updates in your local news media like radio television and newspapers.
---