Insights > Entergy New Orleans Receives Corporate Responsibility Award
Entergy New Orleans Receives Corporate Responsibility Award
11/01/2017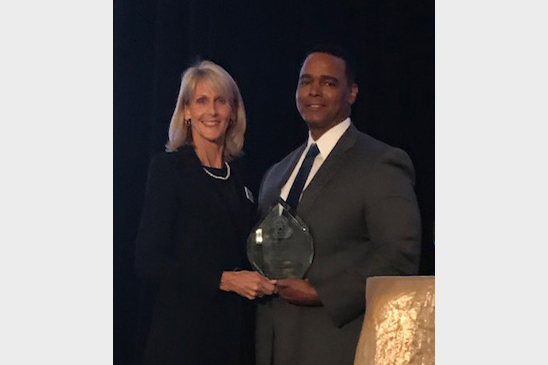 On Wednesday, Nov. 1, Entergy New Orleans was recognized at the New Orleans Police & Justice Foundation's Stake Out for Justice luncheon with the 2017 Corporate Responsibility award. 
Gary Huntley, Entergy New Orleans vice president of regulatory affairs, accepted the award on behalf of the company. 
According to the NOPJF, Entergy New Orleans received the award for "enlightened and strategic philanthropy that reflects the mission of the foundation by advancing the New Orleans Police Department and improving the safety of our community." 
Further, the NOPJF award program said: "With a grant from Entergy, officers are now participating in advanced intensive trainings in the latest management concepts and practices used in business and government including policy and planning processes, organizational behavior and strategy, media relations and new policing strategies and innovations." 
Giving back is an integral part of Entergy's mission. The company is committed to creating and sustaining a healthy, vibrant community through philanthropic support, volunteerism, low-income customer service initiatives and economic development. Last year, Entergy shareholders invested more than $6 million in charitable contributions in Orleans Parish and Entergy employees donated more than 12,000 hours of volunteer service to nonprofits in the New Orleans area. 
"On behalf of Entergy New Orleans, I am proud to accept this award," said Huntley. "And, as a company, we're proud to support the New Orleans Police & Justice Foundation through our financial and in-kind donations that will help the department in its efforts to make the city we serve safer for all."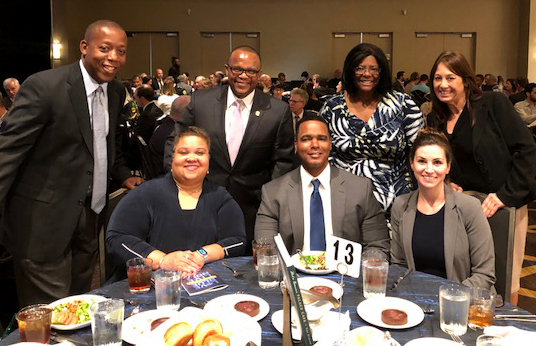 Entergy New Orleans' Gary Huntley, center, was joined by fellow employees at the NOPJF's 2017 Stake Out for Justice luncheon. Clockwise from top left are Arnold Williams, Bernell Nevil, Polly Rosemond, Kim Mitchell, Jessica Williams, Huntley and Demetric Mercadel.
---