Insights > Entergy New Orleans Storm Update – 5/12/21 @ 9 a.m.
Entergy New Orleans Storm Update – 5/12/21 @ 9 a.m.
05/12/2021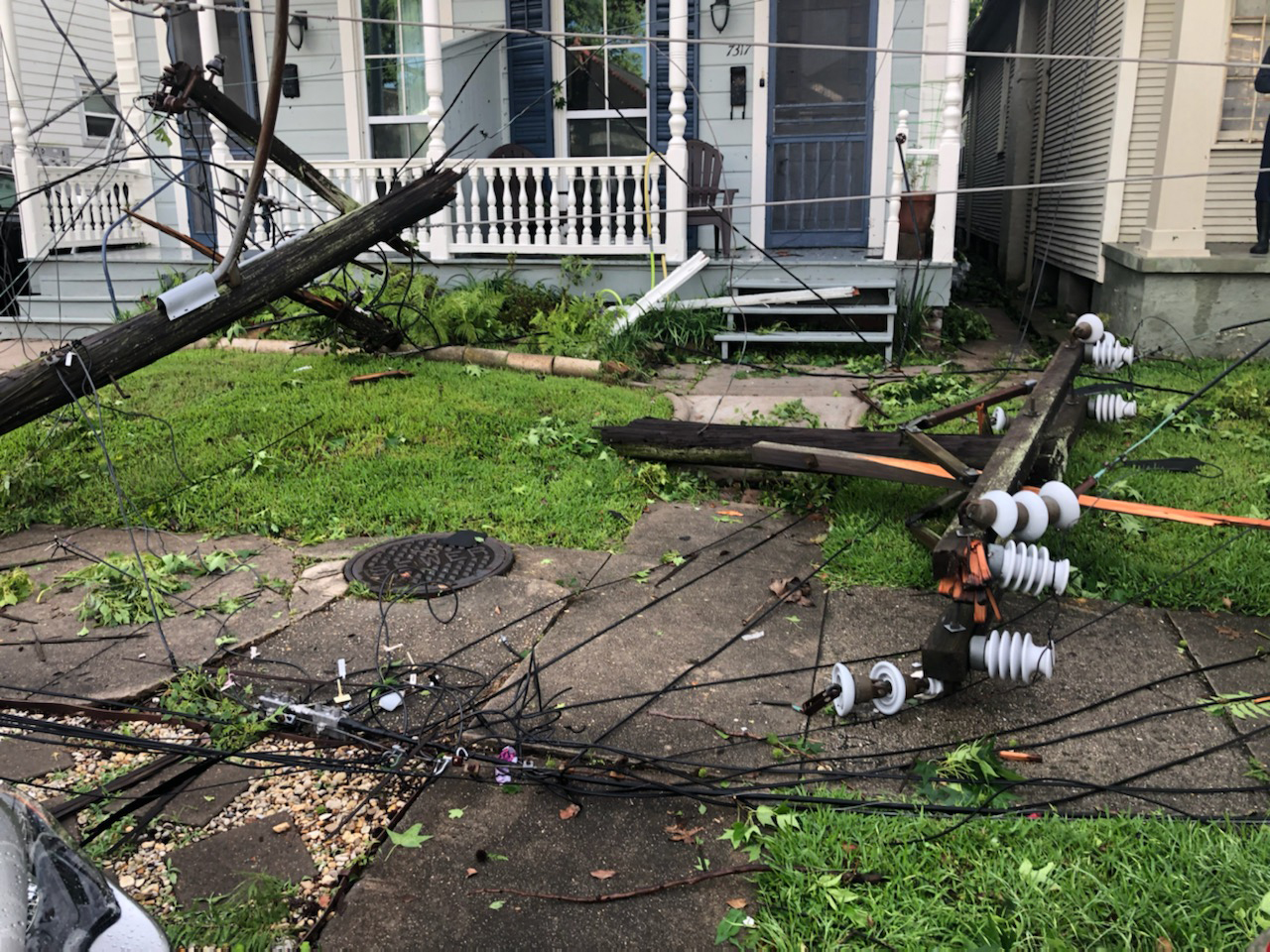 Severe storms came through the Metro New Orleans area early this morning brining heavy rains, lightening and strong winds. At its peak, the storm caused 10,000 outages throughout the New Orleans area. Entergy New Orleans crews and contractors are working as quickly and safely as possible to restore power
As of 9 a.m., approximately 4,000 customers remain without power.  As crews continue to assess damages and make repairs, it may be necessary to take additional outages to ensure the safety of our crews, the public and our equipment. The significant damage caused as a result of last night's storm, including downed trees, equipment and power lines, may increase estimated restoration times.  Entergy New Orleans will provide additional restoration information as it becomes available.
Along with standard storm preparations, Entergy New Orleans employees are navigating the COVID-19 pandemic by taking additional safety steps. Crews will continue to practice social distancing, and we ask that customers do the same. For our safety and yours, please stay away from work zones.
Safety is our number one priority.  If you lose power:
Stay away from downed power lines and assume they are energized. Report them to 1-800-9OUTAGE.
Report your power outage online to Entergy New Orleans or call 1-800-9OUTAGE. There is no need to speak with a customer service representative to report an outage if completed online.
If you have a portable generator, use it safely. DO NOT run it in an enclosed space. If connecting to the whole house, do so only if the connection has been installed by a licensed electrician to prevent back feed on to the distribution system.
If you do lose power, do not open your refrigerator or freezer door. Food will stay cold much longer this way. If outside temperature is below freezing, consider placing food in an ice chest outside.
Please stay clear of linemen as they work to safely restore power
Customers without power can help in the restoration process by turning off major appliances but leaving on a lamp or other light to indicate when power is restored. Then, gradually turn other appliances to spread out the increase in power usage over a longer time.
STORM RESTORATION PROCESS
Following a storm, we deploy scouts to assess damage. Our scouts work as quickly and safely as possible in sometimes very dangerous conditions. As damages are assessed, we will communicate with you the conditions found along with an estimated restoration time and our progress toward restoring your power. We ask for your patience, and please know restoring your power safely and quickly is our top priority.
As we assess the damage, we will begin restoring service where it is deemed safe to do so.
Your preparation is essential too:
Above all stay safe. A personal plan for you and your family is the best way to stay safe and be storm ready.
Visit the Entergy Storm Center website for planning tools that can help guide you through the decisions you need to make.
Whether you shelter in place or evacuate you should make preparations to protect your home.

Decide to stay or go well before the storm strikes.
Basic emergency supplies and a first aid kit are key items to keep on hand during severe weather.
Visit the Entergy Storm Center website in advance for details on how to prepare for hurricanes and other types of storms.
We continuously keep our communities informed throughout a storm using the following channels:
---