Insights > Entergy, NOLA Tree Project Celebrate TREEmendous Success
Entergy, NOLA Tree Project Celebrate TREEmendous Success
04/26/2019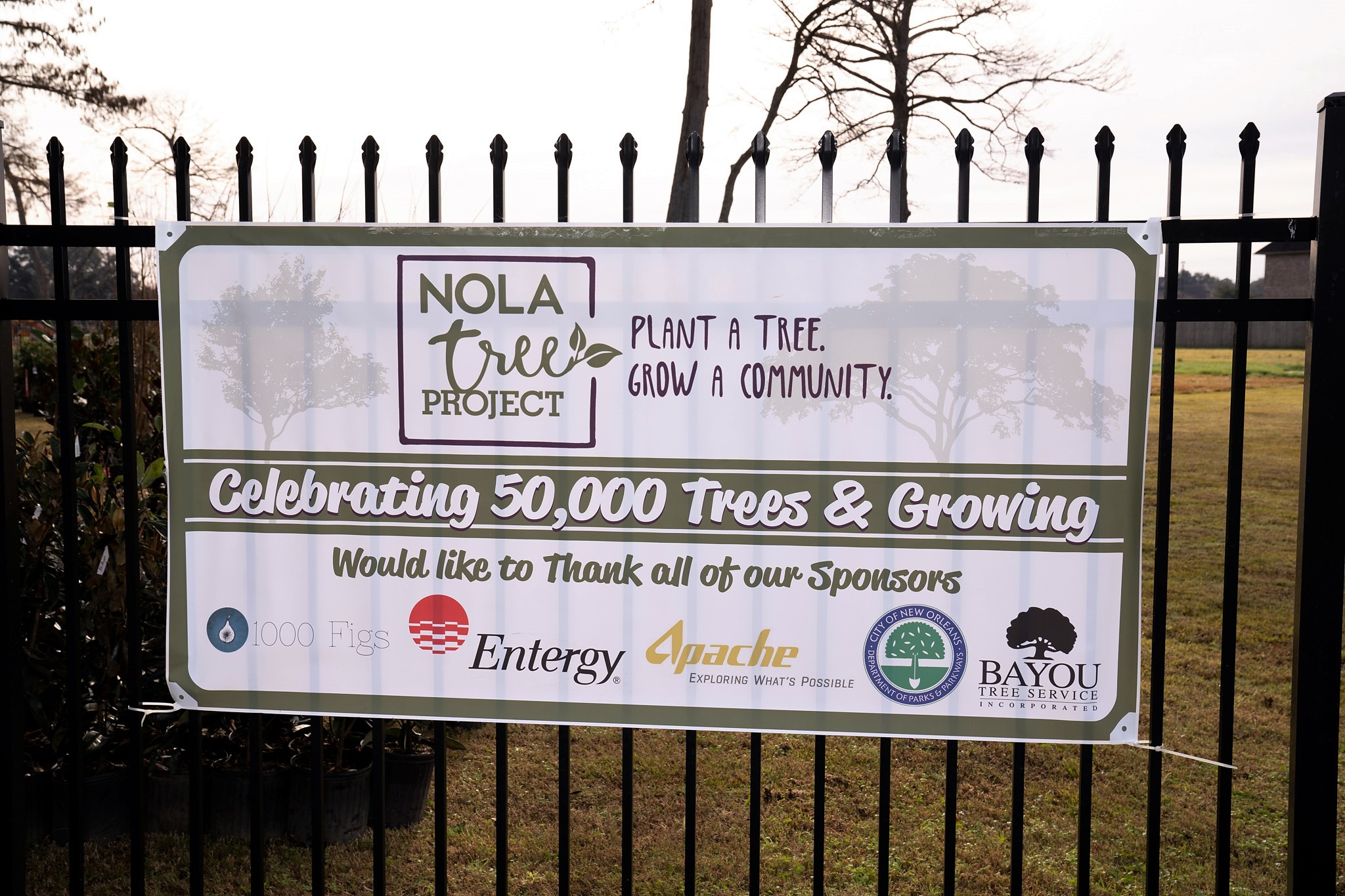 A longtime partnership is celebrating 50,000 trees planted to help reforest the City of New Orleans.
Hurricane Katrina in 2005 wreaked havoc on the city's urban canopy, making New Orleans the most deforested city in America. As part of our commitment to grow strong, healthy and vibrant communities through service and environmental stewardship, Entergy has partnered with NOLA Tree Project to help restore the estimated 100,000 lost trees.
This spring, Entergy and NOLA Tree Project's partnership reached a significant milestone: the 50,000th tree planted. In addition to shareholders' charitable contributions, totaling more than $120,000, Entergy has also provided employee volunteer support to help give away, plant and maintain the thousands of trees throughout the city.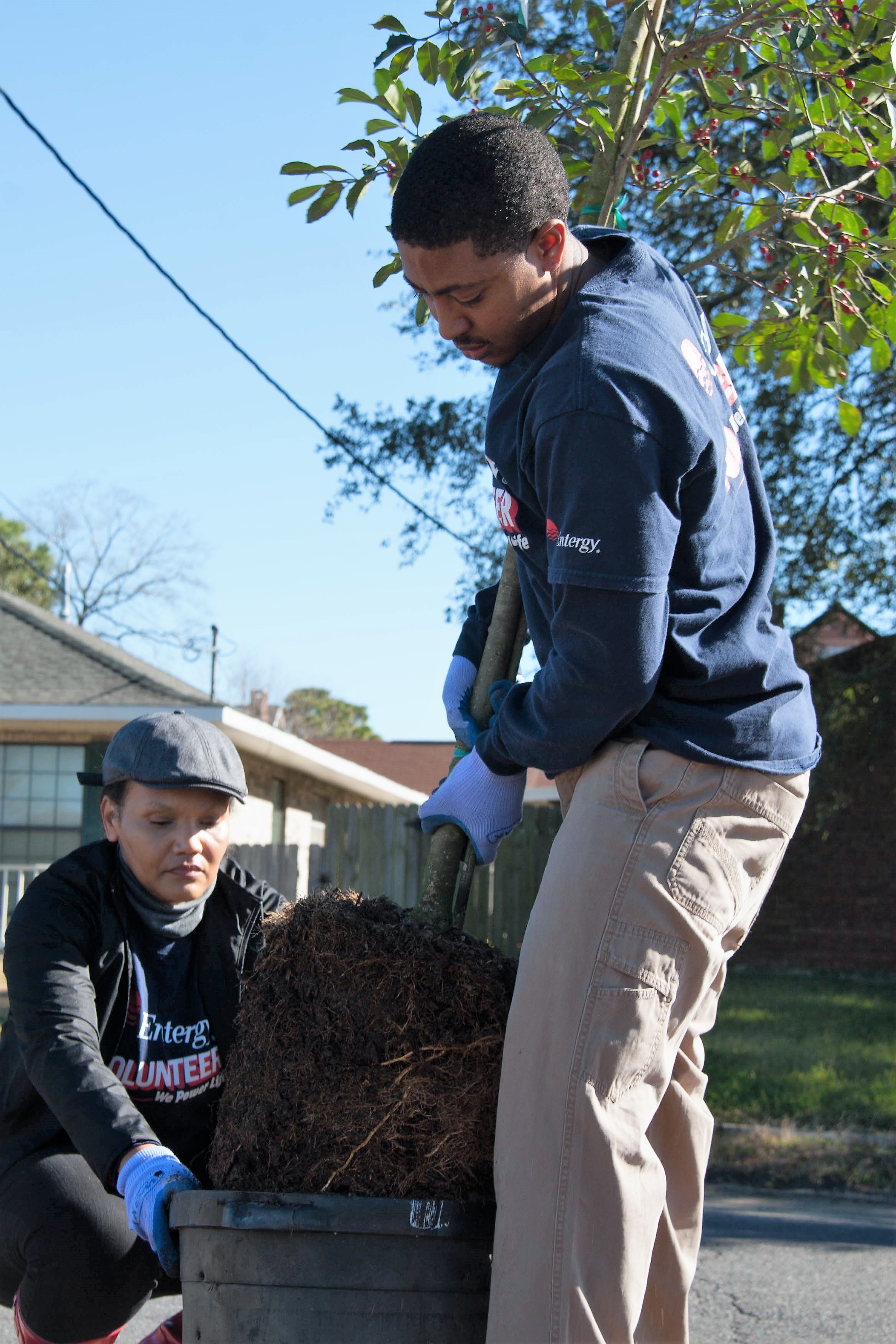 Why is it important to reforest New Orleans' urban canopy?
Storm Water Management:
A typical medium-sized tree can intercept as much as 2,380 gallons of rainfall per year.
The 50,000 new trees planted in New Orleans can process 120 million gallons of rainfall annually.
Reducing Climate Change:
In a year, a mature tree will absorb more than 48 pounds of carbon dioxide from the atmosphere and release oxygen in exchange.
The 50,000 new trees planted in New Orleans can absorb an estimated 2.4 million pounds of CO2 annually.
Energy Conservation: 
A lush urban canopy acts as a natural air conditioner, making summer temperatures 6 to 8 degrees lower than in comparably-sized neighborhoods without trees.
Trees properly placed around buildings can reduce air conditioning needs by 30% and can save 20–50% in energy used for heating. [Arbor Day Foundation]
Connie Uddo, executive director of NOLA Tree Project, said, "Entergy's support has helped us to double the number of trees we have planted and given away to residents through our 'Big Treesy' program. We could not have reached our 50,000th tree milestone this year without the help and support from our friends at Entergy."
Entergy employees are among 90,000 volunteers the organization has engaged in reforestation, community improvement and disaster recovery initiatives. NOLA Tree Project's volunteer efforts have resulted in a $10 million economic impact to the city since its founding in 2006.
"Our employees have had the honor of partnering with NOLA Tree Project in a collective effort to help improve the city after Hurricane Katrina," said Demetric Mercadel, a senior customer service specialist for Entergy New Orleans. "We are extremely proud of our friends for reaching and surpassing this incredible milestone with 51,632 trees and counting."
Learn more about NOLA Tree Project and how you can obtain a free tree for your home during planting season.
And read how Entergy is addressing the risks of climate change and preparing for a predicted carbon-constrained future in its newly released Climate Report.
Photos: Entergy employees participate in tree planting projects in New Orleans, La​.
---