Insights > Entergy's Tribal Scholarship provides higher education for American Indian students
Entergy's Tribal Scholarship provides higher education for American Indian students
05/09/2023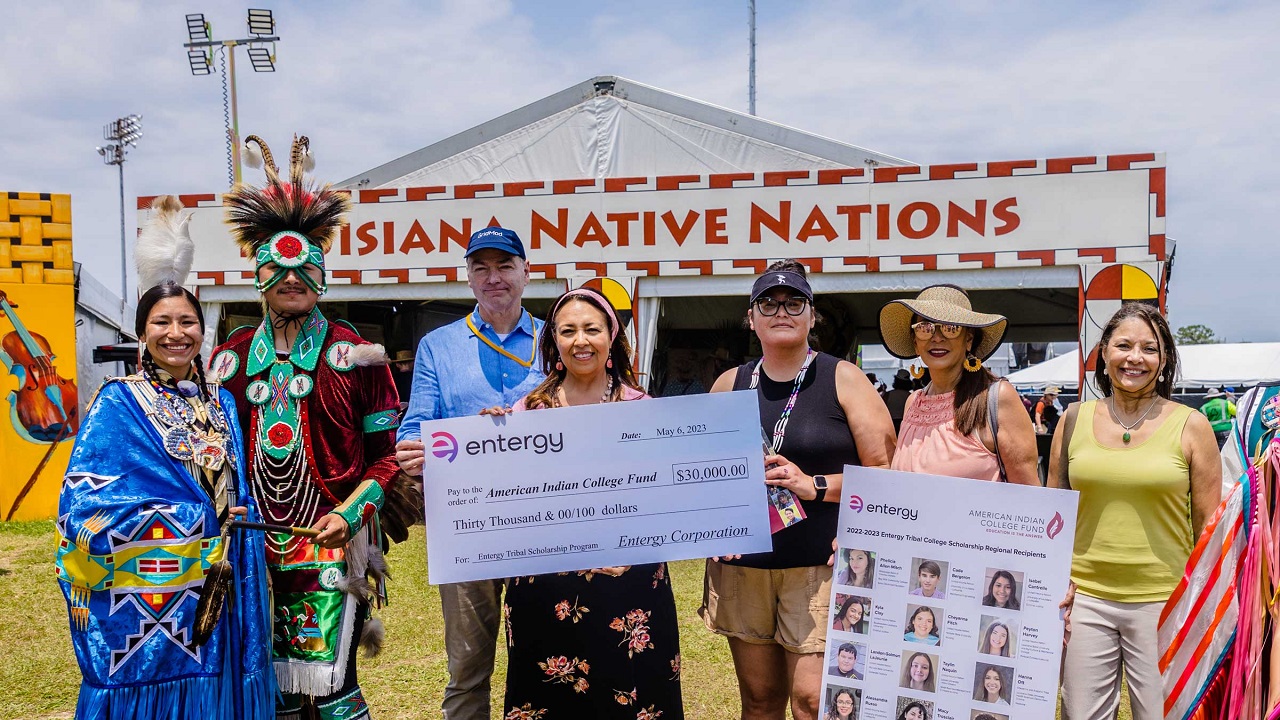 For the eighth year in a row, Entergy's Tribal Scholarship program has partnered with the American Indian College Fund, or AICF, to provide higher education for Native American students.
During a celebration at the New Orleans Jazz & Heritage Festival, Entergy Louisiana president and CEO, Phillip May, and Entergy vice president of corporate social responsibility, Patty Riddlebarger, presented a $30,000 check to the AICF and the United Houma Nation Chief for student scholarships. The contribution will be used to support 13 local students, 32 in total, helping them attain higher education, pursue enriching career opportunities and serve as leaders throughout their communities.
"Supporting the American Indian College Fund's mission exemplifies Entergy's ongoing commitment to diversity, equity and inclusion," said May. "We are excited to make a positive impact throughout our Native communities in Louisiana, equipping young people with the resources necessary to cross barriers to higher education."
Since 2015, Entergy's shareholders have funded $235,000 in scholarships, which supported 113 scholars with 211 scholarships. American Indian students are the most educationally underrepresented population in America, receiving bachelor's degrees at less than half the national average of approximately 37%. The AICF's goal is to achieve a 60% graduation rate for all scholars by 2025.
"Over the last eight years, 113 American Indian students have been able to pursue their college degrees thanks to Entergy's ongoing commitment," said United Houma Nation Chief Lora Ann Chaisson. "This generous contribution significantly impacts our students, tribes and their communities and we're excited to continue to make progress to change the face of higher education for Natives."
Every year, the AICF helps more than 4,000 students start and stay in school, complete their degrees and launch careers. Since their inception in 1989, they have provided more than 153,000 scholarships and $283 million to support American Indian communities.

"We estimate that every tribal college student and graduate success impacts 35 other people. Our students serve as role models for their children, parents, siblings, aunts, uncles, nieces, neighbors and friends, said Cheryl Crazy Bull, president and CEO of the AICF. "As a result, every college student changes the literacy and education level not only of the individual themselves, but of entire communities throughout our country."
Entergy's vision, "We Power Life," means much more than just keeping the lights on and power and gas safely flowing. It also means strategically investing in vital programs and initiatives that help ensure the communities we serve remain vibrant and growing. Entergy is committed to creating and sustaining healthy, educated, environmentally safe and productive communities through philanthropic support, volunteerism, low-income customer service initiatives, advocacy and economic development. For more on our community commitments, visit our corporate social responsibility webpage.
---