Insights > Entergy's Pilot Drone Program Aims to Meet Reliability Needs of the System
Entergy's Pilot Drone Program Aims to Meet Reliability Needs of the System
12/11/2018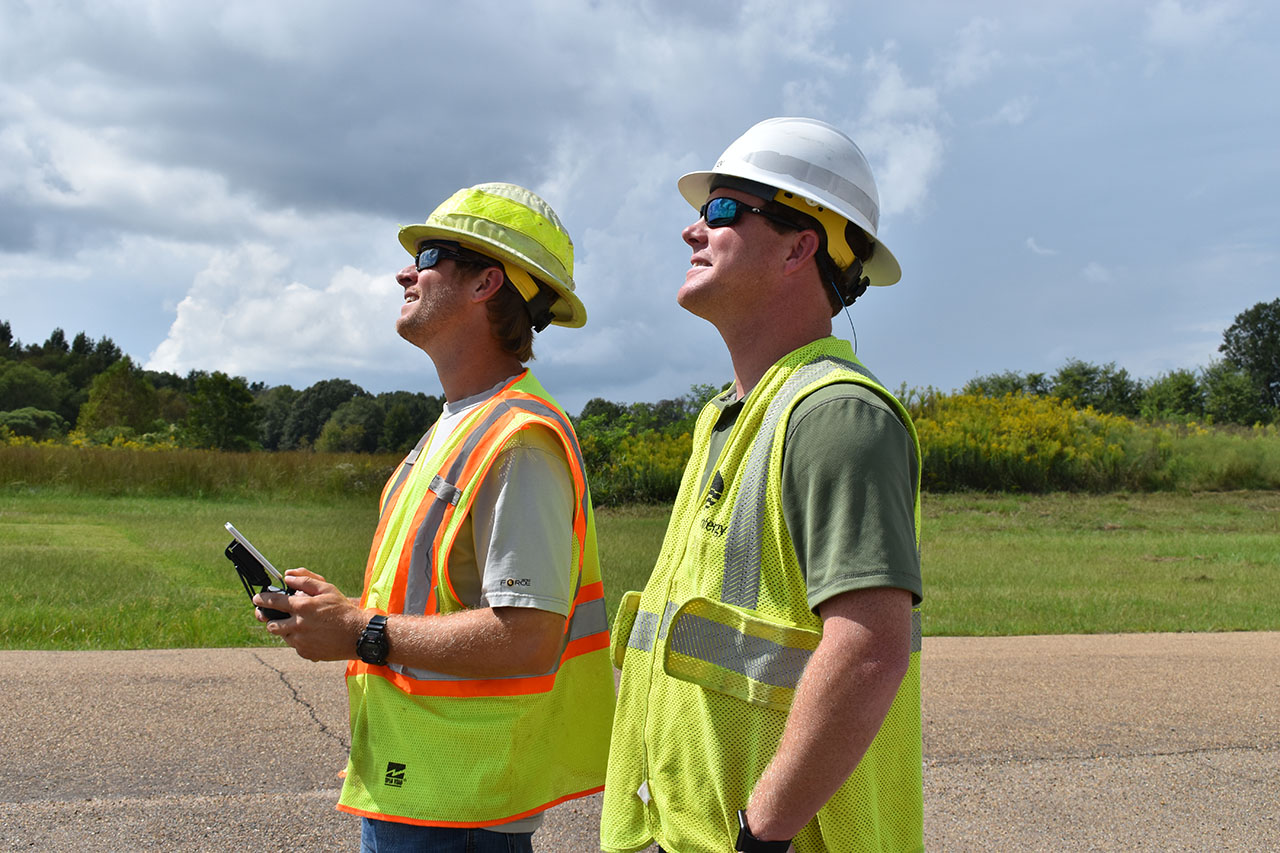 Unmanned aircraft systems, often referred to as drones, are Entergy's latest technology aimed to meet the reliability needs of our transmission system.
The UAS pilot program
In search of innovative solutions for inspections and patrols, Entergy's transmission group developed a UAS pilot program to test the technology.
"After benchmarking utility peers and input from the Electric Power Research Institute, we knew the possible benefits of having engineers and field personnel use UAS as a tool on our system," said Katie Robertson, transmission engineer and pilot program coordinator and participant. "The goal of the internal pilot program is to develop a standardized process to qualify and train transmission personnel to use this technology on our system in a controlled and safe manner."
Robertson reached out to Dennis Lott, UAS program director at Hinds Community College, located near Jackson, to develop a training program for employees. For the initial training, operation coordinators and engineers were nominated for the program, as these individuals have experience with inspections and responding to storms and outages.
Training
The employees in this program underwent intense training to receive their Federal Aviation Administration (FAA) certificates after completing a three day classroom training and sitting for the FAA exam. Prior to using UAS on the transmission system, an internal training requirement is in place for the pilots to perform an additional 20 hours of hands-on training, which is beyond FAA requirements. 
The training showed the engineers and operation coordinators a newer, safer approach to monitor transmission assets.
Dustin Cranford, transmission line supervisor in Arkansas, said, "There's less exposure to right of way hazards with hazard identification when scoping for future jobs and storm response. We can use these for up close inspections on outages and trip/recloses. I believe as we work with these in the days to come we will find more applications and benefits of the drones."
Echoing Cranford, Curtis Robertson, vegetation operations coordinator in Mississippi, said another safety benefit of utilizing the UAS technology is to "identify safety concerns related to a tree on the line that would not be visible any other way prior to sending tracked equipment in to remove the tree after the line has been grounded and tested."
Robertson also suggested the team would be able to "conduct inspections in difficult to access locations due to terrain, which would reduce the potential for tripping hazards, snake and insect exposure, unknown water depths," and other safety risks.
Next steps
Entergy's transmission group currently has seven UASs for the operation coordinators and engineers to use across the system. The engineers will have a shared UAS with the ability to change the sensors to meet detailed reliability inspection needs. Participants in the pilot program will also look for opportunities to use their newly acquired skills and tools in their everyday jobs.
Lance Schumacher, a vegetation operations coordinator in Arkansas who is participating in the pilot program, commented on the opportunities for UAS in transmission. 
"The training opens your eyes to the airspace you are sharing and the responsibility that goes with it," said Schumacher. "I believe we are just scratching the surface on how we will utilize the UAS on the job."
---