Insights > Grand Gulf Team Member Provides Rock-Solid Commitment to Community, Youth, Career
Grand Gulf Team Member Provides Rock-Solid Commitment to Community, Youth, Career
08/21/2020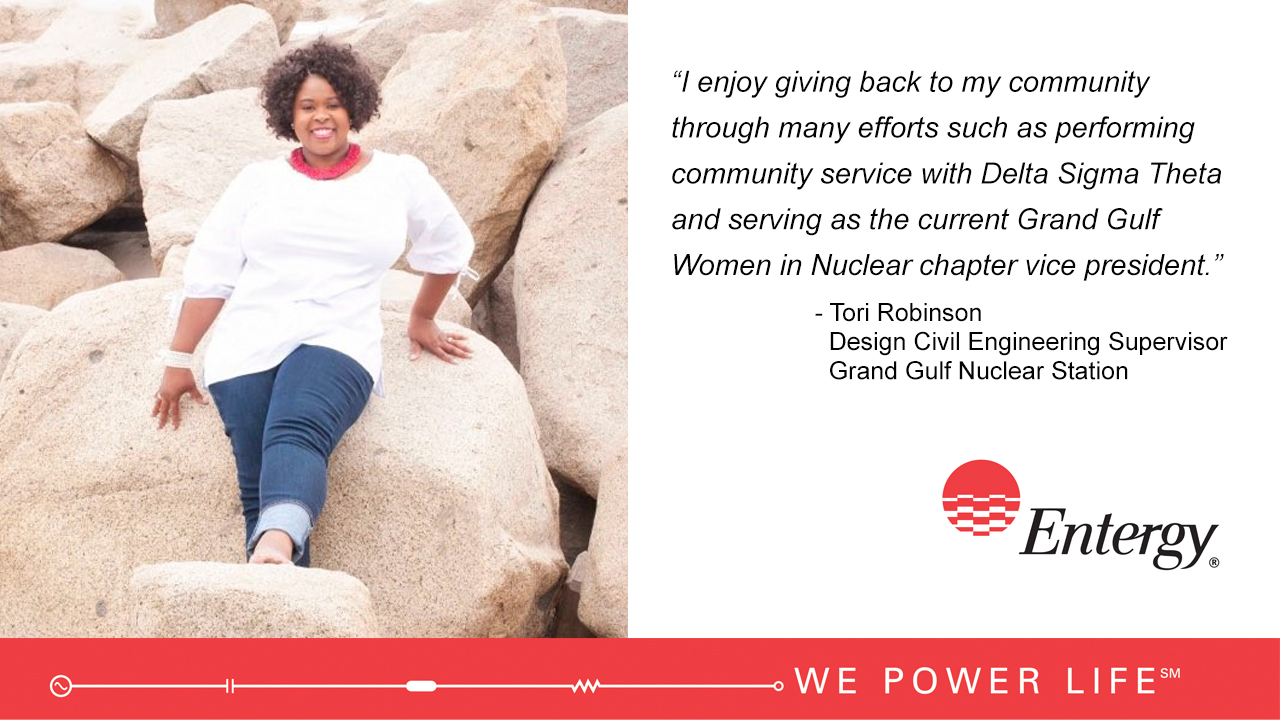 Tori Robinson, a design civil engineering supervisor at Entergy's Grand Gulf Nuclear Station, is an enthusiastic volunteer in her community and in the field of nuclear power. She received one of Entergy Nuclear Employee Spotlight recognitions in August.
The Entergy Nuclear Employee Spotlight recognizes team members exhibiting a safe working culture, passion for teamwork, an always learning attitude, upholding integrity, and being respectful. 
As the current vice president of the Grand Gulf U.S. Women in Nuclear chapter, Robinson enjoys helping young people understand nuclear power and the many careers available in the profession.
"Educating youth about Grand Gulf is important. We have held back-to-school drives, Thanksgiving drives and donated hundreds of canned goods to four or five food banks," Robinson said.
Activities with the Girl Scouts hold a special place in Robinson's heart. She served with the Grand Gulf WIN team, which hosted Girl Scouts from several Mississippi chapters for STEM (Science, Technology, Engineering and Mathematics) activities that helped them receive their nuclear patch.
She is an active member of Delta Sigma Theta Sorority, Inc., a venerable membership organization of primarily college-educated African American women that promotes academic excellence and provides assistance to those in need.
"I enjoy giving back to my community through many efforts such as performing community service with Delta Sigma Theta," said Robinson, who holds a Bachelor of Science degree in Chemistry from Alcorn State University. She also holds a Bachelor of Science degree in Engineering from Prairie View Agricultural and Mechanical University in Prairie View Texas.
As an engineering supervisor, Robinson oversees civil design work, maintenance rule structural walkdowns and civil engineering functions, including rigging evaluations and plant modifications.
Before Entergy, she worked for a company where she designed, fabricated and constructed water tanks and pressure vessels. She has been with Entergy for almost 12 years and noted, "I started as a civil design engineer and worked my way to a supervisor, so I can truly say that I have always worked in my field."
Robinson described the teamwork atmosphere at Grand Gulf as supportive and positive. She discusses how the Grand Gulf team helps each other and rallies together around issues as a cohesive unit.
Her advice for team members is "never be afraid to step out of your comfort zone. I remember when I had to perform tasks that were not necessarily in my field of work, however, that same experience helped me get to where I am today. Ultimately, get into things that can help you grow in your field."
---