Insights > Hurricane Laura Preparations Update
Hurricane Laura Preparations Update
08/26/2020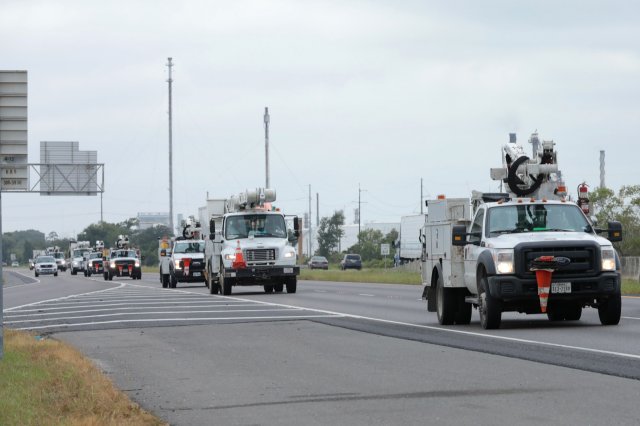 Hurricane Laura is forecast to strike near the Texas/Louisiana border late tonight or early tomorrow as a destructive Category 3 or 4 hurricane.
Based on Hurricane Laura's current forecast, customers may see extended power outages. Given the intensity of this storm and the additional need for our crews to follow COVID-19 precautionary measures, hardest hit areas may experience outages for weeks.
We continue acquiring more resources for our restoration teams, with nearly 9,000 workers currently ready to restore service for customers whose power may be affected by Laura. These resources include company employees, contractors and mutual aid resources numbering 525 in Mississippi, 5,600 in Louisiana and 2,800 in Texas. These can be relocated as needed to restore service to affected customers. Restoration workers are coming from 20 states including Alabama, Arkansas, Florida, Georgia, Indiana, Kansas, Kentucky, Louisiana, Maryland, Missouri, Mississippi, North Carolina, Ohio, Oklahoma, Pennsylvania, South Carolina, Tennessee, Texas, Virginia, Wisconsin and West Virginia.
Our preparations include ensuring the safety of our workers.
We will move our equipment and personnel out of harm's way to ensure we are ready and able to restore power.
Workers will not move back into the area to begin restoration until it is safe to do so.
Once our workers are back in the affected areas, we can begin restoring service to customers by closing circuit breakers, rerouting power and other means. But we must wait until sustained winds are less than 30 mph to use our bucket trucks.
Significant flooding and other accessibility challenges due to the storm will affect our ability to reach some areas of our territory and could delay restoration in those communities.
As we learn more about the damage, we put in place a restoration plan that helps us restore the greatest number customers safely in the shortest amount of time.
When restoration starts, keep in mind that if you don't see us working near you, we may be working on another part of the electrical system that you can't see but must be repaired to get power to you.
Responding to a major storm and COVID-19 could affect our response:
Along with standard storm preparations, Entergy employees are navigating the COVID-19 pandemic by taking additional steps. These include traveling separately when possible, adjusting crew staging locations and increasing the use of drones.
Due to the additional measures crews must take, restoration may take longer, especially where there are widespread outages. Additionally, crews will continue to practice social distancing and we ask that customers do the same. For their safety and yours, please stay away from work zones.
Make your last-minute preparations. If you shelter in place, there is more you can do to finalize preparations:
Follow instructions from emergency management officials regarding evacuations or other actions you may need to take.
Make sure you have basic emergency and first aid supplies. Find out more on the Entergy Storm Center website.
Set your freezer at its coldest setting.
Freeze containers of water for ice to help keep food cold in the freezer if your power goes out.
If you evacuate, designate one or more out-of-town contacts whom you may be able to reach more easily during or after the storm. Before leaving, prepare your home by turning off your electricity at the main fuse or breaker and your water at the main valve. Also check for and secure objects that could cause damage if blown by high winds.
We continuously keep our communities informed throughout a storm using the following channels:
---