Insights > Ida Restoration Remains Vigorously Underway
Ida Restoration Remains Vigorously Underway
09/13/2021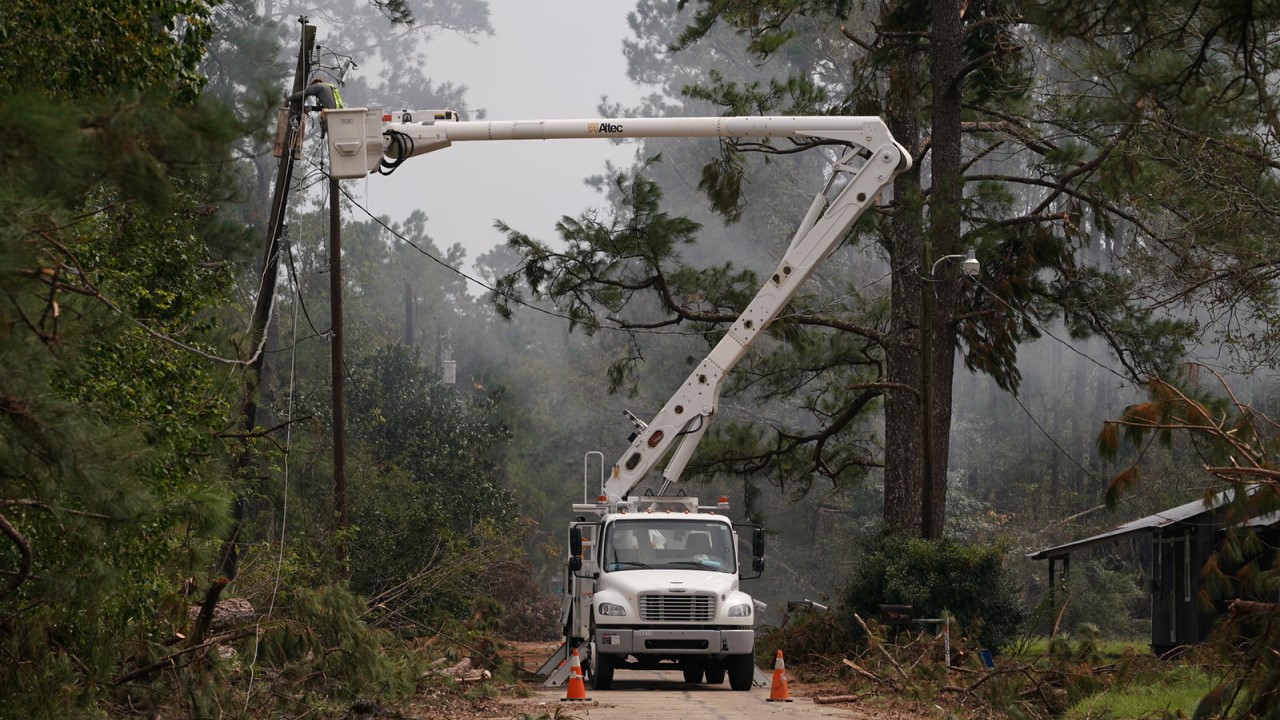 Hurricane Ida's swift and mighty approach through the Gulf of Mexico, brought extreme devastation as it made landfall as a strong Category 4 storm (not far from Category 5 status) near Port Fourchon, Louisiana. Its fury resulted in some communities deemed as uninhabitable, sustained winds of 150 mph, storm surge reported over 15 feet, heavy rain, tornadoes, flooding and loss of life. 
We know each storm is unique, and this was most certainly the case with Ida. 
New Orleans residents experienced disastrous widespread flooding following Hurricane Katrina 16 years ago; and Hurricane Laura, last year, devastated southwest Louisiana. Hurricane Ida brought massive windspeeds onshore in southeast Louisiana, remained a Category 3 storm half-way through the "boot" of Louisiana, and continued upwards through the state just north of Hammond with hurricane-force winds. That's just north and west of the greater New Orleans area. 
Remnants of Ida slowly moved northeastward through the country causing further grave outcomes, producing dangerous tornadoes and flooding, for communities in the northeast U.S. four days after its landfall in Louisiana. 
According to weather experts, the worst impact from a hurricane is typically on the right, or east side, and along the parameter of its eyewall. Some of the hardest hit areas from Ida, such as the Bayou Region, River Parishes and I-55 corridor, remain without power. Crews continue to work through the restoration process, bringing back power to more and more customers each day.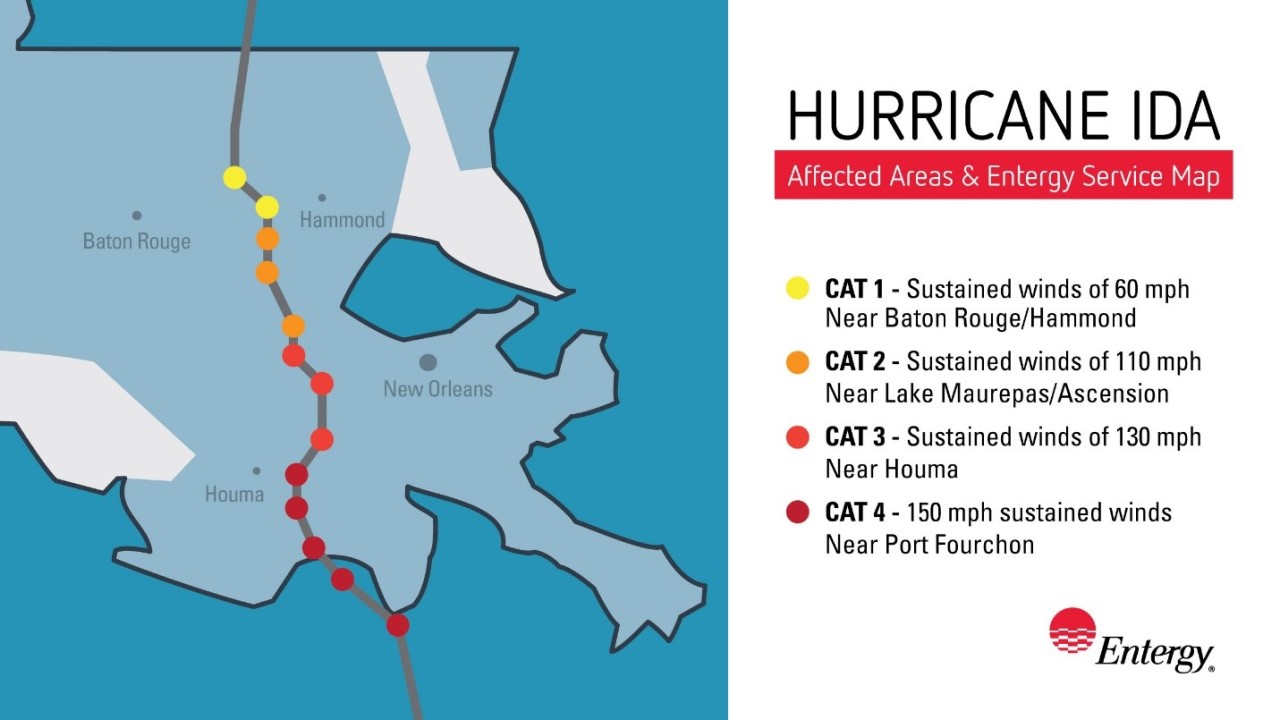 Devastated Distribution System in Hardest Hit Areas
Hurricane Ida caused substantial damage to the distribution system in southeast Louisiana and southwest Mississippi including with more than 30,000 distribution poles, more than 36,000 spans of wire and nearly 6,000 transformers left damaged or destroyed. The number of distribution poles damaged or destroyed as result of Ida's ravaged path is more than Katrina, Ike, Delta and Zeta combined. And, as a direct comparison to Hurricane Laura, approximately 13,700 distribution poles​, 29,000 spans of wire and more than 4,500 transformers were either damaged​ or destroyed. 
Close to 80% of the 30,000-plus distribution poles, that run through neighborhoods and supply power homes and businesses, represent those lost in the hardest-hit portions of southeast Louisiana. 
"There's been extreme devastation in some parts of our service area," said John Hawkins, vice president of distribution in Louisiana. "We're looking at a rebuild of our system in those communities hit the hardest. Our crews continue to work hard, and we won't stop until the last light is on." 
First Light, Generating Power, Transmission System
Despite Ida's ferocious intensity, Entergy's transmission system received only modest damage – especially compared to that of Hurricane Laura.
In the greater New Orleans area, within 48 hours of Ida's exit, the New Orleans Power Station was online providing first light to some customers in eastern New Orleans via a major transmission line connected to the larger grid. Bringing the New Orleans Power Station back on-line through a connection to the larger power grid vs. in an "island" mode was the preferred solution to restoring power to the greater New Orleans region. Another Entergy-owned power plant outside of the city, Ninemile 6, also came online and together the two generation sources served this geographic area to ultimately produce enough energy to power the community. For more information on NOPS click here.
It's a required balance and engineering feat that's managed everyday: Ensuring supply (production of electricity) and demand (homes and business that can take power) are in balance. In the days to follow, and once a second major transmission line was returned to service, needed redundancy resulted and allowed us to deliver power to more customers in the area with both generation sources contributing. 
Within five days, six of the eight major transmission lines into the greater New Orleans area were in-service. Only one major line, of the eight in this specific area, remains out of service because Hurricane Ida's force knocked down one of the larger transmission towers attached to this line. 
The eight transmission lines described have numerous other transmission lines that support the flow of electricity and thousands of smaller-sized structures that hold these lines in the air. For example, these seven in-service transmission lines are, in total, approximately 150 miles in length and consist of approximately 1,500 total structures. Of those, approximately 1,488 were not damaged. Only 12 were either destroyed or damaged in the greater New Orleans area.  
Throughout the larger geographic area affected by Ida in our service area, a total of 222 transmission structures were destroyed and 298 transmission structures or spans damaged. In contrast, Hurricane Laura caused severe damage to the transmission system in southwest Louisiana last year resulting in more than 1,900 transmission structures destroyed or damaged. 
"As we've emphasized, this is a marathon," said Hawkins. "As we continue to restore electricity in affected communities, our work remains focused on each and every neighborhood still without power. Our workforce, made up of employees, other utilities from across the country and contractors will join crews already in these hardest hit areas as we work toward full recovery." 
A Category 4 hurricane brings sustained winds of 130-156 mph, and a Category 3 111-129 mph. There can be gusts of winds exceeding the sustained ranges, and according to the National Weather Service Port Fourchon experienced a gust of wind reaching 172 mph. Learn more about how hurricanes are grouped by the Saffir-Simpson Hurricane Wind Scale. 
The National Hurricane Center reported data, including recorded windspeeds, from several stations incomplete due to power outages or instrument failures. 
Visit our dedicated Hurricane Ida website for more information. And, follow the company's Storm Center for regular updates.
---