Insights > A Little Kindness Goes a Thousand Miles
A Little Kindness Goes a Thousand Miles
08/27/2018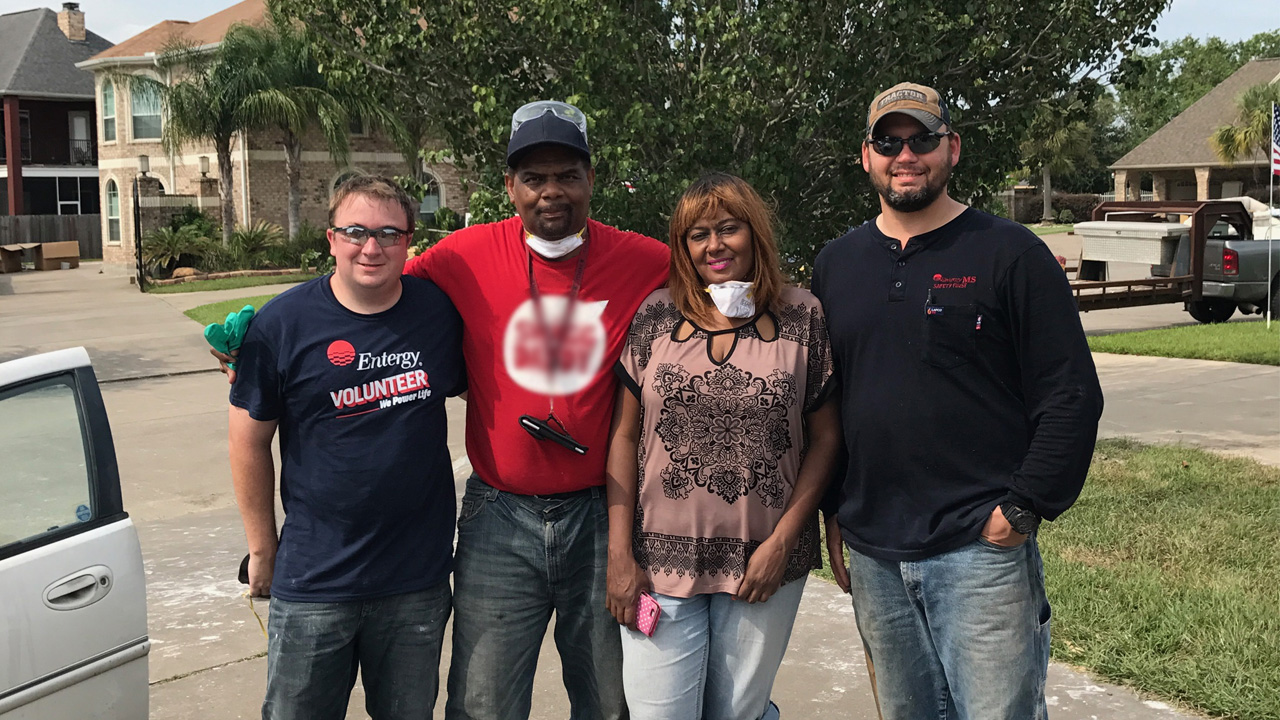 Entergy Mississippi employees' generosity helped colleagues start over after Hurricane Harvey. Above, Gary Newman and his wife, Tommie Zene, (center) thank David Rose (left) and Matthew Breland (right) for helping them clean up their home after it was damaged by Hurricane Harvey in 2017.
Can you imagine traveling over 1,000 miles to walk in someone else's shoes? David Rose, analyst, and Matthew Breland, lineman first class, can. Last September, the pair made the trek from Mississippi to Texas on a volunteer mission. They were helping colleagues clean up their homes destroyed by Hurricane Harvey.  A year later, they're more grateful than ever for the experience.
When their journey began, Rose and Breland had never met, but they soon learned they had a common goal. They both wanted lift a burden from co-workers dealing with tremendous personal loss.
Rose remembers Hurricane Katrina recovery and knew he wanted to help in Texas. "A Pennsylvania church group showed up during our Katrina cleanup to help. In that moment, I decided I couldn't use distance as my excuse for helping others," he said.
Breland's caring spirit prompted him to volunteer. "The emotional pain of losing your family's history and the physical labor would be stressful," he said. "Having someone there to help with those things is something I would find invaluable."
The duo spent a week clearing damaged furniture and household items from homes. They ripped out carpet and demolished doors and drywall. And, they helped families sort through personal belongings. Sabine Power Station employees Gary Newman and Clint James welcomed the help.
"When you experience the devastation we did, you reflect on what's gone, but you also have to get on with life," Newman, a journeyman maintenance operator, said. "Matthew and David weren't emotionally attached. When they were purging our ruined things, they were helping me let go. That was the beginning of being able to move on."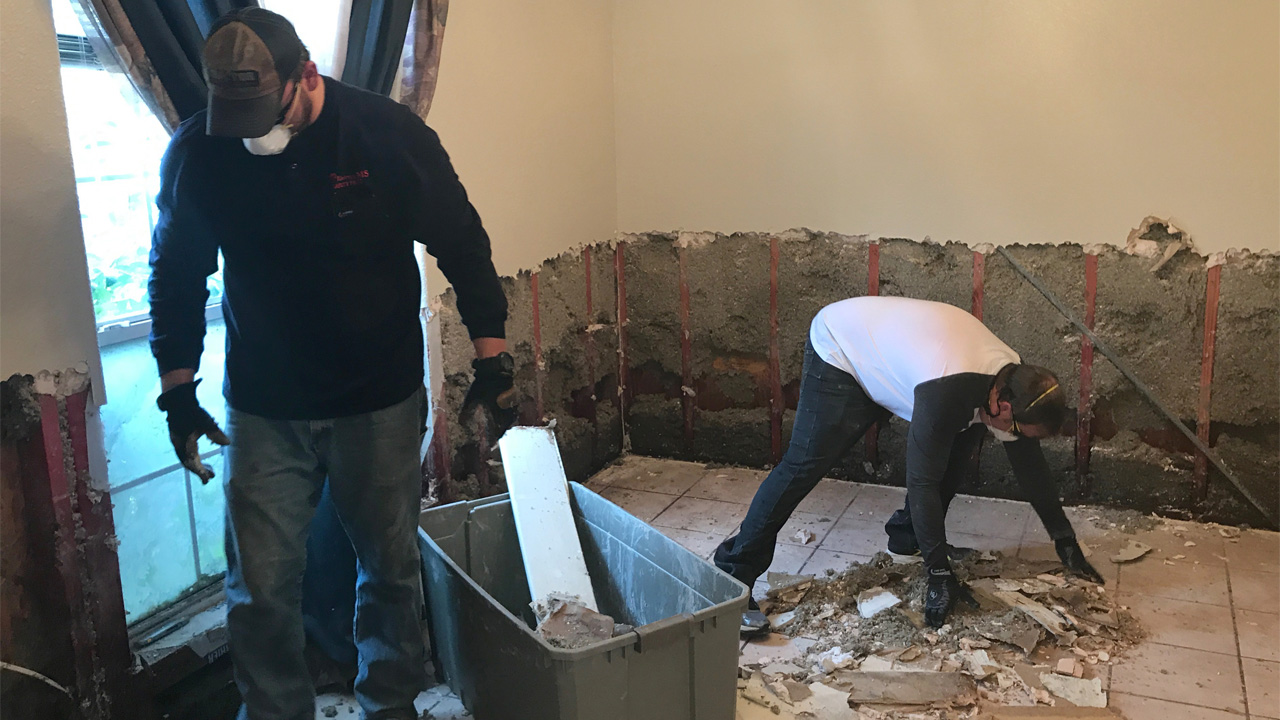 Breland and Rose clear debris at one colleague's home.
James' family appreciated the outpouring of kindness from strangers. "We are still working to get our home back to normal. If so many people hadn't given their time to help us, we wouldn't be where we are now," the IC&E technician said. "Matthew and David helped us gut our house so we could start our drying out process. They were a tremendous help in moving us toward recovery after this terrible storm."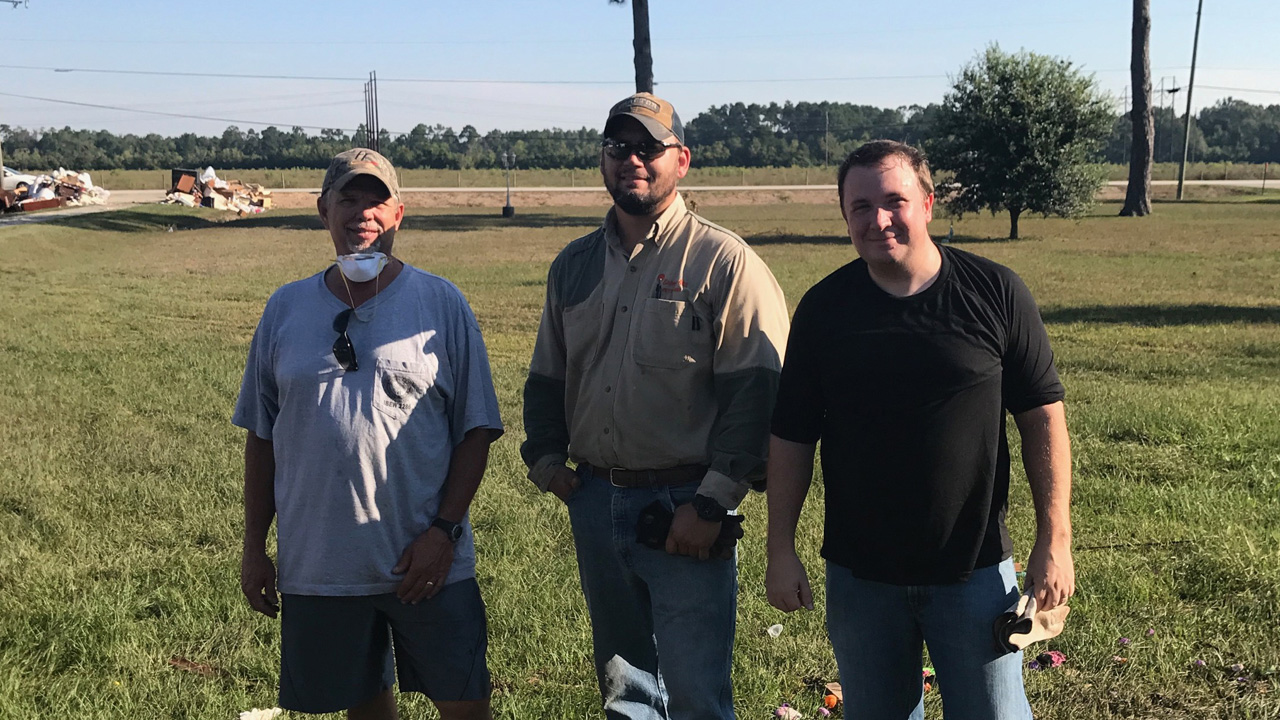 James, Breland and Rose take a break from cleanup at the James family home. 
The experience left Breland and Rose with an overwhelming sense of community, too. Today, Rose is even more grateful he helped fellow employees in need. 
"We removed a little burden with every load of material we took to the street," Rose said. "That's what the Entergy family is about. No matter where help is needed, there are good people in our company willing to help.
"There's so much to do after a devastating storm like Harvey. It's easy to feel like your contribution is insignificant. When I was in that position, I sincerely appreciated a helping hand, no matter what that hand was doing. I'm glad I was able to pay that kindness forward."
---