Insights > Little Rock Wins National Award for 'River Lights in the Rock' Lighted Bridge
Little Rock Wins National Award for 'River Lights in the Rock' Lighted Bridge
06/14/2018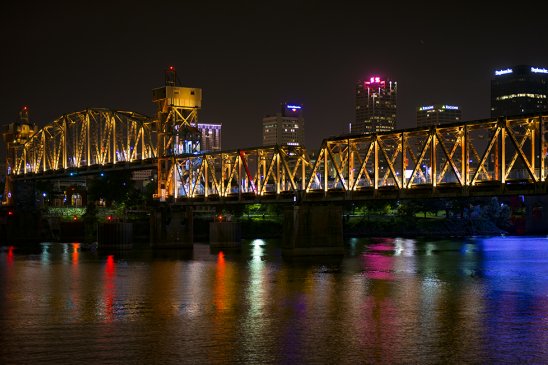 Little Rock was named a winner in the inaugural IDC Smart Cities North America Awards for its "River Lights in the Rock" project, which was made possible with financial support from a number of donors including Entergy and Entergy Arkansas.
The new awards recognize the progress North American communities have made in executing Smart Cities projects and also create a forum for sharing best practices to help accelerate Smart City development in the region. "River Lights in the Rock" was specifically recognized for providing an easily recognizable aesthetic benefit to Little Rock and contributing to civic engagement, tourism and economic development.
"The lighting of our bridges is one of my favorite projects I have worked on as mayor, and it is a testament to the foresight of the coalition that made it possible that over four years in, the project is still recognized as a Smart City leader," said Little Rock Mayor Mark Stodola, who conceived the project along with Phillips Lighting and the Mayor's Tourism Commission. "This recognition gives the City of Little Rock added encouragement to continue seeking Smart City solutions like our CitizenConnect, open data portal, and more."
Little Rock and other winners were honored in May during a Smart Cities New York event at Manhattan's Pier 36. Additional project supporters included the cities of Little Rock and North Little Rock, the Clinton Foundation, Koontz Electric and Philips Color Kinetics. 
"River Lights in the Rock" provides lighting on three bridges over the Arkansas River with more than 2,000 LED lighting fixtures that can be controlled remotely and coordinated with one another using cloud-based, remote-management software. Specifically recognized by IDC was the civic engagement component which allows civic organizations, individuals and groups hosting conventions in Little Rock to submit lighting requests in recognition of special events from among the 18.6 million color combinations.
"Little Rock's night skyline is immediately recognizable, thanks to 'River Lights in the Rock,' and we continue to see families flocking to the light shows and lit pathways," said Little Rock Convention and Visitors Bureau CEO Gretchen Hall. "We also enjoy the civic engagement aspect with numerous special events each year made more memorable through the customization of the lights."
---