Insights > Lucky 13: Entergy's Stewardship of Trees Boosts Reliability and Resiliency, Earns Arbor Day Honor
Lucky 13: Entergy's Stewardship of Trees Boosts Reliability and Resiliency, Earns Arbor Day Honor
06/28/2018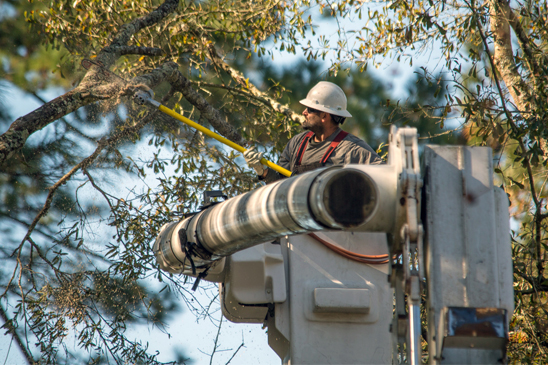 It's more than luck that recently earned Entergy recognition as a Tree Line USA utility for the 13th year in a row. The award by the Arbor Day Foundation celebrates the company's year-round, proactive vegetation management practices that prioritize proper tree pruning, planting and care.
Entergy's work to keep its infrastructure free from branches and foliage helps minimize service outages from falling trees and limbs, especially during severe weather. Planning and implementation by distribution and transmission vegetation management teams is an efficient and effective way to decrease service disruption, which is especially important for customers now that storm season has arrived."
Entergy Louisiana annually trims 6,300 miles of circuits throughout the 58 parishes it serves. These lines and poles are often in varied, challenging terrain - from dry Delta soil to murky swamps and from rural towns to urban areas.
"Trees are a critical part of urban landscapes all across the United States," said Dan Lambe, president of the Arbor Day Foundation.
Trees conserve energy and reduce peak demand for electricity — an important benefit to customers. Proper tree care also promotes cleaner air and water, increases property values and improves quality of life within communities. The award recognizes Entergy Louisiana for training employees in tree care, educating customers about energy conservation and helping homeowners properly plant trees nearby utility lines.
"Service providers like Entergy demonstrate that it's possible for trees and utilities to co-exist for the benefit of communities and citizens," Lambe said.
---