Insights > Meet the crew - Staci Meyer
Meet the crew - Staci Meyer
02/02/2023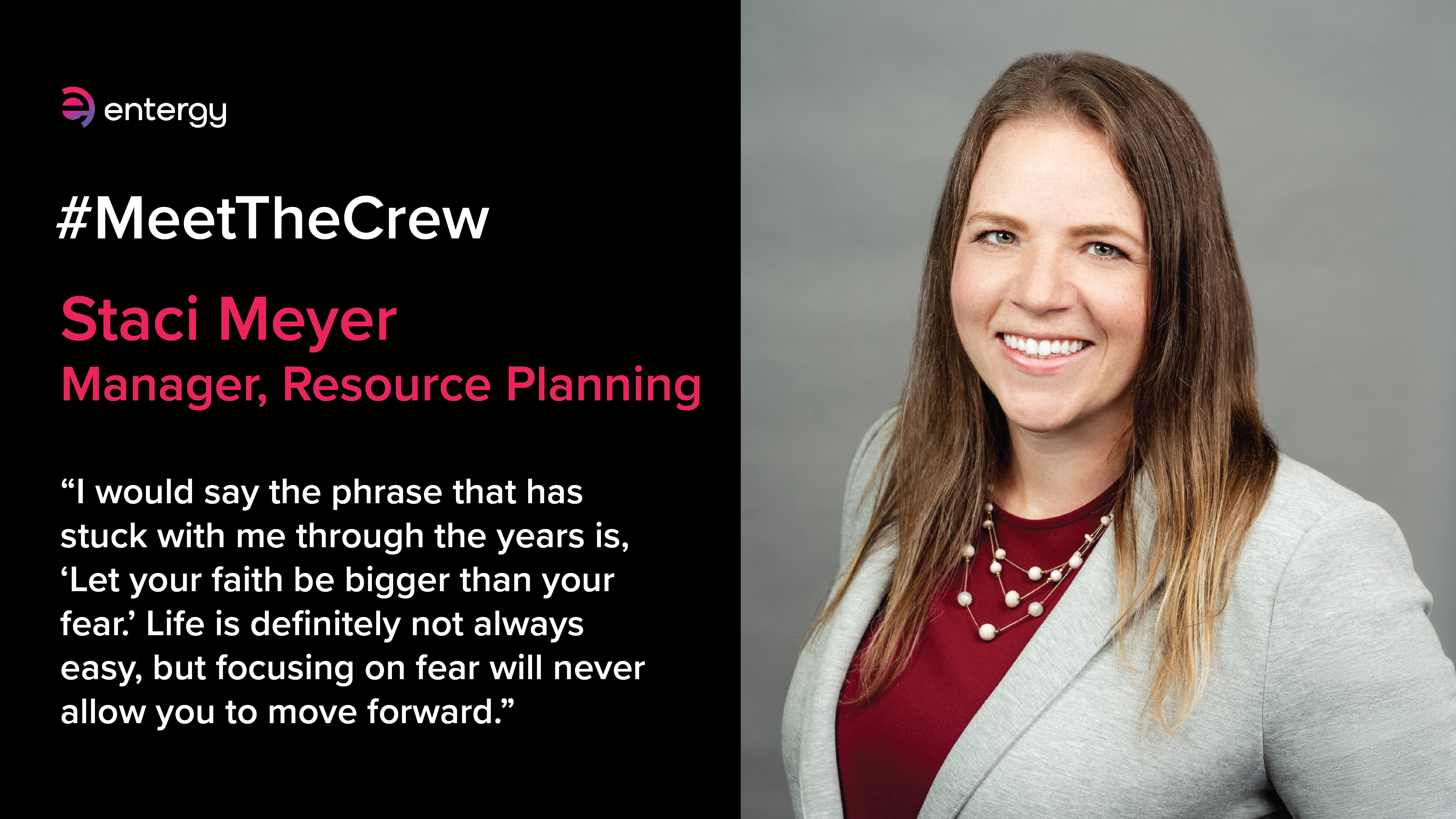 Get to know our people at Entergy Texas with #MeetTheCrew
Meet Staci Meyer, resource planning manager for Entergy Texas. She's from D'Hanis, Texas, that notably has less than 500 people, and remains one of her favorite places in the world.  
Staci will mark 15-years with Entergy in May, starting her career straight out of college. 
When not working, Staci loves to read, travel, and play board games.  
"I have some crazy and maybe a little nerdy board games like Power Grid, because I don't get enough of the electric industry at work," said Staci. "I have a game that you buy power plants to supply energy to your cities to win the game." 
In addition to her attested interest in the electric industry, her competitive spirit makes for a great team member and leader.

What/who keeps you motivated?   
At work, it is the people that I work with that keep me motivated. I have always said that if it weren't for the people that I have worked with over the years, I would have moved back to my hometown a long time ago. Outside of work, it is my family! My kids are my world and my extended family and the time we spend together makes everything better. 
What's an interesting fact about yourself that not many people know?   
By now some people may already know this, but I graduated from a public school in Texas in a class of 18 people (5 girls, 13 boys and 6 of us in the class were related). 
Favorite type of food and where's the best place to get it locally (in Texas)? 
Ooohhh…this is a tough one. My favorite type of food is Tex-Mex. I could eat this morning, noon, and night and I don't think that I would ever get tired of it. The place that always comes to mind when I think of the best place is Mi Tierra in San Antonio. However, that might ultimately be tied to the memories I have made there with my family over the years. 
Without any planning, what's something you could give a 30-minute presentation over? 
If you're talking non-work topics it would be "Sausage Making: Process, Family, and Varieties" and for a work topic of course it would be "Entergy Texas' Generation Needs". 
---